Now Social Media Foul-Up for the "Joker" Movie Draws Even More Controversy
The Joker, the new movie from Warner Bros, is gaining far more controversy than anyone expected. Gun violence. Violence in media. Whether or not the Aurora shooter at the 2012 Dark Knight Rises movie, that saw twelve dead and seventy injured, was meant to be dressed as the Joker.
Family members whose children were killed have written to the studio, concerned about the movie, wrote a joint letter to Warner Bros and its parent company AT&T saying "We want to be clear that we support your right to free speech and free expression. But as anyone who has ever seen a comic book movie can tell you: with great power comes great responsibility. That's why we're calling on you to use your massive platform and influence to join us in our fight to build safer communities with fewer guns."
Asking them to "be a part of the growing chorus of corporate leaders who understand that they have a social responsibility to keep us all safe", for parent company AT&T to cease donating to politicians who take money from the National Rifle Association and for Warner to "actively lobby for gun reform" and make donations to groups that aid victims of gun violence.
Since that shooting, many cinemas in the US have not allowed customers or employees to wear face masks and face paint or to carry toy weapons. Body costumes, however, have generally been allowed. But that may no longer be the case, with reports of cinemas banning costumes entirely while Joker is in cinemas.
And with Stars And Stripes reporting that military commanders in Oklahoma were warned that Texas law enforcement agency working with the FBI had discovered "disturbing and very specific chatter in the dark web" about the possible targeting of an unknown cinema for a mass shooting during the release of the movie, and that an online posting was based on information in a bulletin from the Texas Joint Crime Information Center

Which has led US police departments to state they will have greater visibility at Joker screenings.
And while Joker star Joaquin Phoenix walked out of an interview when connections between screen violence and real violence were raised, its director Todd Phillips has responded to controversy saying "I'm surprised… Isn't it good to have these discussions? Isn't it good to have these discussions about these movies, about violence? Why is that a bad thing if the movie does lead to a discourse about it?… I think it's because outrage is a commodity, I think it's something that has been a commodity for a while," he said. "What's outstanding to me in this discourse in this movie is how easily the far left can sound like the far right when it suits their agenda. It's really been eye-opening for me."
But with one of the mothers replying to CBS News' questioning if she was concerned that a movie like Joker could trigger someone else to mimic what happened in Aurora, saying "Oh absolutely, I believe there's all kinds of reasons and I don't think we can stop all of the triggers from happening." Warners even had to issue a statement, "Gun violence in our society is a critical issue, and we extend our deepest sympathy to all victims and families impacted by these tragedies. Our company has a long history of donating to victims of violence, including Aurora, and in recent weeks, our parent company joined other business leaders to call on policymakers to enact bi-partisan legislation to address this epidemic. At the same time, Warner Bros. believes that one of the functions of storytelling is to provoke difficult conversations around complex issues. Make no mistake: neither the fictional character Joker, nor the film, is an endorsement of real-world violence of any kind. It is not the intention of the film, the filmmakers or the studio to hold this character up as a hero."
With all this fuss, you might think that Warners might want to take care with its social media. Replying to people who have tweeted that they have booked tickets to see the movie to remind them when they have booked – without checking first who may have tweeted such.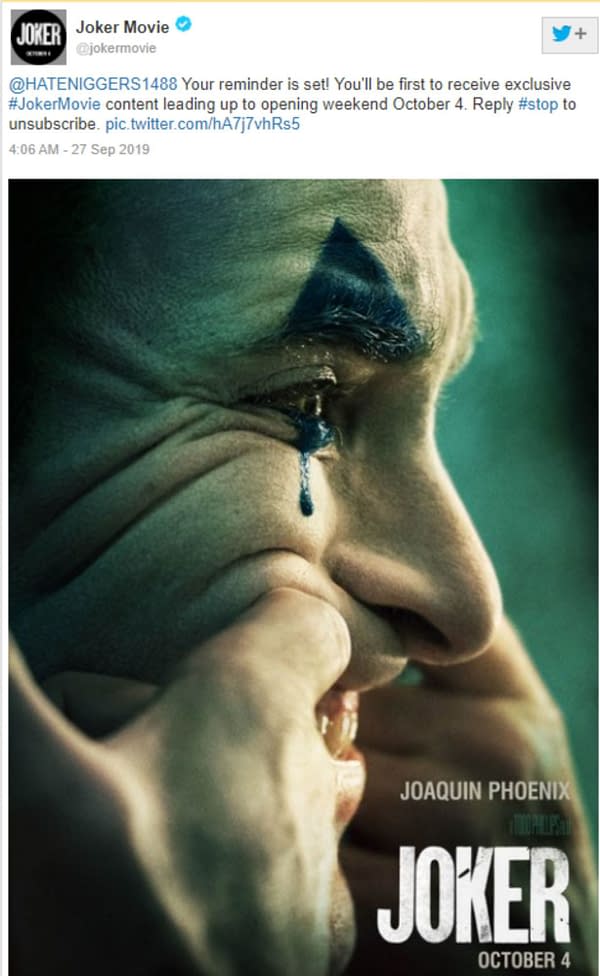 That tweet has been deleted and the Twitter account replied to, suspended. But not before the tweet – and the many responses it gathered – were archived.
I'll be seeing the film on Monday night, in a country where guns are far more a fantasy than a reality. Maybe that may make for a different perspective. Either way, Warner Bros is about to really to test the adage about there being no such thing as bad publicity. I'm not entirely sure banning press from the premiere, so they don't ask awkward questions, will cut it.
Joker is released on October 4th.