We learned not long ago that Solo: A Star Wars Story star Alden Ehrenreich was signed on for three movies. A lot of people seemed to assume that the contract means we're getting three Han Solo movies and considering there was wise debate as to whether or not we needed one more let alone three this wasn't taken well. While being interviewed by Fandango director Ron Howard was asked about the deal and whether there would be more adventures down the line.
I think the fans are going to define all of that. I mean I think that Lucasfilm and Disney in casting actors, and particularly younger actors, want to see what happens and build upon that. Certainly, they want the commitment from the young actors, but there are no concrete plans. I think there's been a lot of creative energy and now marketing energy going behind this movie. I think these are exactly what they're meant to be, or what they're designed to be. They're single movies exploring the galaxy; but of course, as a company, I think they're going to be very interested to see how people respond to it and take it from there. This whole thing is kind of a cool, ambitious exploration of what the galaxy and the Star Wars sensibility can continue to mean to fans.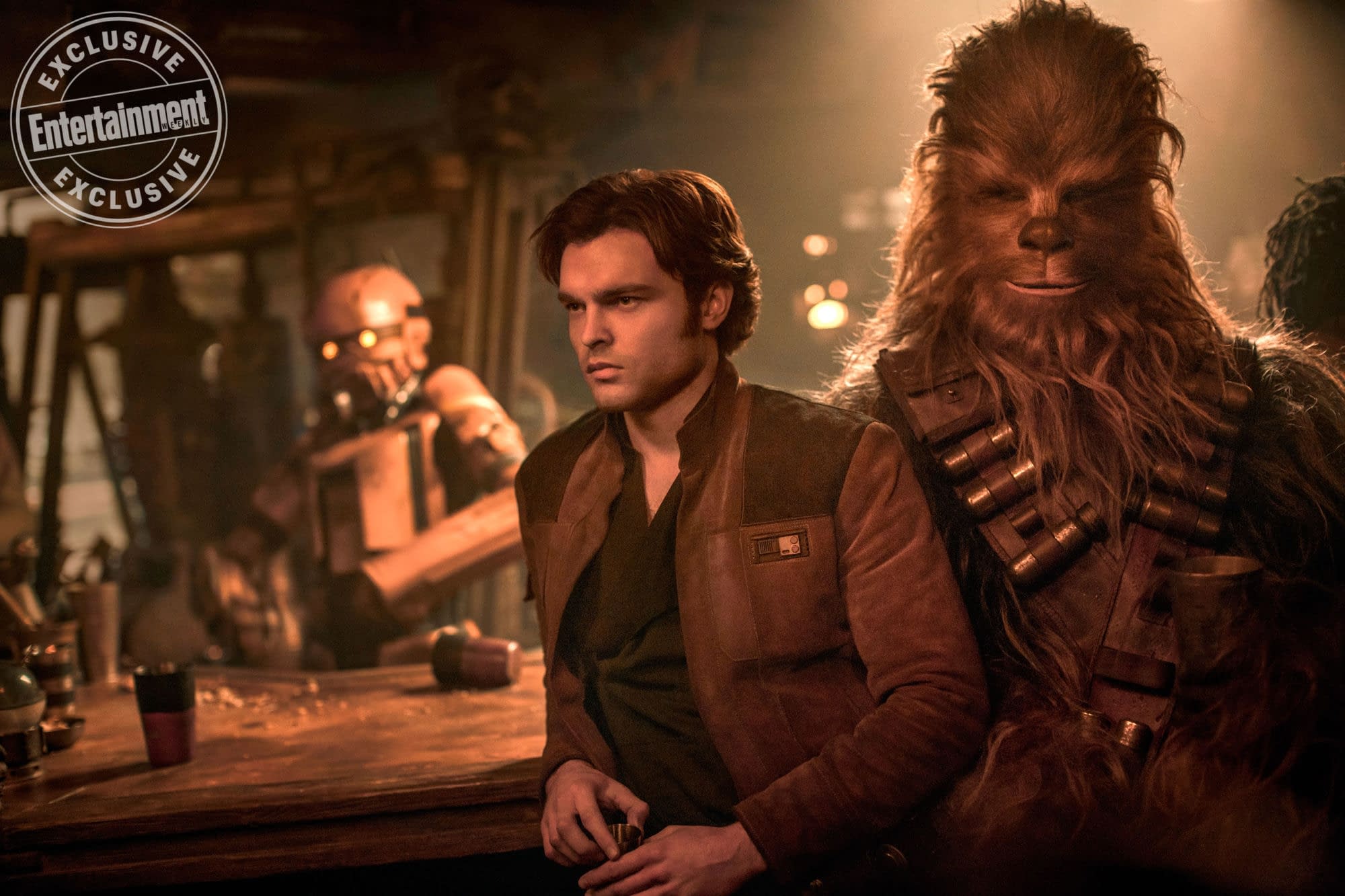 Howard came onto the set pretty late in the game and was asked when it sunk in for him that he was directing a Star Wars movie.
It didn't take long because the first sequence that I came in to was a very large action-packed escape sequence. Once the lasers start going off and you're looking around and seeing droids and Wookiees, you realize you're in the middle of the galaxy and you're making a Star Wars movie. What I realized, as I threw myself into the project, was how unique and interesting the blend of entertainment values of these movies was. It is both challenging and a lot of fun to stage these scenes that deal with themes that are universal and relatable but deals with them in fun, surprising ways. The action is intense and has to be cutting edge, but it's in support of those thematics and the fun that you can have watching the adventure unfold. Then there's the genuine emotion and drama along with the humor. This combination of storytelling values and entertainment possibilities is both fun and it's very infectious. You feel it with the crew. You feel it with everybody involved. You do find ways … I think it's kind of why we love watch these movies … you connect to these storylines. You connect to these ideas.
Despite the Solo shoot being "troubled" by the late director change it sounds like Howard really put his heart and soul into this production. A project can overcome a lot of minor flaws if there is genuine passion behind it and it sounds like there really is when it comes to this Star Wars spin-off.
Summary: During an adventure into a dark criminal underworld, Han Solo meets his future copilot Chewbacca and encounters Lando Calrissian years before joining the Rebellion.
Solo: A Star Wars Story, directed by Ron Howard, stars Alden Ehrenreich, Emilia Clarke, Donald Glover, Woody Harrelson, and Thandie Newton. It will be released May 25th.
Enjoyed this article? Share it!