[SPOILER FREE] "Spider-Man: Far From Home" Review: One of the Best Spider-Man Movies Ever
[rwp-review-recap id="0"]
Spider-Man: Far From Home is the perfect way to end the third phase of the Marvel Cinematic Universe; with humor and a ton of heart.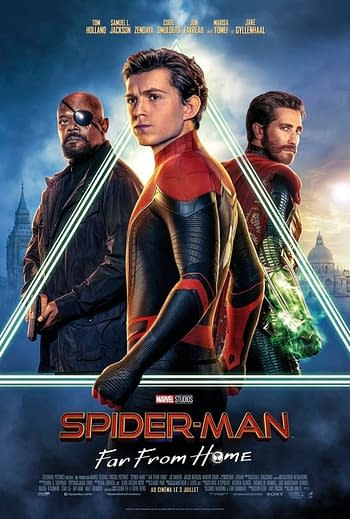 Director: Jon Watts
Summary: Following the events of Avengers: Endgame, Spider-Man must step up to take on new threats in a world that has changed forever.
It seems a bit odd that Marvel decided to end the third phase of the Marvel Cinematic Universe with a Spider-Man movie. After the spectacle of Avengers: Endgame wouldn't a Spider-Man sequel feel a bit like a letdown? Spider-Man: Far From Home has a very specific purpose and that is showing the next generation of this world adapting to a post-Endgame world. The movie wastes no time telling us exactly how Peter Parker and his friends, all of whom were taken in "the blip" are adapting to a world that is five years in the future. Peter, on the other hand, really just wants to go on vacation after the events of Infinity War and Endgame.
Spider-Man: Far From Home takes the hellish reality that the heroes of the Marvel Cinematic Universe have found themselves in and brought in a level of humor and heart that we all sorely need. It's the levity we need after how devastating the end of Avengers: Endgame was while also not shying away from how important Tony was to Peter. This movie also relies on subverting expectations when it comes to the plotline but to get into it would be various levels of spoilers which we won't be sharing here. Just know that even comic fans are going to be surprised by some of the twists and turns.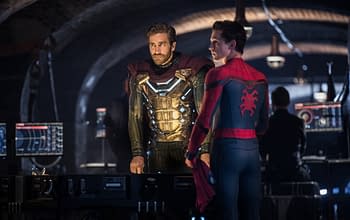 The two hour and nine-minute runtime goes by easily and there isn't a moment where it feels like the movie is dragging. The script is funny but it uses situational humor and dialogue to convey its humor instead of lazy jokes. For example, two teenagers being awkward around each other in a very endearing way is funny to watch and this cast does a great job of portraying that.
We get more of MJ this time around and Zendaya truly makes that character her own. It's always fun to see more of Cobie Smulders as Maria Hill and Jon Favreau continues to be one of the underappreciated MVP's of this whole universe as Happy Hogan. Jake Gyllenhaal is clearly having the time of his life playing Quentin Beck aka Mysterio but to get into what exactly is going on with him is going into spoiler territory.
The action scenes are very well done and there is a scene in the second act that is so off the wall it felt like it belonged in something like Doctor Strange. The final action scene, which has been mostly kept out of the trailers or at least the proper context for it has, is a lot of fun and well executed. The two post-credits scenes are both extremely important to this universe going forward and the second one, in particular, sets up a whole new world of storytelling.
Spider-Man: Far From Home is the perfect way to end the third phase of the Marvel Cinematic Universe as it reminds us that the world can be happy after all of this devastation. It gives us an idea of what the world post-Infintiy War and Endgame is like while not dwelling on it too much. The third Marvel movie of 2019 is another strong contender that could easily hit the top ten of this entire franchise of movies so far.
[rwp-review-ratings id="0"]
[rwp-review-form id="0"]