Zoe Saldana ended up playing a huge role in Avengers: Infinity War and was, arguably, one of the most important characters in the movie. Saldana recently sat down with the L.A. Times to talk about the role her character who would ultimately play in the movie. However, to get into that, we're going to have to throw up a spoiler warning so if you haven't seen Avengers: Infinity War probably best to move on since we're going to be covering a major plot point. .
.
.
.
.
.
.
.
.
.
.
.
.
.
.
.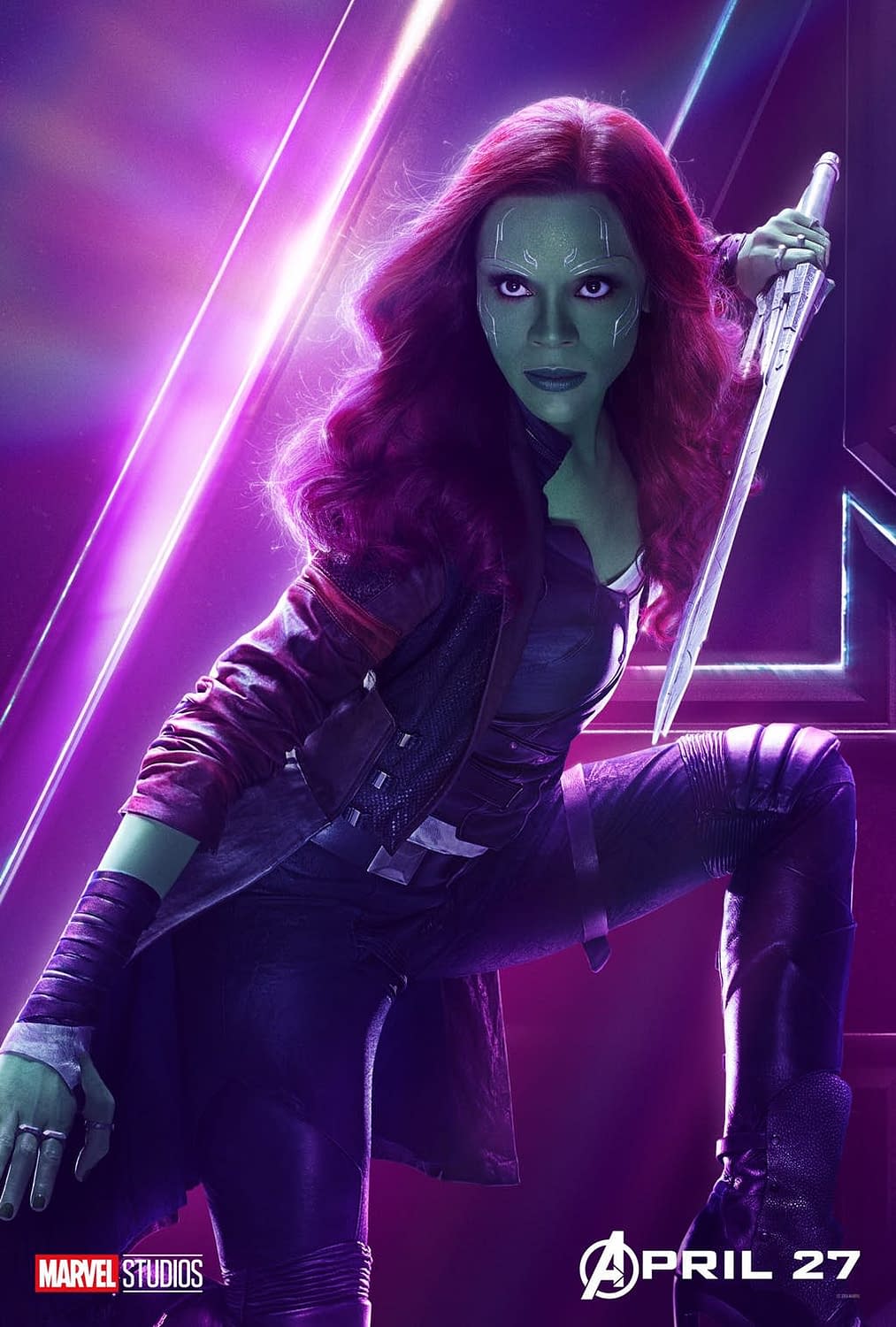 We find out that out of all the Infinity Stones the Soul Stone is the one that's still missing. Or at least we think that until we find out that Thanos sent Gamora out to find it. She did but lied and said that she never did. In an attempt to save Nebula Gamora takes Thanos to the planet of Vormir where they find the Red Skull waiting for them. We find out that it's a "soul for a soul" situation and Thanos must sacrifice the person he loves most to get the stone. Gamora thinks that Thanos has met his match because he loves nothing but it turns out he loves her in a very twisted way. He throws her from the cliff and to her death to obtain the Infinity Stone.
Gamora's death brings Thanos one step closer to getting all of the stones but it is also the catalyst for why the Avengers ultimately lose. Peter Quill can't handle the fact that Thanos killed the woman he loves and he lashes out preventing Tony and Peter Parker from taking the Infinity Gauntlet from Thanos. Saldana was asked about when she learned about her characters fate it turns out it was pretty early.
I learned very early on. The producers called me and they told me. And of course there's a shock to your system. I'm so grateful, this run has been amazing, but you're so not even ready for that. But then once some of the things were discussed, I understood that it just makes sense. In order for you to understand the degree of evil that lies within the core of Thanos, you have to circle in on his own children. So I completely understood. I loved being a part of this unforgettable journey.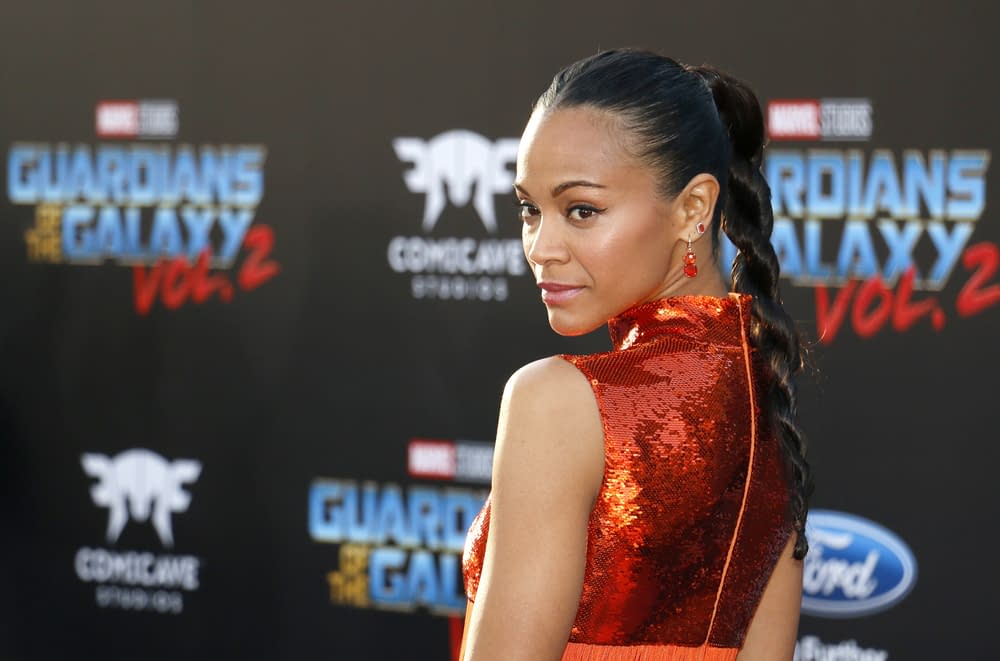 Saldana got to do a lot of work with Josh Brolin as Thanos and the two of them share one of the most intense scenes in the film. Saldana was asked what it was like working with Brolin who was essentially playing her Dad in the movie.
If I'm absolutely honest, it was a little… I mean he is a young man, he's only like 10 years older than I am. And he's one of the original "Goonies," so…[Laughs] That is such a staple of my childhood, so there was a part of me that was child-like excited and then also another part of me going in my mind like, "My dad's handsome!" [Laughs] Because it is Josh Brolin. But there's so much respect for his journey and how he's made certain choices for himself. He's thought really hard to separate himself from being a child star and the son of famous parents. He's created his own journey for himself. I really admire him. This is a man that has overcome adversity, and he stands as a true gentleman, a professional in his craft, superinvested and committed.
One of Gamora's other intense scenes comes when she is being taken by Thanos and she is begging Peter Quill to kill her. She knows that if she goes with Thanos alive he will find out that she knows where the stone is and she'll be forced to tell him in some horrible way. Gamora would rather die than go back with Thanos and she begs Peter to kill her despite the two of them finally acting on their romantic feelings for each other. Saldana was asked if Gamora thought Peter would actually pull the trigger and what she thought about the scenes between the two Guardians.
Yes, of course. If he loves her. He tends to do what she says a lot. [Laughs] I did like that emotional beat between Star-Lord and Gamora, because in the "Guardians" world, she's the Abbott to his Costello. He's such a humorous character that lives off of telling everyone that he doesn't take anything seriously. And she's the exact opposite: She's uptight, she's grumpy. So we get to see this kind of levity but also this sincere and genuine commitment that they have for each other that we haven't seen in the other movies. Saldana went on to praise writer and director James Gunn who was very protective of the relationship between Gamora and Peter.
I love the fact that ["Guardians of the Galaxy" director] James Gunn has always protected Gamora and Quill's relationship. But I thought it was really wonderful for audiences to see [in "Infinity War"] that the show that they put on [when other people are around] is not really what happens behind closed doors. That they really love each other, that they really listen to each other. That he actually is capable of making a promise and keeping it.
Peter does ultimately pull the trigger but Thanos already has the Reality Stone and is able to turn Peter's blaster into a bubble gun. He would have done it, he would have killed the woman he loves, and now Gamora is gone. We saw a lot of death in Infinity War after the snap but Gamora's death feels much more permanent compared to the people who turned to ash. She might be gone for good which would be a real shame since Gamora was an amazing character who will be surely missed should her death end up being permanent.
Summary: As the Avengers and their allies have continued to protect the world from threats too large for any one hero to handle, a new danger has emerged from the cosmic shadows: Thanos. A despot of intergalactic infamy, his goal is to collect all six Infinity Stones, artifacts of unimaginable power, and use them to inflict his twisted will on all of reality. Everything the Avengers have fought for has led up to this moment – the fate of Earth and existence itself has never been more uncertain.
Avengers: Infinity War, directed by Anthony and Joe Russo, stars Robert Downey Jr., Josh Brolin, Mark Ruffalo, Tom Hiddleston, Chris Evans, Chris Hemsworth, Jeremy Renner, Chris Pratt, Elizabeth Olsen, Sebastian Stan, Benedict Cumberbatch, Paul Bettany, Chadwick Boseman, Benedict Wong, Zoe Saldana, Karen Gillan, Vin Diesel, Dave Bautista, Pom Klementieff, Scarlett Johansson, Don Cheadle, Tom Holland, Bradley Cooper, Sean Gunn, and Anthony Mackie. It's out now.
Enjoyed this article? Share it!