 The Radio Times website has run an exclusive site interview with Doctor Who showrunner Steven Moffat, also recently interviewed in the print magazine. It included the ironic process notes,
The chart would be worse than the script. Most of my stuff is much simpler than people credit it for being. The one with a flow chart that would drive anyone mad – though people probably wouldn't think this – is The Day of the Doctor. Just try and do that from the Doctor's point of view. Nothing is in the right order. It's the most complicated thing I've written, yet it's the big friendly multiplex version of Doctor Who.
It suggests that a certain Clara exit may have been planned for earlier…
This year I didn't expect Sarah Dollard's story to go where it ended up. It's episode ten but was meant to be earlier. When it came in, a terrific piece, I thought, "If we just change this bit around, that's what could lead us into the finale." It was an extra commission because I fell in love with the storyline and what she was doing with it. So that knocked my other idea out.
And on his co-writing credits,
I get involved in all the scripts at some level, sometimes quite substantially and at a sufficient level that it would be silly all round if I didn't put my name on it as well. I've only started doing that with the third series of Sherlock and the last series of Doctor Who. Where it's a bigger job and I'm more involved.
I did hear word at the time that this may have also been down to certain writers using their Doctor Who episode to get bigger, better word in Hollywood without acknowledging how much of the finished script Moffat had written…
Oh and that Mummy On The Orient Express and Flatline writer Jamie Matheson may be back for series 10.
I mean Jamie [Mathieson] has just been in and pitched a brilliant idea, a brilliant new monster. I just read his first pass at a storyline for that and I've no idea where we'll end up going with that story. But that's him. Being Jamie, he came in with 20 ideas and this one is just a belter.
But, as often with Doctor Who, it's the next part teaser that is the most addictive, intriguing and teasing…
Steven Moffat talks about Missy, Ashildr, Clara, the next companion and his plans to leave Doctor Who…
Tune in same time tomorrow?
UPDATE: We don't have to wait quite that long… from the magazine itself, courtesy of Tom Huxley.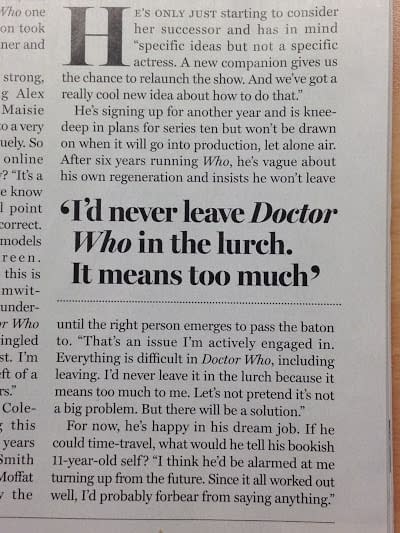 Enjoyed this article? Share it!