[Sundance 2019] Paradise Hills Review: Stunningly Beautiful Costumes and Designs and Weird as Hell
[rwp-review-recap id="0"]
Paradise Hills is one of the most visually beautiful movies of the festival, but the strange plot will make it extremely divisive.
Director: Alice Waddington
Summary: When Uma wakes up alone on a strange island called Paradise, she instantly suspects it's anything but. Helmed by the Duchess (Milla Jovovich), Paradise Hills is a center for emotional healing that at its core serves as a reformatory-style boarding school for privileged young women. Yet behind the rose-covered pathways and fairy-tale decor, Uma and her friends learn something more sinister is at work.
A lot of things that can make movies unique, and in the case of Paradise Hills, it's the visuals that truly set this movie apart. From the moment it begins we realize that we're watching something very different. From the set design to the costumes to the makeup, it's clear that a lot of love was put into every frame of this movie. There isn't a single thing that's put on screen that someone hasn't meticulously thought through in terms of visual symbolism. This is a movie that has something to say, but whether or not you're willing to listen is going to depend strongly on the viewer.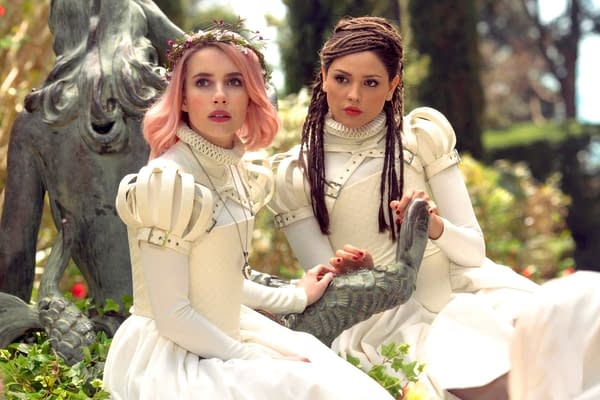 The striking visual design is the first hint that we're in for something very different, but as the movie goes along it becomes very clear that we're dealing with allegory more than anything else. There is a plot, but the plot is here to service the message instead of the message servicing the plot. The story is clear, but the point that writer/director Alice Waddington is the only thing that matters. That means everything here isn't conventional, from the visuals to the acting choices.
Waddington filled out her cast with some amazing players including Emma Roberts, Milla Jovovich, Awkwafina, Danielle Macdonald, and Eiza González. Jovovich in particular channels this bizarre and over-the-top scenery-chewing performance that is bonkers out of context and only gets weirder as the movie goes on. González continues to prove that she's one of the most interesting actresses working today and the strength and vulnerability she shows are fun to watch. Awkwafina and Macdonald aren't given as much to do but they both make sure you remember them in their own unique ways once the credits roll. As for Roberts, she plays a tough role as she walks around in fancy outfits, pastel pink hair, and looks like she wants to fight everyone she makes eye contact with.
Paradise Hills is a love it or hate it type of movie. If you can get on the level it's asking you to, you're likely going to enjoy it. If you can't then it's the sort of movie that you'll want to walk out of the theater. If you're a fan of the visual part of media or just love insane costumes, it's absolutely worth a look. It just isn't going to be for everyone.
[rwp-review-ratings id="0"]
[rwp-review-form id="0"]