[#SXSW 2018] Ready Player One Cast and Crew Q&A [SPOILERS]
Ready Player One premiered at South by Southwest (SXSW) earlier this month, and there was a Q&A following the screening. However, there were some spoilers in this Q&A, so we decided to wait until the movie was out to post it. Once again, this is a spoiler warning for this Q&A, because they do touch on one of the best scenes in the movie that shouldn't be spoiled. We get to hear quite a few interesting things from Spielberg, such as who encouraged him to take on this project.
"My wife, every day, she listened to the book on tape," Spielberg said. "This is not her kind of story. She never played a video game in her life. She came back to me after three days and said, 'Oh, you're making this movie.'"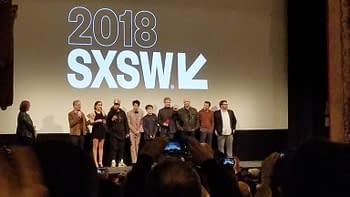 Some might be worried about the Easter eggs and references getting out of hand, but Spielberg had a specific way of describing how he framed the movie.
"Just remember one thing," Spielberg said. "The side windows are for cultural references. The windshield is for the story."
Finally, Spielberg talked about juggling so many projects, since he just released The Post in December. For him, being able to move between projects helps from him getting too focused on one project.
"I've found when I have multiple projects, and I got lost in one of them, I'd come back to the other one with complete clarity," Spielberg said. "My objectivity is the thing that I fear the most about losing. I get too inside the story. I can't see it from the audience's point of view anymore. By doing several things at the same time, I guess I have a renewal of objectivity."
Watch the full Q&A below — but be aware that there are spoilers including one of the best scenes of the movie. Ye be warned.
PART ONE:

PART TWO:

Summary: When the creator of a virtual reality world called the OASIS dies, he releases a video in which he challenges all OASIS users to find his Easter Egg, which will give the finder his fortune. Wade Watts finds the first clue and starts a race for the Egg.
Ready Player One, directed by Steven Spielberg, stars Tye Sheridan, Olivia Cooke, Simon Pegg, T.J. Miller, Mark Rylance, and Ben Mendelsohn. It's out now.
NOTE: Transcripts of the quotes were borrowed from Variety. Thanks, guys!