Since winning the presidency, Donald Trump has mostly tried to put his pro wrestling career behind him, unless you count making Linda McMahon head of the Small Business Administration and tweeting videos of himself beating up Vince McMahon with the CNN logo superimposed over his head. But for the most part, the WWE Hall-of-Famer whose association with WWE goes back decades has done his best to keep his political and pro wrestling career separate.
However, liberal media outlet Deadspin is trying its best to get Trump to lace up his wrestling boots again. After Trump engaged in a Twitter spat with Joe Biden Thursday, Deadspin asked 73-year-old wrestling legend Terry Funk what would happen if Trump and Biden were to face off in the squared circle. Funk responded, "If those guys went at it, it would be a very, very shitty thing to watch."
However, Funk, who is constantly looking for reasons to step back into the wrestling ring despite his advanced age, soon found a way to insert himself into the match, challenging both the president and the former vice president to a bout which, if it were to take place, could easily headline WrestleMania.
"I'd love to get in the ring with those two assholes," Funk said. "Both of them at once would be fine with me. They don't even have to tag in. If either one of them's looking for an ass kicking, tell them to call me up. I'm over 70!"
A handicap match with tornado rules? We don't see how Trump and Biden could pass that up.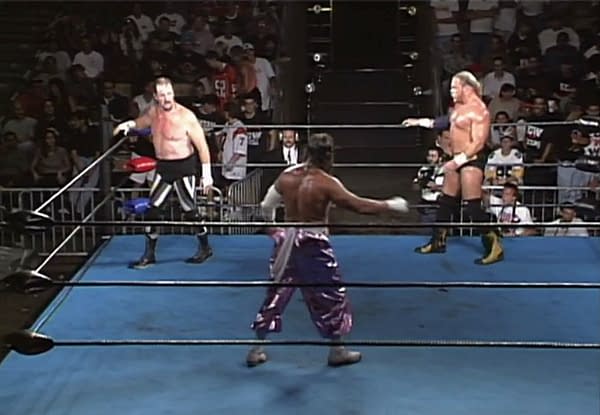 Enjoyed this article? Share it!