On the latest edition of WWE Monday Night Raw, General Manager Kurt Angle came to the ring to announce the participants in the upcoming first-ever women's Elimination Chamber match. However, after revealing which five WWE Superstars will compete in the six-woman match against Raw Women's Champion Alexa Bliss for her title, Bliss herself came down to the ring to call out Angle and the WWE for sexism and hypocrisy.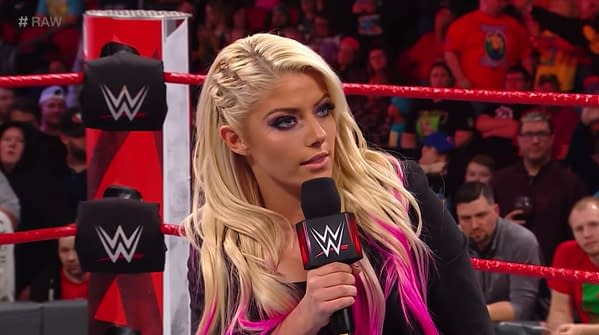 "I tried to be a good sport about it, but what you're doing is not only wrong, it's completely unjust," Bliss told Angle. "And I can't believe you had the nerve to mention the Women's Evolution (TM) with what you're trying to pull."
"In the WWE, the Women's Evolution (TM) means that the expectations of the men's and women's success are the same," she explained as Angle looked on, dumbstruck. "That means they're equal, right? Right or wrong?"
"No, you're correct about that," Angle admitted. "Yes."
"Well, how come in the women's Elimination Chamber match the title is on the line, but in the men's Elimination Chamber match, that's not the case, is it? So you're telling me that your champion, Brock Lesnar, gets to sit on the sidelines and watch who wins? Why do I not get that privilege, Kurt? Is it because I'm just a woman?"
"Ooooohhhhhhhh!" said the crowd.
"First of all, Brock Lesnar successfully defended his title at the Royal Rumble," Angle replied, making excuses for what Bliss demonstrated was a clear example of sexism. "I don't know what you're trying to pull here."
"I'm not trying to pull anything," Bliss said, suddenly put on the defensive for speaking her mind.
"The last time you defended your title was at TLC in October," Angle complained.
"And whose fault is that, Kurt? I don't make the matches. You do," said Bliss, making an excellent point. "I just don't understand why you're treating the men's champion differently than the women's champion. Do you value Brock Lesnar more than you value me?"
"Whoooooooaaaah!" said the crowd.
"It never occurred to me to compare you and Brock," said Angle, digging himself deeper. "Okay? My job as general manager is to put on the best matches I possibly can."
"I feel like you're trying to weasel your way out of this match," Angle said, accusing Bliss of having an ulterior motive for her legitimate complaints about gender inequalities in professional wrestling. "But I'll tell you what. I'm not gonna make the decision. I'm gonna ask the audience. I'm gonna ask you a simple yes or no question. Do all of you want to see Alexa Bliss defend her championship in the first ever women's Elimination Chamber match?"
"Yes! Yes! Yes! Yes!" said the crowd, clearly also sexist.
"Yeah yeah, go ahead," Bliss replied. "Chant yes like the brainless sheep you are. I am the Raw Women's Champion. I deserve respect."
Bliss is 100% correct, of course. She stormed off, and as she was leaving, a man in the crowd can be heard attempting to tell her what to do: "Alexa, get back in the ring!" She doesn't have to do what you tell her to, sir. She's the Raw Women's Champion.
Hopefully, the WWE is paying attention to the way their Raw general manager is showing favorable treatment to the men's champion and takes action, allowing Bliss to avoid defending her title in the first-ever women's Elimination Chamber match. We'll find out by the time the event takes place on Sunday, February 25th.
Watch the entire shocking exchange below:
Enjoyed this article? Share it!