Two time WWE Hall-of-Famer, sixteen time world champion, and pro wrestling legend Ric Flair is looking for a hundred bucks, and if you've got it for him, the Nature Boy will call you on the phone personally to chat as a reward. Flair made the offer today on Twitter, and it seems to extend for just one day, so if you want to receive a personal phone call from the Nature Boy, you'd better hurry over to RicFlairShop.com where you can purchase t-shirts, hoodies, beach towels, and cell phone cases adorned with Ric Flair's name, likeness, or catch phrases. Whatever you buy, just make sure the total is $100 or more, and the next time your phone rings, it might be, WOOOOO, the Nature Boy, WOOOOO!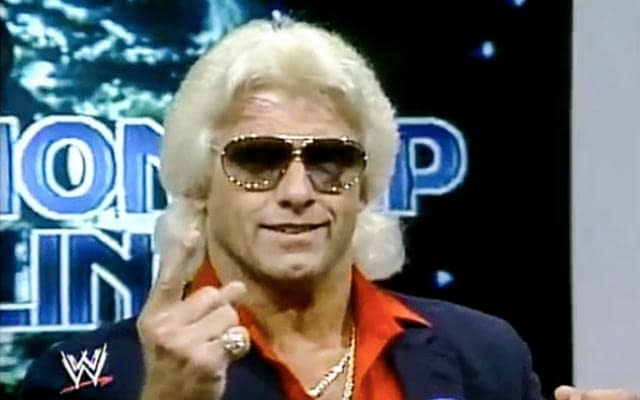 "I've been thinking, what could be the coolest thing that I could give back to my fans that have supported me through thick and thin and have shopped at RicFlairShop.com," Flair announced in a video message. "And I realized that something so cool could take place. If you spend $100 at RicFlairShop.com today, I will call you personally and say ,'thank you very much.'"
"And I'm a lot of fun to talk to," Flair added, clarifying,  "I'm the Nature Boy. So, one time only, $100 today, and I'll call you myself personally. WOOOOO! Talkin' with the Nature Boy. WOO!"
You know, we weren't planning on buying $100 worth of Ric Flair merchandise today. We don't really have a legitimate need for $100 worth of Ric Flair merchandise right now. And to tell you the truth, it's not really in the budget either. But how can we resist this offer? How can you?
Head over to RicFlairShop.com and give your buddy Ric a hundred bucks before time runs out! WOOOO!
https://twitter.com/RicFlairNatrBoy/status/938392387860254720
Enjoyed this article? Share it!