Texas Chainsaw Massacre: The Next Generation is coming to Blu-ray in a new release from Scream Factory on December 11. Two cuts of the film will be included-the theatrical release and a director's cut featuring six additional minutes put back in. The additional scenes are not in HD. Three brand new featurettes and a new commentary on the director's cut version will be included in the features.
You can preorder directly from them right here, and check out the details below!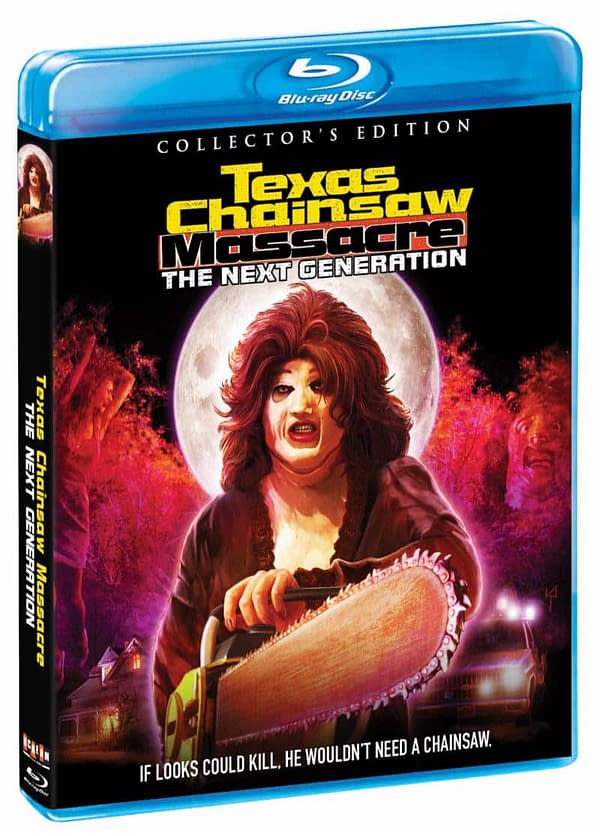 If looks could kill, he wouldn't need a chainsaw. "Leatherface" is BACK! Scream Factory proudly presents the fourth installment of the terrifying franchise Texas Chainsaw Massacre. Texas Chainsaw Massacre: The Next Generation makes its Blu-ray debut in North America on December 11, 2018.

The film is presented here in an ultimate collector's edition featuring both the theatrical and director's cuts, with loads of new extras including new audio commentary and interviews with cast and crew.

When a helpful family invites two lost couples in for a good ol' down-home massacre, the prom night teens find themselves all dressed up … with no place to escape. To their dismay, the old farmhouse is home to Leatherface and his insane family of cannibalistic psychopaths. Featuring fast-paced fun, standout stars and a horrific helping of the franchise's own brand of gore, the "fourth Texas Chainsaw Massacre movie takes a comedic turn even more pronounced than the previous two combined!" (The Terror Trap)
Here is the list of special features on the disc:
· Two Cuts of the Film – the theatrical cut (87 minutes – HD) and the director's cut (93 minutes – HD with standard definition inserts)
· NEW Audio Commentary with writer/director Kim Henkel (on Director's Cut)
· NEW The Buzz is Back – an interview with Director of Photography Levie Isaacks
· NEW Marked for Death – an interview with actor Tyler Shea Cone
· NEW If Looks Could Kill: The Return of a "Chainsaw Massacre" – an interview with special makeup effects artist J.M. Logan and production designer Deborah Pastor
· Still Gallery
· Theatrical Trailer
Enjoyed this article? Share it!