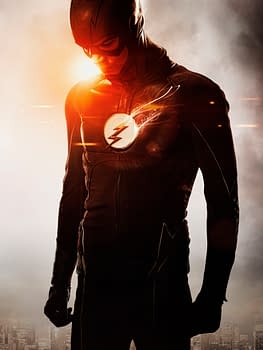 In an interesting interview with TV Insider, Grant Gustin was asked if he had ever hidden any personal items on the set of The Flash.
No, not personal items, but no one seems to notice that we have a rubber duck that we've fit into almost every single scene in the police station. We have been doing it since early in Season 1. Sometimes it's in an evidence bag that a cop is carrying.
I've watched every episode of the series and I don't remember the rubber duck at all… guess it's time to speed through a few episodes again.
He was also asked what is the coolest Flash related gift he's gotten:
One of the coolest things, just for its sentimental value, is that John Wesley Shipp  had a custom Flash ring made for me.
So a gift from a TV father to a TV son and a gift from one TV Flash to another…
Enjoyed this article? Share it!