The King of Staten Island: Pete Davidson's Enduring Gem [REVIEW]
The sad clown trope is a common theme among comedians, particularly those who embrace darker themes in their act. The King of Staten Island is a semi-biographical life of Pete Davidson, who plays Scott Carlin, an aspiring tattoo artist and stoner forced to find meaning in his life, or he'll be kicked out of his home. Over the past two years, the Saturday Night Live star buried himself in a few controversial moments from comparing the Catholic Church to rapper R. Kelly; mocking Republican congressional candidate and vet Dan Crenshaw liking him to a "hitman in a porno movie" with his eyepatch, and his near-mental breakdown when he expressed thoughts of suicide in an Instagram post in 2018. The film provides a window into the comedian's mind and his world.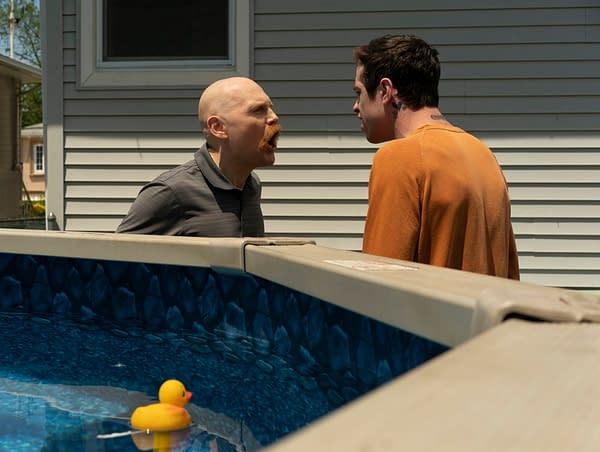 Directed by Judd Apatow, who co-wrote with Davidson and Dave Sirus, The King of Staten Island focuses on Scott's life as a dropout and making sense of his immaturity. He openly engages with a "friends with benefits" arrangement with his childhood friend Kelsey (Bel Powley) but refuses to commit to a relationship. Scott's mother, Margie, played wonderfully by Marisa Tomei, enabled her son's apathy much of his life since he's never been able to cope with his father, Stan's death. One day while hanging with his friends Oscar (Rickey Velez), Richie (Lou Wilson), and Igor (Moises Arias), Harold (Luke David Blumm) wanders by the group and is intrigued that Scott is trying to be a tattoo artist. As Scott starts running the tattoo gun's needle on the boy, Harold flees home in pain, instantly regretting his decision. Shortly afterward, the boy's father, Ray (Bill Burr), comes to the Carlin residence in a furious rage looking for Scott. After Margie pacifies the situation, Ray returns later to apologize and ask her out, which she accepts having never been with anyone since Scott's father. It also doesn't help her job as an ER nurse doesn't afford her a more active social life.
There's something to be said about that comedians can turn out to be impressive in dramatic roles, because so much of their humor draws upon the darkness in their own lives. One can easily point to those like Robin Williams, Eddie Murphy, or Jamie Foxx, who had some of the strongest dramatic performances on screen. William and Foxx already scored Oscar wins while Murphy scored a nomination. The two most standout performances from the film are the comedians in Davidson and Burr. There's a level of authenticity that's hard to match. The King of Staten Island is a deep character study of growth among those anyone can easily fit in. There are nothing and no one wasted in the film. Aside from awarding-winning worthy performances Davidson, Burr, and Tomei, you also have Pamela Adlon, who plays Gina, the estranged wife of Ray, and develops a bond with Scott. Maude Apatow (Judd's eldest daughter) provides an underrated performance as Scott's sister Claire, who reluctantly acts like the glue of the family to help keep Scott in line when he gets into trouble. She feels pressure and regrets leaving home they shared after going off to college despite being about a half-hour away. The film is far from low brow and works as an enduring vehicle for Davidson. If anything, it shows there is life after SNL when he decides to leave despite how many times he puts his foot in his mouth. The King of Staten Island is available on Digital from Universal and will be on Blu-ray and DVD on August 25th.