The Matrix Resurrections: New Actors Talk Ultimatums, Tears, and Heart
The Matrix Resurrections might be one of the most mysterious movies coming out in 2021. Warner Bros. has done, at the time of writing, this could change, an excellent job of keeping almost all of this movie hidden in the marketing. Is that going to work in terms of a box office return? We'll have to see, it's a little too early to tell, but the buzz is looking pretty positive so far. Entertainment Weekly is doing another one of their cover stories, and with it, we got a ton of new information about the movie. The new actors, including Jessica Henwick, Yahya Abdul-Mateen II, and Jonathan Groff, all talked about working with legends like Keanu Reeves and Carrie-Anne Moss, an ultimatum one of them needed to make, and the heart and humanity that is in this script from director and writer Lana Wachowski.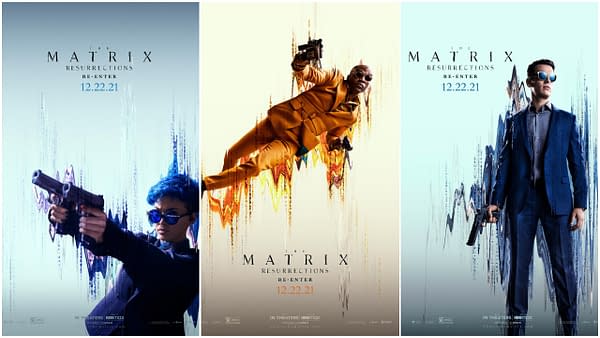 The ultimatum, it turns out, was for Henwick. Her character of Bugs, the one with the white rabbit tattoo, she describes as the "audience's eyes" into this new movie. Heckwick also mentioned the "new tone, new look" for the film and that it would be "joyous." The ultimatum, for her, came with two of the biggest studios in the world, forcing her to make a choice. The audition for Bugs in The Matrix Resurrections was happening at the same time as an auction at Disney and Marvel for Shang-Chi and the Legend of the Ten Rings. The studios, which knew about the two offers, told Hendwick that she could audition for one or the other, but not both, and neither was guaranteed.
"It was a red-pill/blue-pill moment for me," she says.
While Hendrick might be a new actor playing a new character in The Matrix Resurrections, Abdul-Mateen is a new actor playing an old character. He is playing a new version of Morpheus, initially played by Laurence Fishburn. He said that it was Reeves that really helped raise the standard of working for the entire cast on set and that the script, despite being very high concept, has a ton of heart and humanity.
"Out of all of the sci-fi things that I've done, Matrix is the one that is the most grounded in reality, ironically. There are all of the high concepts surrounding The Matrix within our story, but really there's so much heart and humanity that's driving this narrative."
That heart and humanity really got to Jonathathan Groff, who plays "a suit who might be more than he appears to be," talked about how that heart and humanity and love in The Matrix Resurrections really got to him in a very profound way.
"When I read the script for this movie I cried, because the idea of watching these two iconic actors in these two iconic parts coming back and fighting to have their love again just wrecked me."
Even Moss went on to say that she felt like "an extension of her [Wachowski's] heart in playing this role." Everyone in this cast just keeps talking about how excellent this script is from Wachowski, and that is really something to look forward to. Even when the Wachowski's make bad movies, they always make interesting ones, and it sounds like this is a very interesting one.
From visionary filmmaker Lana Wachowski comes "The Matrix Resurrections," the long-awaited fourth film in the groundbreaking franchise that redefined a genre. The new film reunites original stars Keanu Reeves and Carrie-Anne Moss in the iconic roles they made famous, Neo and Trinity.
The film also stars Yahya Abdul-Mateen II (Candyman, the Aquaman franchise), Jessica Henwick (TV's Iron Fist, Star Wars: Episode VII – The Force Awakens), Jonathan Groff (Hamilton, TV's Mindhunter), Neil Patrick Harris (Gone Girl), Priyanka Chopra Jonas (TV's Quantico,), Christina Ricci (TV's Escaping the Madhouse: The Nellie Bly Story, The Lizzie Borden Chronicles), Telma Hopkins (TV's Dead to Me,), Eréndira Ibarra (series Sense8, Ingobernable), Toby Onwumere (TV's Empire), Max Riemelt (series Sense8), Brian J. Smith (series Sense8, Treadstone), and Jada Pinkett Smith (Angel Has Fallen, TV's Gotham). It will be released in theaters and on HBO Max for 31-days on December 22nd.