Thirteen Ghosts Blu-ray Detailed By Scream Factory
Thirteen Ghosts is getting a collectors edition Blu-ray from Scream Factory. The 2001 film was panned big time when it was released but has gained a cult following in the years since its release. The film stars Tony Shalhoub, Embeth Davidtz, Shannon Elizabeth, F. Murray Abraham, and Matthew Lillard, and was directed by Steve Beck. This disc release will include six new interviews with cast and crew, a commentary, a digital press kit that includes interviews and behind the scenes footage, and two other featurettes. Shame they couldn't get Matthew Lillard for a new interview, but oh well. It will release on July 28th. Check out the new cover art and features list for Thirteen Ghosts below.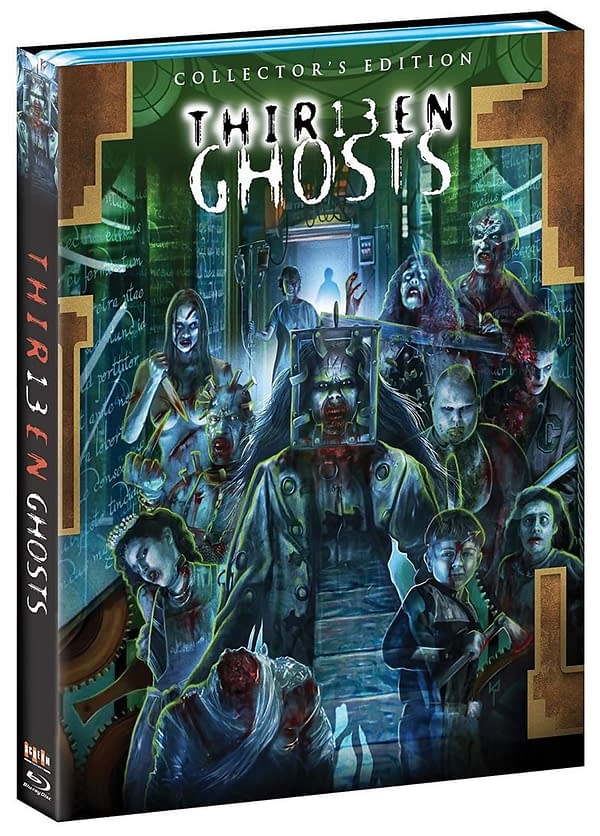 Thirteen Ghosts Scream Factory Details
"A family inherits an elegant steel-and-glass mansion from a deceased relative. The catch is that along with the house comes a slew of ghosts that can be seen only through special goggles."
Special Features and Technical Specs:
NEW Audio Commentary with director Steve Beck
NEW Haunted in Canada – an interview with actress Shannon Elizabeth
NEW The Voice of Reason – an interview with actor Matthew Harrison
NEW Sophomore Spookshow – an interview with producer Gilbert Adler
NEW The Juggernaut Speaks- an interview with actor John DeSantis
NEW The Hammer Speaks- an interview with actor Herbert Duncanson
Thir13en Ghosts Revealed
Ghost Files: A Haunted Houseful of Poltergeist Profiles
Original Electronic Press Kit featuring interviews with the cast and crew and behind-the-scenes footage
Audio Commentary with director Steve Beck, production designer Sean Hargreaves and special makeup effects artist Howard Berger
Theatrical Trailer
TV Spots
Optional English subtitles for the main feature
You know what? I am glad this is coming out. Everything about this film was crazy, and nineteen years later, I am excited to get my hands on this release. Thirteen Ghosts releases on July 28th and can be preordered here.