Tom Hanks Returns to WWII in New Film 'Greyhound'
Tom Hanks is going back to World War 2. He is starring in a new film titled Greyhound, which he also wrote the script for. It is about an international convoy of Allied ships crossing the Atlantic and being chased by Nazi U-boats. The film is based on the novel The Good Shepard by C.S. Forester. It looks fairly epic, and opening it up in the summer shows how confident Sony Pictures feels about it. Especially since it is opening so close to some film called Wonder Woman 84. This could be a sleeper hit this summer, never underestimate Hanks drawing power. You can check out the trailer, poster, and synopsis below.
The only thing more dangerous than the front lines was the fight to get there. Inspired by actual events, Greyhound comes to theaters June 12. In the early days of WWII, an international convoy of 37 Allied ships, led by captain Ernest Krause in his first command of a U.S. destroyer, crosses the treacherous North Atlantic while hotly pursued by wolf packs of Nazi U-boats. Based on the novel "The Good Shepherd" by: C.S. Forester.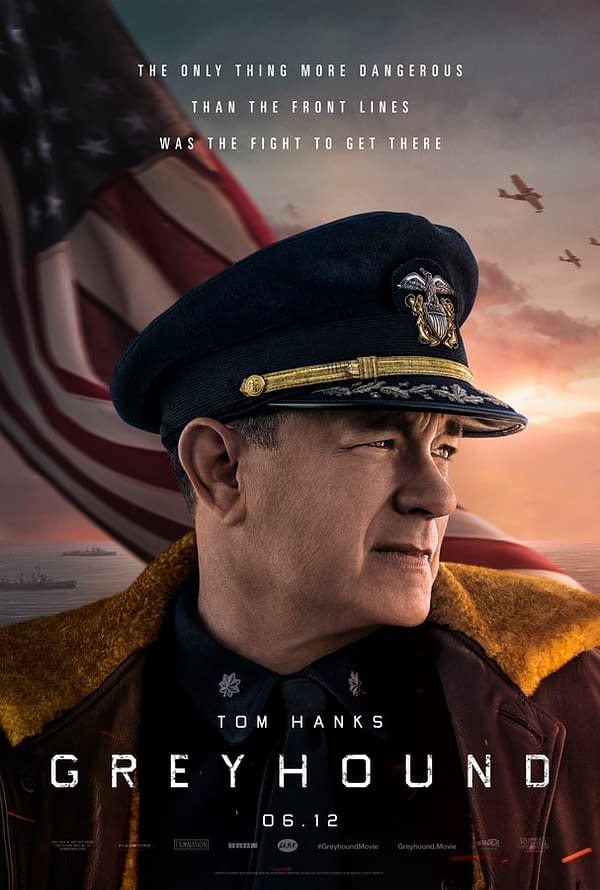 Greyhound, directed by Aaron Schneider, and starring Tom Hanks, Stephen Graham, Rob Morgan, and Elizabeth Shue opens on June 12th.