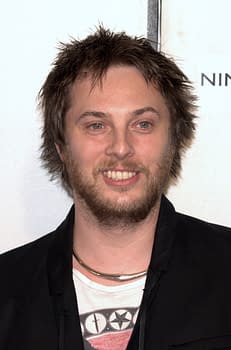 TRIPWIRE was a magazine that ran from 1992 to 2012 and this year they are planning a must-buy 20th anniversary hardcover through Unbound and a paperback edition through Diamond Comic Distributors. And they've given Bleeding Cool a weekly reminder of their classic features. This week it's TRIPWIRE's interview with Moon director Duncan Jones from TRIPWIRE Annual 2009 before he was famous. If you want to pledge, then please go here.
Man On The Moon
TRIPWIRE spoke with Moon's director Duncan Jones and its Effects Supervisor Gavin Rothery at the London Expo in Excel in May 2009.
TRIPWIRE: So what was the genesis of Moon then?
DUNCAN JONES: I met up with Sam Rockwell about three years ago to talk with him about another film script where I wanted him to play one role and he wanted to play a different one. So we basically met up in New York to try and convince each other. Unfortunately that didn't work out but we got on very well, so we started talking about science fiction films. We also discussed things we enjoyed, films we enjoyed and the kind of project that the two of us could work on together and I said that I would write something for him. That was the genesis of Moon. We talked about a lot of the science fiction films that we loved from the late 1970s and 1980s, like Outland and Silent Running and the fact that they had a lot of blue collar characters, real believable working people but in a future environment and how you didn't really get that so much any more.
TW: So ironically is it quite a down to earth film in terms of the characterisation?
DJ: Well it's definitely a very human film. It's about missing home really so it's different to Terminator 4 or the big popcorn effects films but at the same time I think that, for a little British independent science fiction film we've managed to put something on screen that doesn't give away that fact. It looks like a much bigger film.
TW: So where was it shot?
DJ: Everything was at Shepperton Studios. We had two sound stages there.
GAVIN ROTHERY: We used four altogether, over the course of the production. We moved around.
DJ: There were two main ones. There was the interior of the moon base and there was the exterior of the lunar landscape so we used model miniatures.
GR: That was really fun actually. We decided that there's all kinds of reasons but models look cool. They look cooler than CG. We explored every avenue for the visual effects because it's such a huge part of the film. There's about 450-odd VFX shots. It's set on the moon so it's going to have to be VFX heavy. So we decided that we'd go for miniatures because they just look cool. They always have done and they always did. Miniatures just look good so we went for miniatures augmented with traditional computer-based post on top of that. It's just got this weird look that people seem to like.
DJ: We built the entire base on one of the sound stages and that was a 360 degrees set so we'd go in there in the mornings through the airlock. They'd close it up and we'd be there for the rest of the day…
GR: Inside a loony bin.
TW: So did you use a London post house?
DJ: Yes, we used Cinesite and we basically had two grades of work that needed to be done. Cinesite did a lot of the more complicated work and we had another company called Molinaire that came in. They did a lot of the grunt work, but they did a terrific job on it. So we had two post houses. We got an amazing deal from them because everyone wanted to support and help a little British independent film.
GR: We got a lot of goodwill and people were really into what we were doing and wanted to help us. You can see it in the film because there's a lot of good work in there that people contributed.
DJ: I've been going to Shepperton Studios to shoot short films and music videos for about 10 years so they knew me around there. They knew that one day I was going to come and do my feature film so they were there to help us out.
TW: So what is the Hollywood high concept one-line description of Moon?
DJ: I'm not sure. I'm not really good at that kind of pitch.
GR: We wanted to do a film that looked like something that was made but got lost in the 1970s, around the Silent Running era that somehow got discovered.
DJ: Sam Bell, a caretaker at a mining facility on the far side of the Moon is coming to the end of his three year contract. He goes out to do a routine extraction of helium 3 from a harvester machine, and has a crash. Wakes up back in the base and because he's on his own out there, he doesn't know how he got there. So that's the set-up for it.
TW: But presumably it's quite lowkey, so it's quite psychological in terms of what occurs?
DJ: It's grown-up because it's about Sam, what he experiences and what happens to him. But I think we've got a really nice balance because it's not like Solaris. It's not that kind of extremely contemplative, quiet kind of film. It's much funnier, it's got action scenes in it and we really just wanted to create something that was as smart as hopefully it was entertaining.
GR: It was a film that we wanted to watch if we hadn't made it. Being big sci fi nerds, we tried to make a decent one and also on a personal level, all our friends know we're such a huge bunch of geeks that we can't make a sci-fi film that's rubbish. We'd never live that down.
TW: So what was the rough budget for the film?
DJ: It was just under $5m.
TW: So obviously you called in a lot of favours from people?
DJ: Yeah we did. We called in huge numbers of favours. We planned it out pretty meticulously. That doesn't mean that's the way it actually went but we planned it out meticulously and then when we got on set, everything went up in the air so you have to compromise. But we had a good method of working, a good way of balancing the effects, the performance and the way of doing it in a way that would fit what we were going to be able to do with the time we had.
TW: So was it quite a small crew?
DJ: We did keep it quite small. We had a terrific cinematographer, a guy called Gary Shaw that we had worked with before in commercials. This was a first feature film for him as well. But because of the way most of the live action was shot in this space, most of the lighting was actually built into the set itself so as far as moving around and shooting, there was only a really small lighting kit you would have to move around with him. Most of the lighting was already in there as part of the base so that helped speed things up a lot. Not to give away too many spoilers but Sam Rockwell plays multiple parts and there's some very tech heavy effects that we do where Sam plays multiple parts onscreen at the same time.
GR: There's a lot of makeup as well. Waiting around for makeup changes and we had a lot of kit in place that couldn't be moved until Sam went off and got all made up and comes back so there were a lot of periods where you're waiting round for an hour and a half.
DJ: The thing is that you couldn't really shoot anything when Sam wasn't not around because he's so integral to everything that's going on on screen.
TW: So did you write the script on
your own?
DJ: I wrote the original story and then a very extensive treatment. There's another writer that I normally work with, a guy called Mike Johnson and he was actually doing Sherlock Holmes, the Guy Ritchie film, at the time. He is the bloke I would normally work with but as he wasn't available, I had to find a new writer. I was put in touch with a few writers and the one I got on best with was Nathan Parker. So Nathan took my 30 page treatment, which was very extensive, he turned that into a first draft and then I gave him some notes. He did a second draft and then from that point onwards, I did the drafts on top of that. And then for an independent which was unusual, I had the opportunity to do a week of rehearsals with Sam in New York, so during that, we did a lot of improv and went through the script and changed a lot of things. We made adjustments and then after that week of improv and rehearsals, I came back to London and did a further rewrite that changed some things.
TW: So Sony are the distributor, so presumably you made it and took it to them?
DJ: Sony is a monster. It's a very big company and has loads of sections to it. Sony Worldwide got involved with the financing of the film just before we were going to start shooting so they basically bought all of the English-language territories at that time. This meant that, when we were going to find out who was going to be distributing the film in America, it was already Sony's to decide what they were going to do with it. We were very fortunate that Sony Classics in America took the US side of the film and then later on we found out that it was going to be released by a division of Sony in the UK as well. So that was how that was handled.
TW: What are the release dates for the UK and US?
DJ: June 12th for the US, which is called a rollout. This is all new to us as well. So they start off in New York and Los Angeles and then it rolls out across the rest of America. Each week it goes to more and more cities. Then it's a bigger release here in the UK on July 17th. q
Enjoyed this article? Share it!