Universal Studios Conjures Dark Arts at Hogwarts Castle
Universal Studios has conjured up an all-new nighttime event at their Wizarding World of Harry Potter themepark area which will see the infamous Dark Mark of He-Who-Shall-Not-Be-Named front and center on Hogwarts Castle.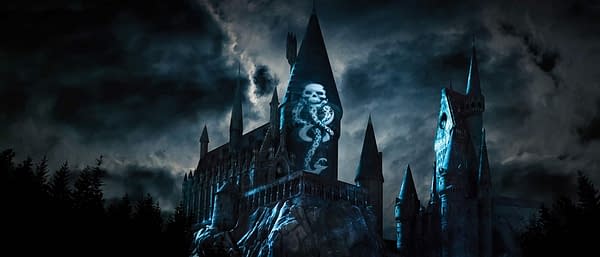 There isn't much information about the new nighttime show, but the official announcement of the new visual entertainment from Universal Studios sounds pretty great:
As darkness falls at Hogwarts™ Castle, Dementors™, Death Eaters™ and other unspeakable creatures rise to cloak the stone walls in sinister images and fiendish magic. Chaos erupts as the image of Lord Voldemort™ joins the fray, summoning his cruel legions to swarm the castle. Experience the fire-engulfed army of Inferi and the soul-draining breath of Dementors™ as you stare in awe at the castle's takeover. Accompanied by an atmospheric music score created by John Williams, this powerful spectacle is an unforgettable end to your day.
The show will preview starting April 13th and will run to April 28th, and again in May from the 25th-27th 2019.
We'll let you know what else we hear about it as information becomes available.