[#WonderCon] That Time George Lucas Visited the Ready Player One Set
WonderCon in Anaheim has steadily increased its major studio presence over the past few years, and in 2018 that meant Warner Bros. Specifically, at least from looking at how packed the area was during the presentation, Ready Player One.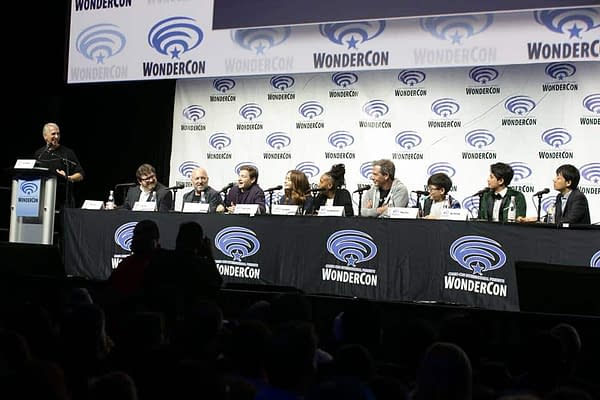 The film screened back at South by Southwest (SXSW) and was pretty much the main movie discussed over the weekend by fans, critics, and professionals in the industry alike across the three days. The RP1 panel was a packed house on Saturday, and it's not surprising.
Source material author Ernie Cline was on hand, as was screenwriter Zak Penn, along with the cast including Tye Sheridan, Olivia Cooke, Lena Waithe, Phillip Zhou, Win Morisaki, and Ben Mendelsohn. Moderated by Access Hollywood's Scott Mantz (who did NOT bring up La La Land once, surprisingly), some new stories about the production emerged, including a pal of Steven Spielberg showing up on set.
Apparently George Lucas visited, and he wouldn't stop giving Steven a bad time about shooting digital. "You always said you never would," Penn said of the visit, "look at that camera there, that's digital, and so's that one."
Tom Cruise showed up at set too, apparently, and poor Olivia was super embarrassed. "We were shooting in our MoCap suits, and I blacked out kind of, and I know I bowed to him like a servant."
The panel also took questions from the audience, one of which tackled the question of revealing Waithe's casting (which is a big reveal in the book, and in the film too).
Zak and Ernie both responded to this one, saying they tried to keep secrets about the casting, but "didn't know Lena was going to have her year (she won an Emmy for her written episode of Master of None), so thanks, Lena."
Lena: It's still [a surprise] when we pop up in the movie, I promise. I'm in my own little oasis, it's phenomenal it's such a highlight to be in a movie like this, to be in the Spielberg library, is a huge honor.

Ernie: Also, I just have to say it's disconcerting when you realize one of the actors in your film is a better writer than you.

Lena: But your book inspired me to be a better writer.
There was also an important question: everyone's favorite video games. Unsurprising if you are at all familiar with his work, Ernie said Atari 2600 Adventure, Zak said Grand Theft Auto: Vice City, Tye said FIFA (apparently he's pretty good at it, playing on set often), Olivia Sims (and also coyly asked if a Tamagotchi counts), Lena's pick was Sega Genesis Sonic the Hedgehog, Ben said Defender, Philip went with NBA 2K18, and Win chose Infinite Flight (a flight simulator).
Ready Player One opens in theaters on March 29th.