iZombie Season 4: A Look Back at Season 2 (The Weekly Static: Extras!)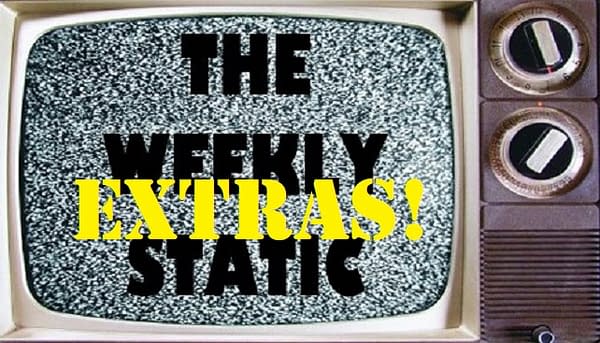 Next on The Weekly Static: Extras!, Margo Staten follows up her thoughts on CW's iZombie Season 4 trailer and Season 1 with her takeaways from the show's second season: all leading up to Monday night's Season 4 premiere.
https://youtu.be/iE9FZeUFIL4
"A massive zombie outbreak means never having to say you're sorry" – Olivia "Liv" Moore
Originally published by DC Comics' Vertigo imprint in 2010, the CW's adaptation of Chris Roberson and Michael Allred's comic book series iZombie debuted its second season on October 6th, 2015, and let me start off by saying that this season is by far my favorite: so many laughs, so many brains, and so many wicked personalities.
Watching Olivia "Liv" Moore (Rose Mclver) strut her stuff as a dirty librarian in Episode 11 or a stripper in Episode 16 (bring on that lap dance!) had me falling off my couch. The season also had an exhilarating and unexpected season finale. Who would have thought that everything would lead up to a party gone horribly bad? A bloody massacre unfolds, Rob Thomas's brains get eaten, and — yes, I said Rob Thomas. You know, the guy from Matchbox 20? Pretty sure I got your attention now…
Let's rewind a little bit: Season 1 left off with Ravi Chakrabarti (Rahul Kohli) finding a cure for the zombie virus, but guess what? Well, turns out not only does it have a few "side effects", but the cure itself turns out to be only short-lived. Both Blaine Debeers (David Anders) and Major Lilywhite (Robert Buckley) acquire the power to detect other zombies (though I'm not sure anyone would really care for that gift, kind of makes me think of "Rowdy" Roddy Piper in They Live, minus the sunglasses).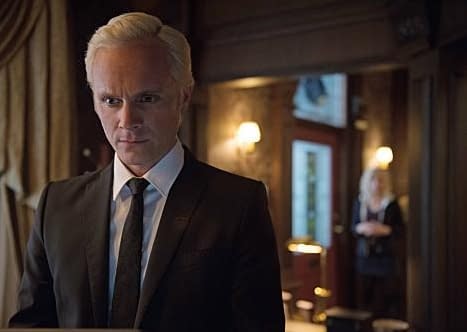 Blaine is now a legitimate business owner of the Shady Plots Funeral Home; which to no one's surprise is actually a cover for both his Utopium selling business and the scoring and selling of brains. Although Liv finds Blaine an utter thorn in her side, she is forced to enlist his help to locate the tainted Utopium used to turn humans into zombies from Season 1 so that Ravi can continue working on a permanent cure (and once again, a moment of silence for the many mice lost to Ravi's unsuccessful attempts).
Season 2 also introduces us to Mr. Boss (Eddie Jemison), Seattle's biggest drug lord and Blaine's number one competition. Payton Charles (Aly Michalka), assistant district attorney for the Kings County Prosecution Attorney's Office (and Liv's best friend) begins building a case against Mr. Boss by enlisting Blaine's help and offering him full immunity to cooperate. Peyton develops feelings for Blaine, which Mr. Boss by kidnapping Peyton to force Blaine's cooperation; but with Ravi's help, Blaine is able to save Peyton. Not too pleased with having his plans screwed up, Mr. Boss sends his goons to kidnap and kill Blaine, slicing his throat and leaving him for dead in the woods. But in typical Blaine fashion, he resurrects himself as a zombie and hitches a ride back to the coroner's office to score some munchies.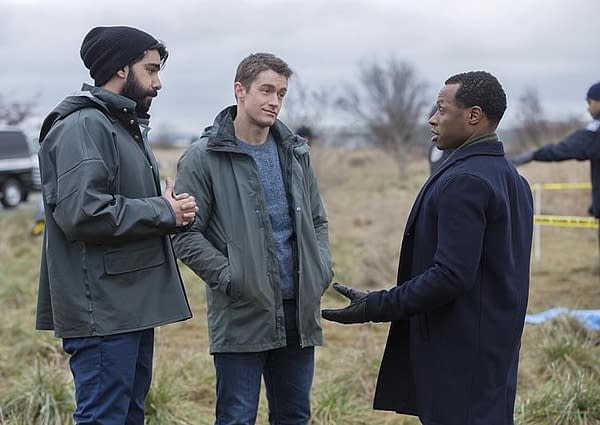 Given Major's newfound superpower and personal career choice as a personal trainer, he gains the attention of Max Rager owner Vaughn Du Clark (Steven Weber). Du Clark recruits him to help eliminate the zombie outbreak — the same zombie outbreak that comes courtesy of his company's energy drink when shaken/stirred with Utopium. Du Clark's request: find zombies, kill zombies. Needless to say, Major has serious doubts about the prospect of working for a criminal like Du Clark and essentially becoming his hitman. Du Clark can be very persuasive, though — but in an "I'll kill Liv if you don't work for me" kinda way — so guess what? Welcome Du Clark's next "employee of the month" Major Lillywhite!
Notoriously labeled "The Chaos Killer" by the media and under investigation by both the FBI and Seattle PD, I couldn't bring myself to believe that Major was capable of killing so many people, and I'm glad I wasn't wrong. We find out that Major's ethics got the best of him: instead of killing them, he's been tranquilizing and freezing them — though what to do with them is still TBD.
Major is eventually arrested and jailed, where he struggles against his full zombie mode urges thanks to days without brains. Liv makes every effort to funnel some brains to him, but her attempts are unsuccessful. Fearing that a full-on prison zombie outbreak is inevitable, Live spills her zombie secret to Detective Clive Babineaux (Malcolm Goodwin) in typical Liv Moore fashion: she stabs herself in the chest, goes full-on zombie mode, bares teeth and red eyes and all, and then just as quickly returns back to her usual goth self as if nothing happened. Clive's loyalty and their friendship are stretched to the breaking point after he gives up on two major cases and sabotages FBI agent (and girlfriend) Dale Bozzio's (Jessica Harman) case to save Major and avert a zombie apocalypse.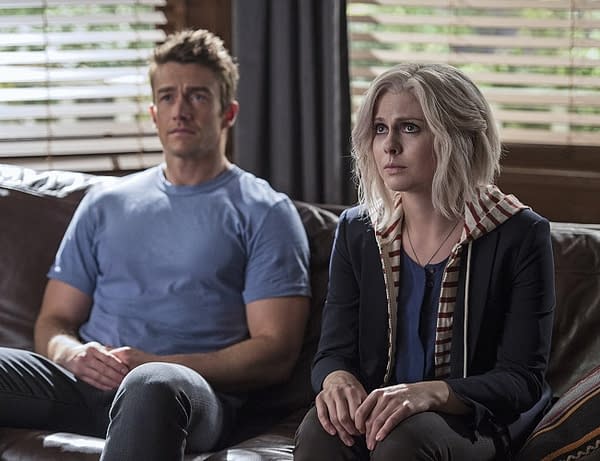 "You're a sick bitch and I just want you out, now. Because at midnight I'm gonna hunt down anything you left behind and burn it." – Liv
Some additional highlights:
Du Clark enlists the help of his daughter Rita (aka Gilda) to spy on Liv; Gilda becomes Liv's new roommate (that doesn't end well); and did I mention that Major sleeps with Gilda (oops)?
Du Clark sends a goon to kill Liv, but instead is killed by Ravi (finally, the man gets his hands dirty).
Major's frozen zombie stash goes missing, only to find out that the undead are "alive" and well in the basement of Max Rager while Du Clark experiments on them to find a cure for his daughter, That's right, Du Clark's fabulous daddy skills have turned Rita into a zombie.
Du Clark sells Max Rager and Supermax to Filmore Graves Enterprises, a "unique" private military company run by Vivian Stall (portrayed by Andrea Savage, who will be a huge factor in Season 3).
Liv has a new love interest in Drake Hollaway (Gregy Finley) a human-turned-zombie undercover cop who is both a henchman for Mr. Boss and a spy for Blaine. Unfortunately (or fortunately if you're a Major fan), Live shoots Drake dead by the end of the season. Break-ups are hard, people.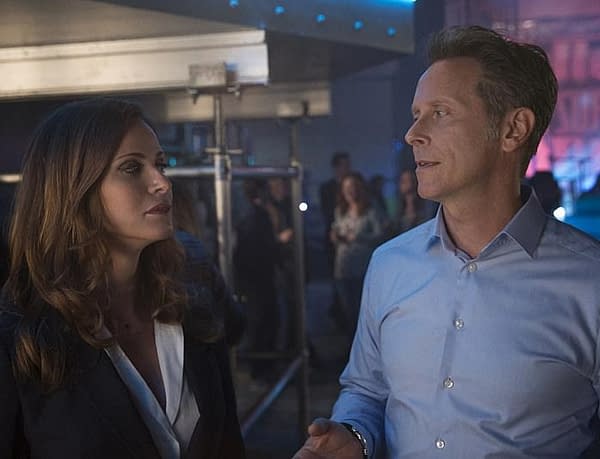 "Are you ready for the new world order, Olivia Moore?", "Ready to do your part for your kind? Someday soon Seattle's going to be the capital of the zombie homeland and a lot of people aren't going to want to see that happen. So are you with us? Or are you against us?" – Vivian
Season 2 ends with a huge Max Rager lockdown party and an insane body count: think From Dusk till Dawn but after Salma Hayek's very memorable snake dance. A couple of employees mix Utopium with the new Supermax drink and go full on zombie mode: panic… murder… eating… and the undead come out on top.
Meanwhile, Clive, Liv and Major crash the party to find and save the missing frozen zombies (as well as Liv's current hottie Drake). Sadly, a minimum amount of ammo leaves the trio locked in a small room with zombies raining down from the ceiling above. Our heroes manage to escape and make their way down to the secret lab; attempting to free the cooped-up zombies with the help of Rita, who has revenge on her brain. In the middle of all of the madness, Du Clark attempts to save his own life by escaping — but that's not going to happen. Du Clark is feasted on by the same zombies he helped create, with Gilda feasting on daddy's brains before being put down by Major.
Stall's military forces storm the party, and guess what? Turns out Stall is a zombie — and so is everyone at Filmore Graves Enterprises. While her forces go "scorched earth" on the zombie outbreak, Vivian asks Liv a question that will set the tone for Season 3: "Are you with us, or against us?"
Once again, it's that time when I pay homage to the many personality-inducing brain feasts Liv had this season:
• spaghetti and meatballs and old man brains
• nachos and frat boy brains
• tuna stuffed tomato and fashion obsessed trophy wife brains
• hushpuppies with sriracha and country singer/waitress brains
• omlette and basketball coach brains
• baked clams (fancy) and degenerate gambler brains
• goulash and death obsessed illusionist brains
• ants on a log and stalker brains
• sandwich and superhero brains
• mac and cheese and actor brains
• stuffed green peppers and dirty librarian brains
• sushi and social media fanatic brains
• cheese burger and pathological liar brains
• scones and little miss sunshine brains
• vegetable soup and scientist brains
• BLT and stripper brains
• Spicy beef stir fry and Type A personality brains
• Bagel with strawberry jam and hot sauce and hitman brains
iZombie returns to the CW for its fourth season premiere on Monday, February 26th at 9 p.m. ET.
https://youtu.be/rAs8gbbDm5g
Margo Staten is a Ukrainian born, raised in Brooklyn organically driven, coffee loving, twice divorced mother of one baby Einstein. Has a passion for books, yoga in the park and all things 80's and New Orleans.