[Olympics] #SlideAPose Is Just as Adorable an Idea as You Think It Is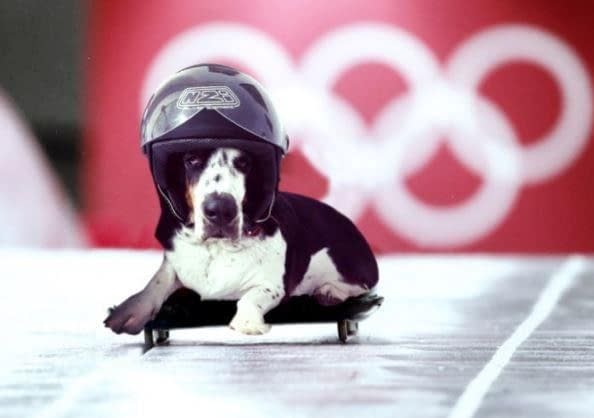 As the Winter Olympics head toward their official closing ceremony on Sunday, February 25th from the Olympic Stadium in Pyeongchang, South Korea (which you can watch live on the NBC network starting at 6 a.m. ET; or catch the taped replay at 8 a.m. ET), the Olympic Channel (the official social media account for the International Olympic Committee's (IOC) competition) is asking Olympics fans to #SlideAPose:
That's right, sports fans! Between now and Sunday's wrap-up, you, your friends, and your families and your fine furry creatures have a chance to post pictures of yourselves imitating the best, worst and weirdest poses of a Winter Olympic athlete and posting them to Instagram — and make sure to use the hashtag #SlideAPose if you want to featured in the Olympic Channel's Instagram Stories and other social media.
Now there are rules — and they are important — but first? Let's look at some doggies and puppies and lambs (and yeah, even some humans) doing their thing to bring you some of that sweet, sweet Olympic spirit:
"And are the lambs still bobsledding, Clarice?"
Okay, now here's the Olympic Channel's fine print that you'll need to know if you plan on joining in on the fun:
1. We invite our followers on Instagram to publish a picture of themselves imitating the pose of a Winter Olympic athlete. The challenge here is to pose as the athletes but in a normal/safe context: a classroom, a meeting room in an office, in front of an ice-cream parlor at the mall, etc. The participants must use the hashtag #SlideAPose when they post their pictures.

2. We will choose the pictures that we consider the most original and fun ones and we will share them on the Olympic Channel's Instagram Stories, tagging the relevant users, after contacting them via direct message and receiving their written consent. The contacted users' data won´t be use for any other purpose.

3. We will not select any pictures that are offensive, politically motivated, dangerous or discriminatory.

4. There is no prize other than potentially being featured in the Olympic Channel's Instagram Stories.