Sam Rockwell Drops F-Bomb on SNL: Nation Mourns, Vows to Rebuild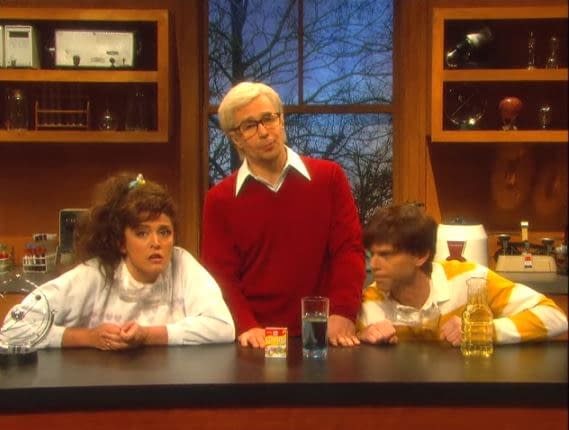 Well, right off the bat there are two things we either learned or confirmed about actor Sam Rockwell (Three Billboards Outside Ebbing, Missouri) last night: he really seems to care about science, and he really likes to throws himself into the characters he plays… much to the chagrin of NBC censors.
Saturday Night Live kicked off the second-half of Season 43 (and the first Saturday Night Live of 2018) with viewers already eager to see how "Weekend Update" hosts Colin Jost and Michael Che would address the controversy from President Donald Trump labeling Haiti and other African nations as "shithole" countries (and they didn't disappoint). Leave it to host Sam Rockwell (hosting with musical guest Halsey) to one-up them in the potty mouth department and set the tone for the rest of the show.
During one of the episode's earliest sketches, Rockwell played "Mr. Science:" the host of a '90s PBS science program for kids entitled The Science Room with Mr. Science. Over the course of the funny-yet-uncomfortable sketch that tackled the poor job the country's doing in educating kids on science, we see "Mr. Science's" patience grow thin as his frustrations rise at his "little helpers" (Mikey Day and Cecily Strong) who have problems with even the most basic science questions (favorite segment: "…look at the oil…")
At around the 2:50 mark, you can hear the moment for yourselves: "You can't be this f*cking stupid" (sorry, fellow deviants, but they're only offering up the NBC edited version). Rockwell quickly recovered and subtly apologized while moving the sketch along — Day and Strong looked surprised, but stayed in character.
To say that this isn't Saturday Night Live's first go-around with "f*ck" would be a righteous understatement. Here are just a few examples of those who found themselves caught up in the moment:
Charles Rocket (1981)
Norm Macdonald (1997)
Jenny Slate (2009)
Samuel L. Jackson (2012)
Kristen Stewart (2017)