It's pretty neat that Disneyland chooses to celebrate events and holidays from non-American countries and cultures. During the month of February, California Adventure changes a bit and the Lunar New Year celebration begins.
One of the highlights of this change comes with all the food stands set up along the sides of the area leading into Paradise Pier (which is closed right now for a Pixar retrofit).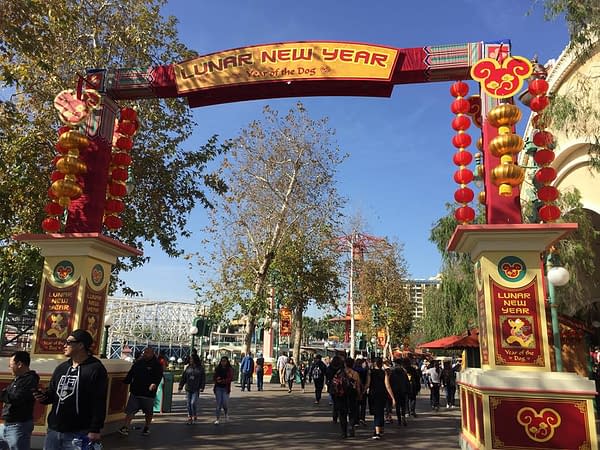 There are food stalls are set up by country, as there is a Korean one, Chinese, Vietnamese, and hodgepodge at the Paradise Grill.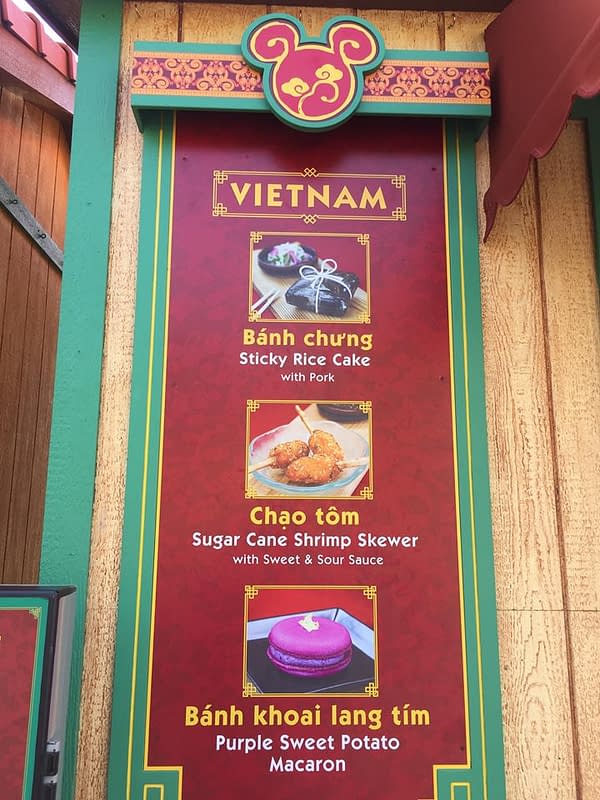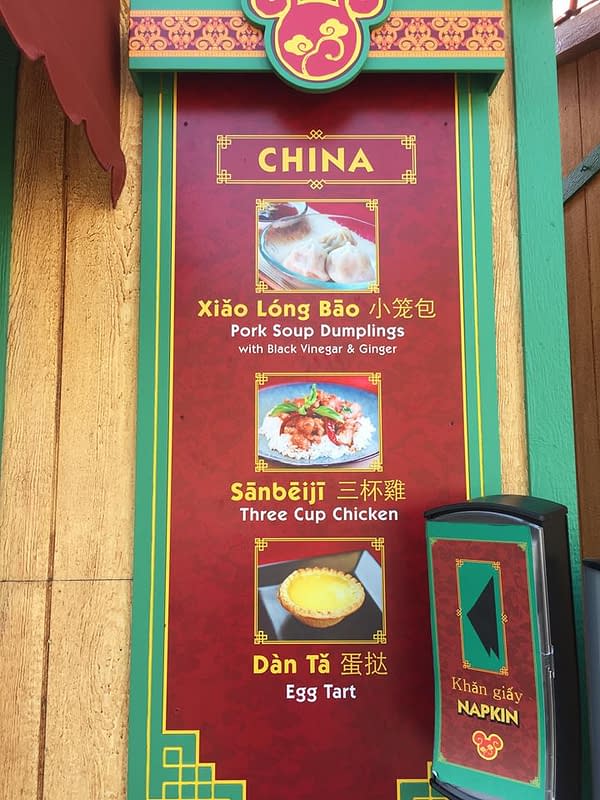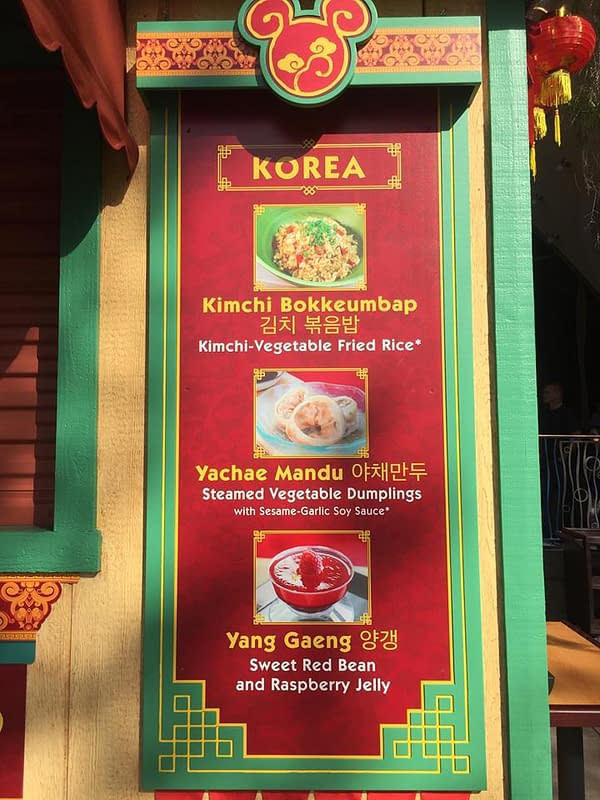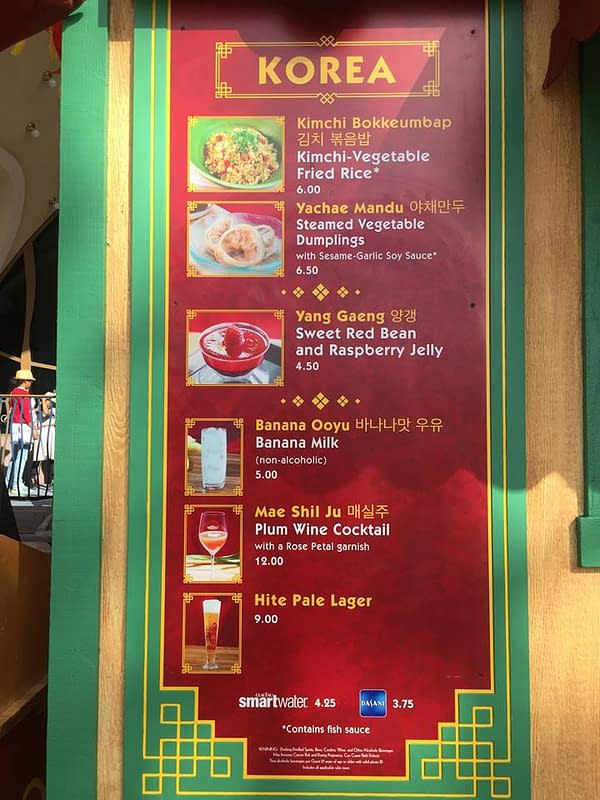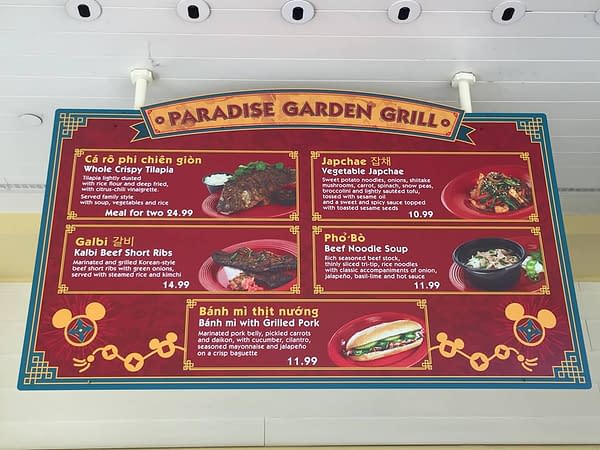 My party and I decided to sample some of these fabulous-looking dishes, and our first stop was the Korean stand.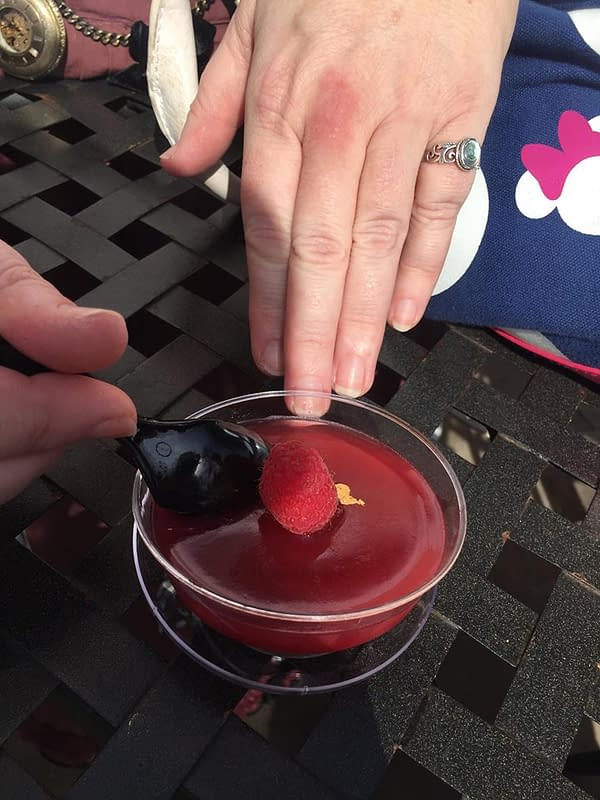 This tiny treat was sweet and light, the two flavors complementing each other rather than fighting for dominance. The gold leaf on top was a nice touch. My party (three of us total, meant that I could sample more noms on this trip than if it was just me) gave it a 3 out of 5.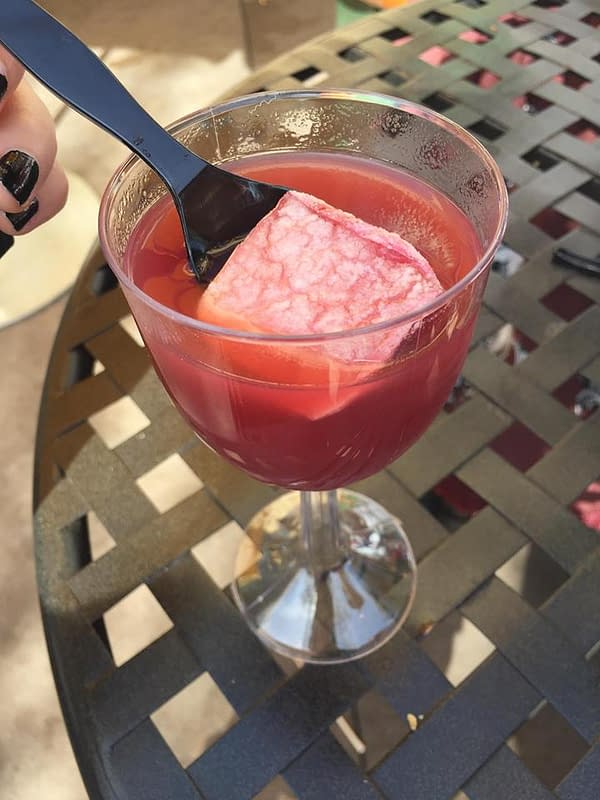 It's still a novelty (for me, anyway) to be able to enjoy an adult beverage at the CA Adventure. And I do enjoy a nice cocktail (my favorite in the park being the Smoked Turkey; if you like bourbon and smoke and cherries, it's the bestest). The Plum wine had a nice balance of flavor; it's pretty close in its lightness to the Sangria in the CA side, and we were happy with its non-sticky and cloying presentation. We gave it a 5 out of 5 — would definitely drink again on the same day.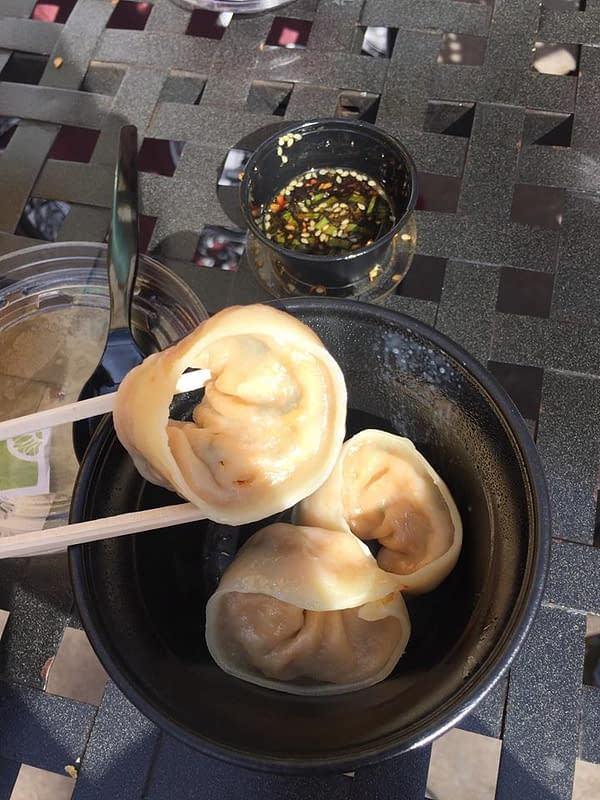 These dumplings were fabulous, and I could have eaten 12 of them on my own, easy. Good level of spice — if you are a bland food person, these may still have too much on the way of gentle spicing for you. The texture of both the inside and outside was excellent, and the dipping sauce was tasty. We gave these 4 out of 5, as one in my party didn't try them, and the other person didn't like them as much as I did.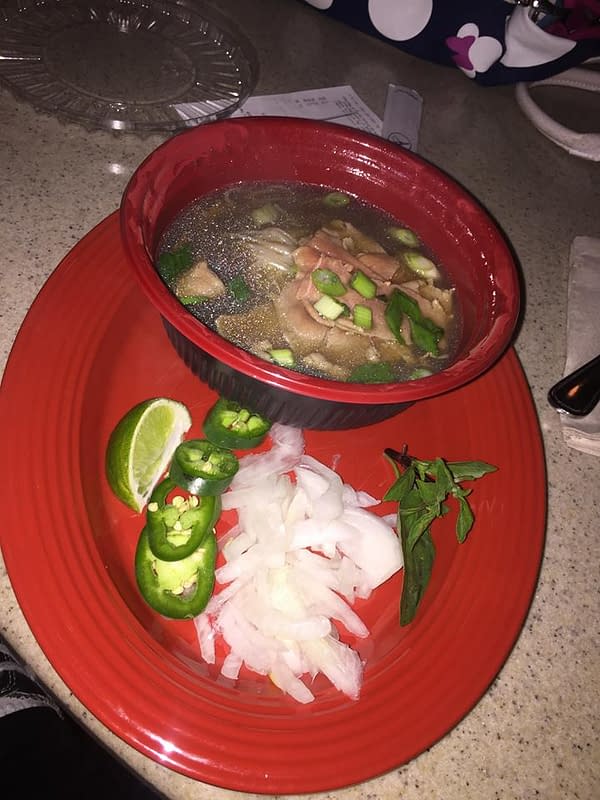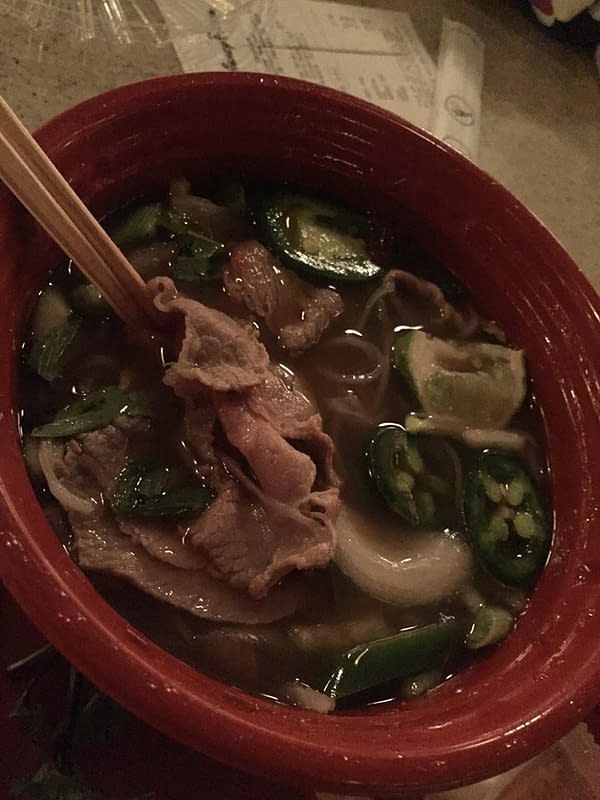 My FAVORITE of the Lunar food had to be the pho at the Paradise Pier. I'm addicted to good pho as it is, and I was beside myself with glee at seeing it on the menu. I wanted to complement it with a bahn mi, but it would have been too much for just me. It's a good quality beef pho; the beef was again excellent in texture and preparation. The tray comes with your usual fixings: lime, onion, jalapeno, and Thai basil. Would eat all day every day: 5 out of 5.
Some of the other fun things they had set up for the holiday were the charts so guests could figure out what year they were born in. It's amusing because my group and I had been talking about what Disney animals would work for what year, because with 2018 being Dog, Pluto is the Disney pal being used.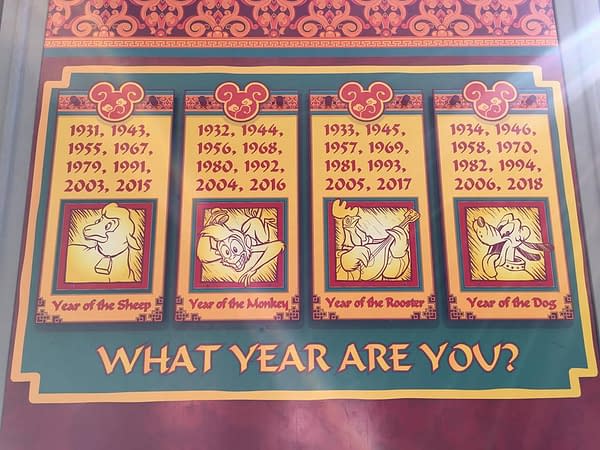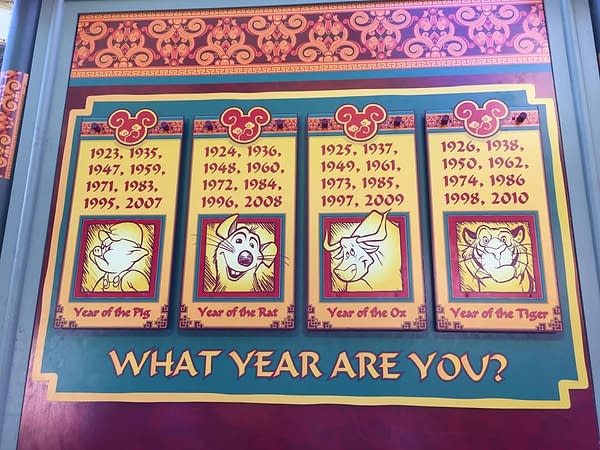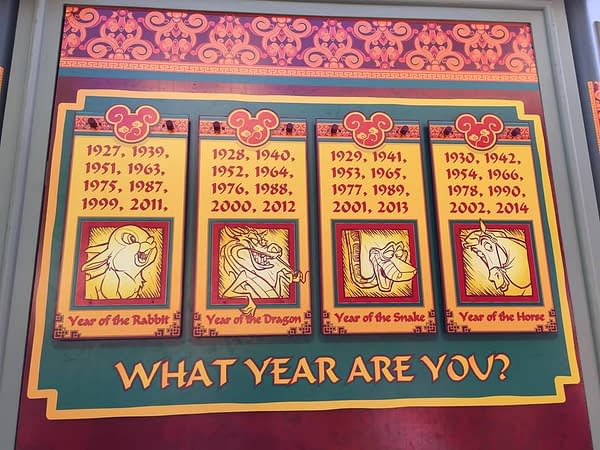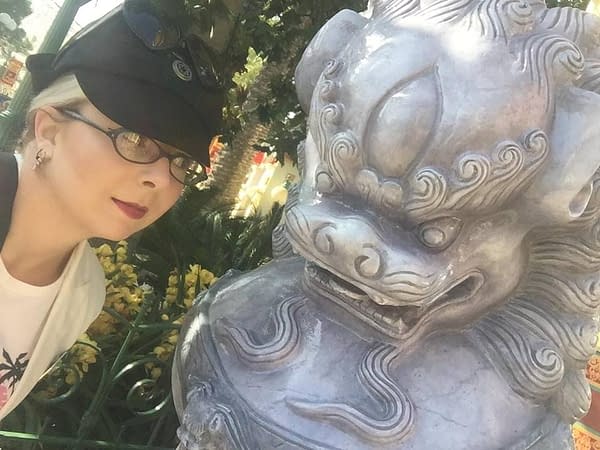 The event is absolutely delightful, a live band performs at various times during the day, there are special themed character meet-and-greets, activity areas, a new parade, and there was even an addition to the evening World of Color show called "Little Lantern".
The Lunar New Year celebration goes from now until February 18th.
Enjoyed this article? Share it!