A Quick Take On Shin Godzilla From NYCC
Jemal Flores writes for Bleeding Cool
On October 5, as a prelude to New York Comic Con, Funimation Films had a preview screening of Shin Godzilla at the AMC Empire 25 theater and I was lucky to be in attendence. The movie is a reboot of the classic Japanese monster franchise, with a limited release in North America between October 11 – 18, 2016.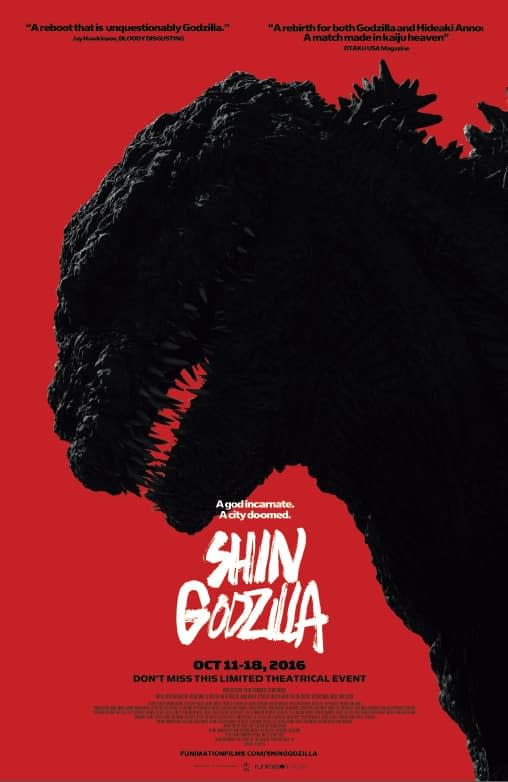 Hideaki Anno (Evangelion) and Shinji Higuchi (Live-action Attack on Titan) co-directed this film. Shin Godzilla is filled with bold satire of the Japanese political system, while bringing the film's special effects into 21st century. The process really was a wonder to behold. Godzilla's appearance is unnerving and frightening as you'd expect, and despite its eerie visuals, the movie also blends in humor with its more scary moments.
The effects really were fantastic.
Godzilla
's New Designs are intresting, with his new evolution of forms being an inspired idea. I especially liked the explanation that goes along with the appearance. In this new iteration, it captured what it feels like to have
Godzilla
as a true force of nature.
Atthe premiere, actors Finn Wolfhard and Caleb McLaughlin (Stranger Things) attended. Finn was joined by his brother Nick and Caleb, his sister. I spoke with Finn and his brother about the film. Nick said "It was a different Godzilla movie. Likeable in every way." He is a fan of Evangelion and he and Finn both loved the film's music score. Finn also commented on the heavy satirical tone of the movie. The brothers both thoroughly enjoyed the film and were excited to have seen it.
Shin Godzilla will debut in North American theaters for a limited engagement between October 11 – 18, 2016. Tickets are now available for pre-purchase here.
Jemal Flores is a contributor for Bleeding Cool,is a Comic Book Collector, & Charity Cosplayer. He is a fan of all things nerdy.You can follow him @chojinmahn on Twitter.