18 Million People Watched the Return of Roseanne
Last night's return of ABC's Roseanne was huge. The revival of the '90s sitcom featuring Roseanne Barr and John Goodman pulled in 18.2 million total viewers and a 5.1 demo rating across the double-episode run. That made it the biggest launch of the season, beating out Young Sheldon, which brought in 17.2 million viewers and a 3.8 rating for CBS. It also beat NBC's revival of Will & Grace that did 10.2 mil/3.0.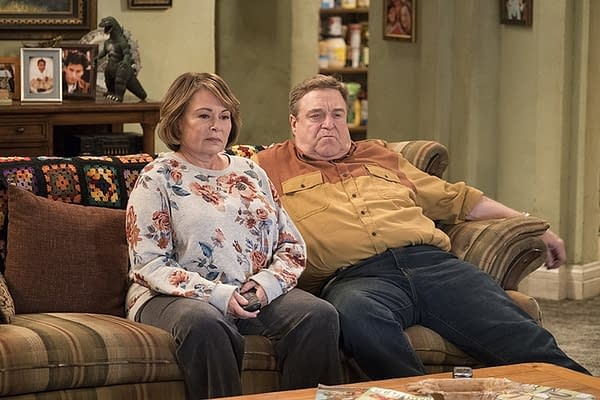 Roseanne gave ABC their best numbers in the time slot since November 2006 and November 2009, respectively. It helped the rest of the night as Black-ish did 8.7 mil/2.6, biggest audience since its series premiere, their other new series Splitting Up Together did 7.2 mil/2.2 and For the People was up 33% to 3.6 million viewers and 50% to a 0.9 rating. A very good night for ABC.
Feeling the pressure from the revival, The Voice fell 19% and 17% to 8.9 mil/1.6, Rise sank to 4.5 mil/0.8 a loss of 17% and 27% and Chicago Med was down 16% and 17% to 5.8 mil/1.0, which won't make the NBC executives happy. Over at CBS, their juggernaut NCIS slipped a bit to 11.8 mil/1.3 and NCIS New Orleans dropped to 8.6 mil/0.9 while Bull was steady at 10.7 mil/1.2. Fox also had their shows dip a little with LA to Vegas pulling in 2 mil/0.6 and the Mick 1.8 mil/0.6.
On the CW, The Flash was a rerun of 'Enter Flashtime', but there was a new Black Lightning, which held steady at 1.54 mil/0.5.