AEW Dynamite Preview: AEW Strikes Back After Royal Rumble Weekend
Hopped up on several cans of Mtn Dew Pitch Black, The Chadster runs down tonight's AEW Dynamite card in his trademark unbiased fashion.
---
The Chadster has had an absolutely euphoric weekend, and not just because The Chadster traded out his usual White Claw seltzers for six-packs of the Chadster's new favorite beverage, Mtn Dew Pitch Black, and it's really messing The Chadster up. No, The Chadster is experiencing post-Royal-Rumble satisfaction after witnessing the greatest wrestling show in the history of the business. The Chadster was so ecstatic after watching the Royal Rumble and WWE Raw a few nights later that he nearly overcame his sexual impotence, though, unfortunately, The Chadster's wife, Keighleyanne, was too busy texting that guy Gary to capitalize on the moment. But that's not important. What matters is that WWE is in full-0n WrestleMania season and nothing anyone can do will stop them from achieving total dominance over the wrestling industry! And now billionaire AEW owner Tony Khan wants to RUIN EVERYTHING WITH ANOTHER EPISODE OF AEW DYNAMITE! Auughh man! So unfair!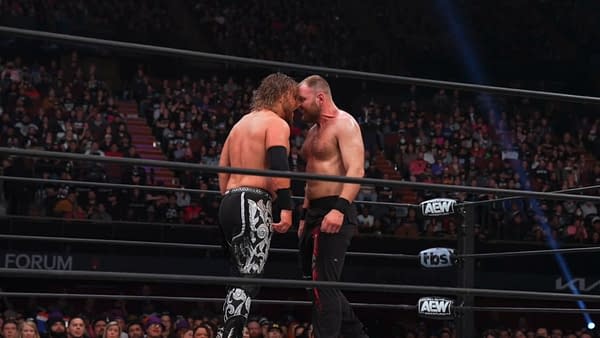 The Chadster doesn't understand why Tony Khan doesn't just give up now. WrestleMania is just two months away. Why is he even bothering to produce new episodes of AEW Dynamite knowing he has no hope of overcoming WWE? The Chadster will tell you why: because Tony Khan is just so obsessed with The Chadster! Tony Khan is so obsessed with The Chadster that he tailors every single wrestling storyline and every match outcome to be whatever will cheese The Chadster off the most! And then he laughs and laughs while The Chadster suffers, unable to consummate his own marriage thanks to Tony Khan's twisted games.
Tonight on AEW Dynamite, "Hangman" Adam Page takes on Jon Moxley in a fight for the ages. The TNT Championship is on the line as reigning champ Darby Allin battles Samoa Joe in a no holds barred match. The TBS Championship is up for grabs as champion Jade Cargill faces off against Red Velvet. The Acclaimed, currently the AEW World Tag Team Champions, will be in tag team action. In addition, Bryan Danielson and Timothy Thatcher face off, and Konosuke Takeshita and Brian Cage will also tussle. The Chadster is beside himself at this card. Tony Khan is blatantly trying to upstage the Royal Rumble! Tony Khan has absolutely zero respect for the wrestling business and everything Vince McMahon has done for it!
The Chadster is beset with worry and dismay. What else is Tony Khan planning? Is The Chadster simply doomed to live a life of misery and paranoia, constantly wondering when Tony Khan will strike next to RUIN THE CHADSTER'S LIFE?! Or maybe The Chadster can just appeal to Tony Khan's better nature – if he has one – and plead with him to just cancel the show and stop competing with WWE. The Chadster is willing to offer anything – including Keighleyanne – to get Tony Khan to stop this feud and let The Chadster have some peace. Vince McMahon has worked hard to ensure WWE is the best wrestling product in the world, and The Chadster will not stand for someone attempting to undermine his vision. So just make it stop, Tony Khan. The Chadster is begging you.
AEW Dynamite airs tonight at 8/7C on TBS… unless Tony Khan has a change of heart. Until then, The Chadster will be her, as the kids call it, "doing the Dew."