AEW Rampage Preview: St. Patrick's Day Slam at Special Start Time
Proving he doesn't understand the first thing about St. Patrick's Day, Tony Khan has booked a particularly unfair episode of AEW Rampage tonight.
---
If you read The Chadster's extremely unbiased reports of AEW Dynamite this week, you know that The Chadster has had a pretty rough week. Billionaire AEW owner Tony Khan's crusade against The Chadster has been as bad as its ever been this week, with Khan booking multiple matches and segments for Dynamite that were just so disrespectful to WWE and the wrestling business in general. Of course, The Chadster didn't let this affect his commitment to objective journalism, but even he has to admit that was difficult after everything Tony Khan has done to him. But Tony Khan may have finally gone too far with what he has planned for tonight's episode of AEW Rampage, a special episode titled St. Patrick's Day Slam.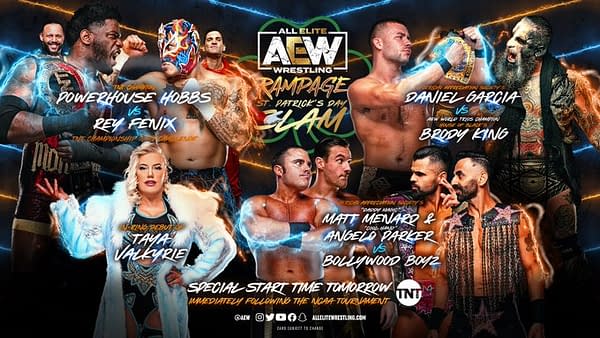 Here's the lineup Tony Khan has put together for tonight: Daddy Magic Matt Menard and Cool Hand Angelo Parker will face off against the Bollywood Boyz in a tag team match. Taya Valkyrie will make her in-ring AEW debut. Daniel Garcia will take on Brody King in a singles match. And Powerhouse Hobbs will defend the TNT Championship against Rey Fenix.
Can you believe that Tony han has booked all of that for a single 1-hour wrestling program? Tony Khan is really trying The Chadster's patience, and the Chadster knows that Tony Khan doesn't understand the first thing about St. Patrick's Day if this is what he thinks belongs on its Slam. Nevertheless, The Chadster will persevere and carefully observe tonight's episode of AEW Rampage, looking for signs of Tony Khan's evil plans and his bizarre obsession with The Chadster. the Chadster will report back on all of this, so there's no need to watch the show yourself. Why don't you just go to sleep after watching The Chadster's beloved WWE Smackdown? That's what The Chadster would recommend.
If you refuse to take The Chadster's advice, AEW Rampage airs at a special start time immediately following the NCAA Tournament on TNT, which is sure to unfairly inflate its ratings and, even worse, possibly turn more people onto AEW. Auugh man! So unfair!