Agents of SHIELD: Coulson Has General Hale All Figured Out
A lot of familiar faces are coming back lately on Marvel's Agents of SHIELD, so we shouldn't be too surprised at what else has returned. We saw last episode that what was supposed to be a trap for General Hale (Catherine Dent) turned out to be a trap for Phil Coulson (Clark Gregg) and some of his team — both Carl Creel (Brian Patrick Wade) aka the Absorbing Man and Anton Ivanov (Zach McGowan) were secretly part of her entourage. They end up taking over the ship and capturing the SHIELD agents.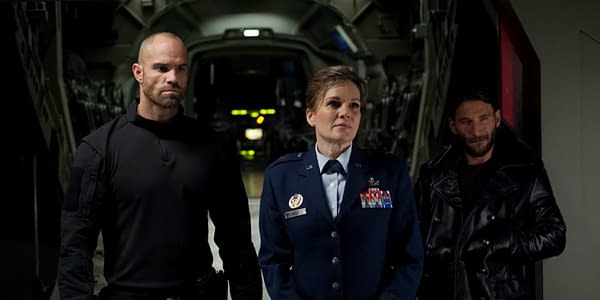 The synopsis for the new episode reads:
"Rise and Shine" Season 5 Episode 15 Sneak Peek – Coulson uncovers General Hale's true agenda, and it could be the end of the world if S.H.I.E.L.D. doesn't help her,
The clip below shows two masked soldiers leading Coulson being to a room with a bed and a chair. It looks like any typical bedroom with almost nothing in it. General Hale appears and tells Coulson that all his questions will be answered in the morning, but he thinks he has some of it figured out already. He knows its not a sanctioned Air Force operation with Creel and Invanov involved, and he can't see Hale just being a rogue general. She fills in the rest, admitting that she is Hydra. When he said he thought they'd stomped all of them out, she replies the same about SHIELD. She then tells Coulson that it's time that SHIELD and Hydra work together.
Marvel's Agents of SHIELD airs Fridays at 9 p.m. ET on ABC.