Agents of SHIELD Season 5: Daisy Chooses to Stay in the Future
The synopsis for this week's Marvel's Agents of SHIELD says the team has one final chance to return to their timeline, but their actions may have deadly consequences. Well, we've been getting hints that one member of the team may choose not to go back to their normal time.
Since coming to the future, Daisy (Chloe Bennet) has been told that she is Quake, the 'Destroyer of Worlds' and the cause of everything that happened. When the team has their chance to head home, she tells Coulson (Clark Gregg) and May (Ming-Na Wen) that she's not going. They taught her how to fight, and now she's decided to stand her ground and prevent the devastating future by sacrificing herself.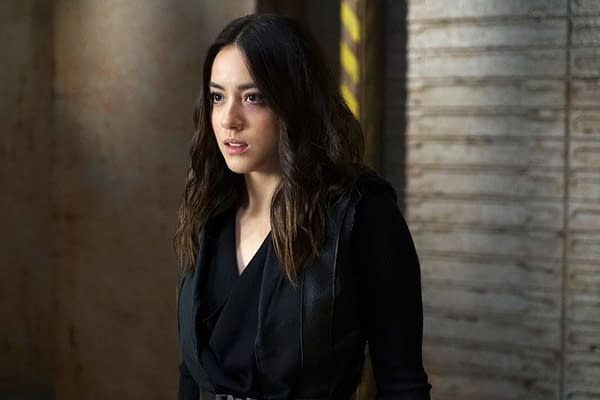 They are still working under the assumption that Flint (Coy Stewart) is the key to stopping everything and there has been absolutely no conclusive proof that it's Daisy that causes the Earth to shatter. Flint might be able to blow the planet apart, too… or it could be something else entirely. Just because she's refusing to go in that scene, it doesn't mean that she won't go back after all. Whatever happens, we'll have a few weeks after to talk about it, as there won't be another new episode until March 2nd.
Marvel's Agents of SHIELD airs Fridays at 9 p.m. ET on ABC.
Source: EW.com