Altered Carbon Season 1, Episode 10 Recap: The Killers
This article contains spoilers for Altered Carbon episode 10 – The Killers.
.
.
.
.
.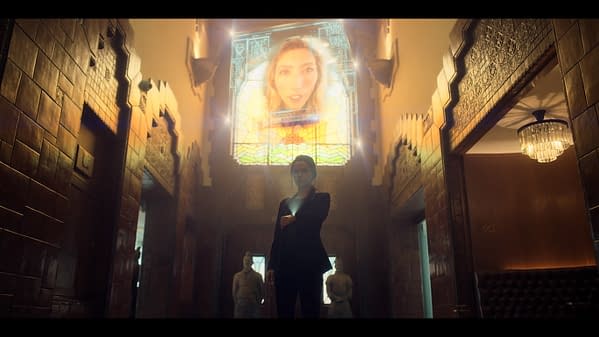 And we've come to the end. Everything happens on Head in the Clouds. Reileen (Dichen Lachman) verifies that her backups have been contaminated and sends her ghost walker to the Raven to destroy the AI and pick up the others. When he gets there, he starts to kill Poe (Chris Conner), but the AI is able to send Lizzie (Hayley Law) off to Head in the Clouds before he is wiped. Micky (Adam Busch) tries to fight back but is shot through the stack. They take Ava (Cliff Chamberlain) with them. Later, when the police are investigating the Raven, Prescott (Tamara Taylor) arrives and tells Captain Tanaka (Hiro Kanagawa) where Ortega (Martha Higareda) is being held. Meanwhile, Reileen gives Kovacs (Joel Kinnaman) a gun with one bullet and tells him to shoot out the stack of either Vernon (Ato Essandoh), Ava or Ortega. He tries to shoot out his own, but she lied about there being a bullet. Lizzie appears inside a synth body and starts killing people, changes the body to look like herself. She helps free her parents and Ortega. The Elliots go and set the floating sex club to plummet into the ocean. Ortega takes on and beats the ghost walker, removing his stack. The cops arrive to help. But the big battle is between Kovacs and Reileen in a locked room with swords. They are pretty evenly matched, but Reileen tries to retrieve her gun, but Kovacs takes it away and points it at her throat. She first tells him that she backed up Quell (Renee Elisa Golsberry), but if he kills her, he'll never find the back up. Then, when she realizes that he's going to do it, taunts him until he shoots her. Everyone else evacuates but Kovacs stays with his sister as Head in the Clouds crashes into the ocean.
The Kovacs who shot Reileen gets put into the duplicate body after a vigorous match of 'rock/paper/scissors' with himself. He, the Elliots and the police go to the Bancroft home where everything is revealed. That Laurens kills a girl, influenced the U.N. and killed himself to forget it. He is arrested. Miriam (Kristin Lehman) not only drugged Laurens, but she is the one who beat and killed Lizzie because she had gotten pregnant with Laurens child. Laurens leaves Isaac in charge of things. Kovacs pays to get Ava her original sleeve back while Lizzie kept the synthetic. Riker was cleared of all charges, so Kovacs said goodbye to Ortega and went to turn Riker's sleeve in… not sure what he was going to do next, but you get the impression he's going to be hunting for Quell's stack.
Overall impression of the series… it's damn good. Well acted and the story is quick paced but gives you everything you need to follow along. Good cyberpunk science fiction with a hard-boiled aspect. Kovacs is a strong lead character and it carries over regardless of which character is playing him. The changes made from the book were numerous, but I think for the most part they were all done well and expanded on characters and filled in certain aspects of the story not touched upon in the book. Choices were made to keep things from getting too confusing and other than my complaint about how the Envoys come across in the series, everything else is really good. Martha Higareda and Dichen Lachman were really stand outs in the series. And while there were many sad deaths, the saddest may have been that of the AI.
It will be interesting to see if the series gets renewed, if they try to pick it up with these characters… a new Kovacs… or move on to another world and adapt the second novel, Broken Angel. Netflix is normally pretty quick to make second season announcements.
Binge complete… time to sleep.