The Twelve Days of 'Sunny': Season 7, Episode 11 'Thunder Gun Express' (Day #7)
On The Seventh Day of 'Sunny,' The Gang from Paddy's gave to me…
…seven Thunder Gun Express sequels…
…six stolen Omnibots…
…FIIIIIIIIIVE INCH WOUND ON CRICKET'S NECK!
Four times Charlie lost it…
…three huffs of spray paint…
…two months community service…
…and Dee Reynolds in a pear tree!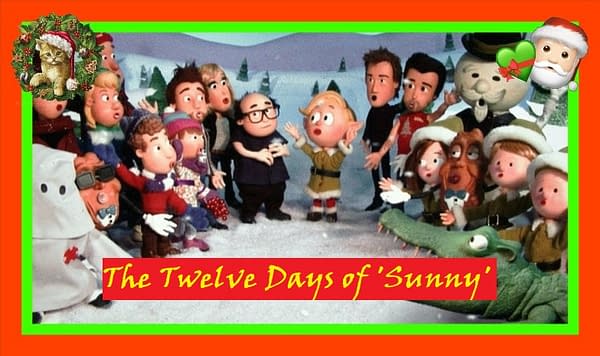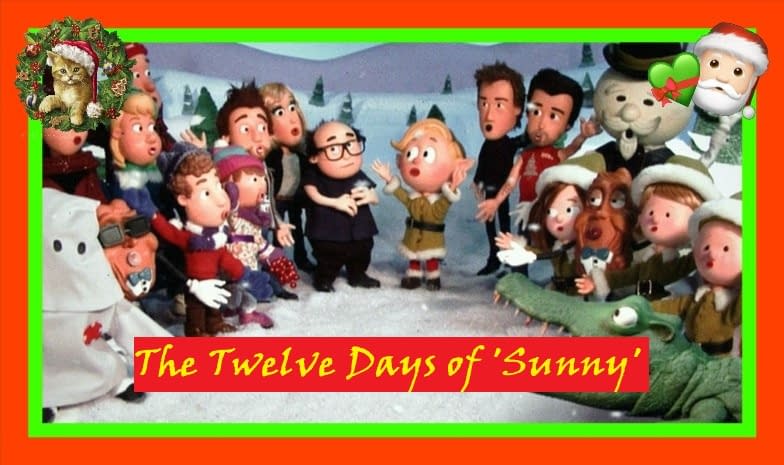 For the past thirteen years and thirteen seasons, The Gang from Paddy's Pub–Charlie (Charlie Day), Mac (Rob McElhenney), Dee (Kaitlin Olson), Frank (Danny DeVito), and Dennis (Glenn Howerton) – have quietly turned FX/FXX's It's Always Sunny in Philadelphia into one of the most shocking, tasteless, and subversive sitcoms to ever hit the airwaves. It's also one of the best.
Because for nearly 1-1/2 decades, The Gang's put themselves on the frontlines of major social and political issues with all the satirical subtlety of a hand grenade–with Dennis, Dee, Charlie, Mac and Frank usually finding a way to blow themselves up in the process.
"We immediately escalate everything to a ten… somebody comes in with some preposterous plan or idea, then all of a sudden everyone's on the gas, nobody's on the brakes, nobody's thinking, everyone's just talking over each other with one idiotic idea after another! Until, finally, we find ourselves in a situation where we've broken into somebody's house – and the homeowner is home!"

– Dennis (s07e09 'The Gang Gets Trapped')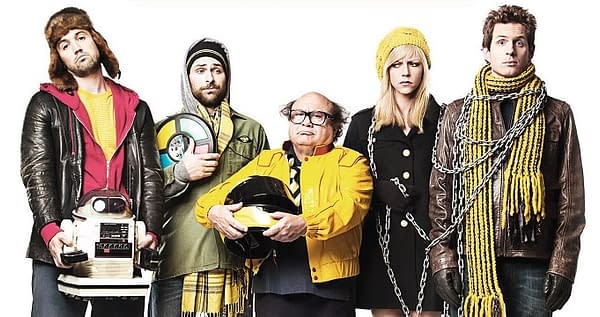 So with the holidays being a time to spend wih family and friends, the fine folks at Bleeding Cool are honoring South Philly's favorite sons (and daughter) with a rundown of our 12 favorite It's Always Sunny in Philadelphia episodes–one per season (sorry, season 13: you're sitting this one out until next year) – with "The Big Present" on Christmas Day as we crown an overall champ – and dump a little coal in your stocking in the form of the worst It's Always Sunny in Philadelphia episode of the first 12 seasons (spoiler: it's probably holding the crown next year, too).
It's Always Sunny in Philadelphia s07e11 'Thunder Gun Express': The gang will do whatever it takes to see the hottest action movie of the summer, "Thunder Gun Express," before it leaves the theaters. Writer: Dave Chernin & John Chernin / Director: Matt Shakman
So The Gang is obsessed with the Thunder Gun Express – and how could they not be? As Dennis so lovingly explains, the film tells the tale of "this warrior from a postapocalyptic underground society who has to travel back in time to save his lover from an evil robot army." Plus the lead hangs dong – something for everyone!
What makes this episode the top of this season's food chain? Two things…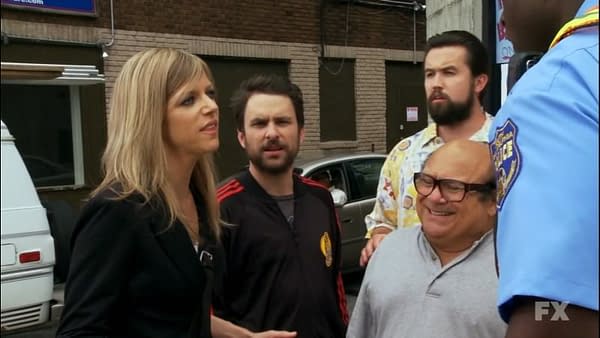 ● If you ever needed a perfect example of The Gang getting behind something they have absolutely no clue about, it's this one. The tagline/motto for the cinematic wonder they worship is "No hesitation. No Surrender. No man left behind" – and yet? The Gang either doesn't "hesitate" to leave each other behind or "hesitate" to help each other out. They "surrender" in the face of an obstacle and sacrifice a team member to get out of it – without hesitation.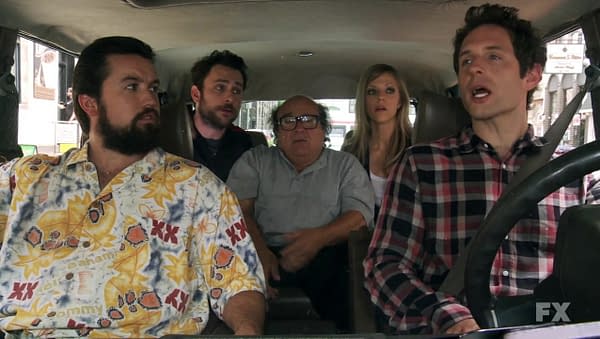 And as for "No man left behind"? Well… Dee, Frank, Charlie, and Mac abandoned Dennis in traffic; Charlie, Mac, and Dee abandon Frank on the trolly when Frank can't run fast enough; Charlie and Dee abandon Mac after Mac's girth makes it impossible for him to climb into the sewers (more on that in a minute); and Dee pays the price for not listening to Charlie's sage sewer advice – and having bad heels. And then – in typical cheesy movie fashion when someone you thought was "dead" turns up alive – Frank "Thunder Guns" them all by calling in a bomb threat. Just to be clear? All of that is exactly the opposite of what Thunder Gun was all about
● This one's all visual almsot no build up needed by me – except for this: after not being to fit into the sewer, Mac decides to steal a motorcycle in the following scene – in what I consider to be one of the funniest moments of the show's 13 seasons: