"Amazing Stories!": Five Stories, Infinite Possibilities [OFFICIAL TRAILER]
With Apple TV+ ready to launch the return of Steven Spielberg's anthology series Amazing Stories! on Friday, March 6, the streaming service is giving us a look at the five stories coming to life this season with an official trailer.
Intended to take viewers to worlds of wonder through the lens of today's most imaginative filmmakers, directors, and writers. Dylan O'Brien, Victoria Pedretti, Josh Holloway, Sasha Alexander, Kerry Lynn Bishe, Austin Stowell, Juliana Canfield, and Robert Forster (in his final role) are just some of the names set to star this season.
From visionary executive producers Steven Spielberg and Edward Kitsis & Adam Horowitz, this reimagining of the classic anthology series transports everyday characters into worlds of wonder, possibility, and imagination.
Apple TV+ is dedicating Forster's (El Camino: A Breaking Bad Movie, Twin Peaks: The Return) episode of Amazing Stories! to the late actor with an "In Memory Of" card. "Dynoman and The Volt" would be Forster's last completed project, executive-produced by Horowitz – who also serves as showrunner alongside Kitsis.
Directed by Susanna Fogel (Utopia, The Spy Who Dumped Me), "Dynoman and The Volt" is about an awkward tween boy and his grandpa (Forster) who wrestle with feeling powerless. When a superhero ring Grandpa ordered out of the back of a comic book arrives 50 years late, they discover it has the power to turn them into actual superheroes.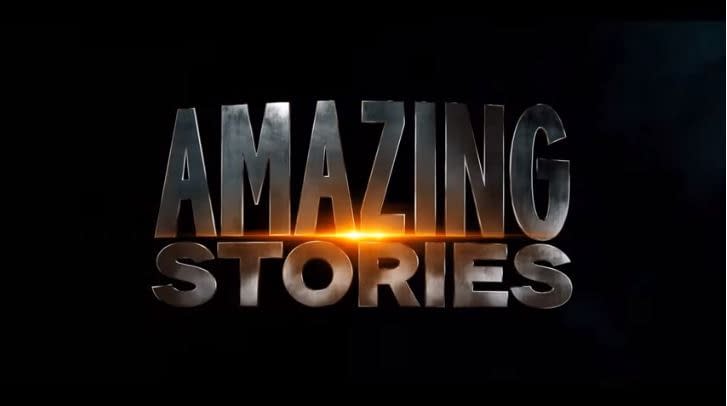 The original Amazing Stories! series ran for two seasons (1985-1987) and 45 episodes on NBC, winning five of the twelve Emmy Awards that the show was nominated for during its run (including John Lithgow's (The World According to Garp) Outstanding Guest Performer in a Drama Series award for "The Doll"). The series would also serve as a springboard for future creative talent such as director Lesli Linka Glatter (Homeland) and Pixar director Brad Bird. The second season animated episode "Family Dog" was spun off into its own series The Family Dog in 1993, running for ten episodes on CBS.
If we had to sell you on Amazing Stories! with only one episode, it would definitely be "The Mission…