'American Gods' Season 2, Episode 3 "Muninn": And the Eye-In-The-Sky Is Watching Us All [SPOILER REVIEW]
Welcome back to our weekly review of STARZ's American Gods, as we share our thoughts on this week's third episode of the second season, "Muninn."
Last week's episode "The Beguiling Man" effectively transitioned us from the premiere's "opening salvo" to a much-needed (and storyline-sensible) regrouping by the Old Gods to recruit… and rearm. Along the way, we saw some interesting pairings and unique character dynamics, some (slightly heavy-handed) backstory for Shadow (Ricky Whittle), a fine example of "fight foreplay," and an ending that pretty much winked at us as it embraced its deconstructed homage to the "damsel in distress ties to the railroad tracks" cliche.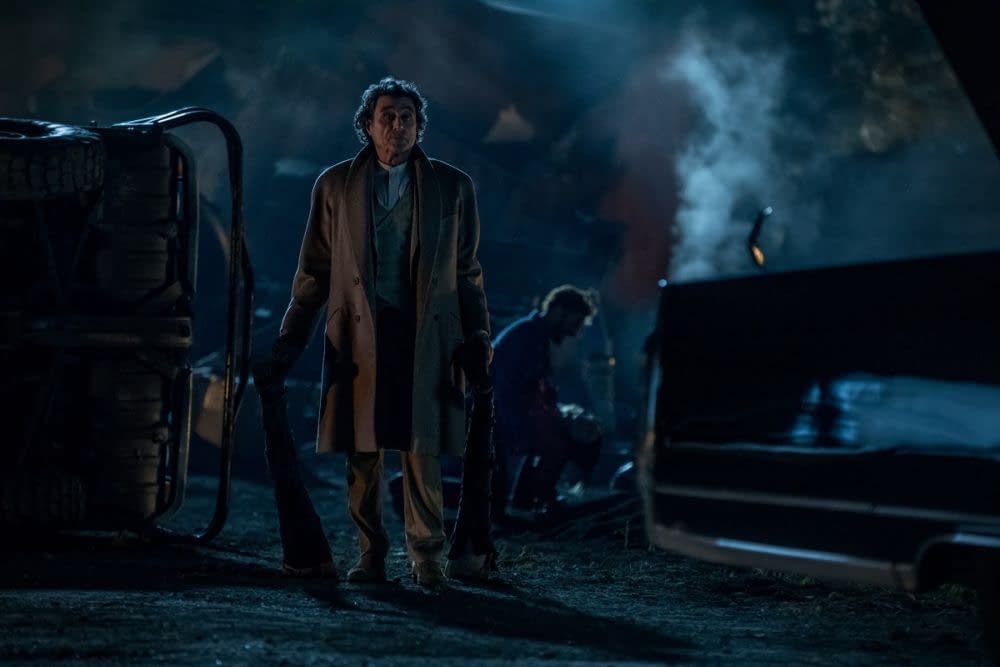 Except this "damsel in distress" is a still-quite-dead Laura (Emily Browning) – and she's not tied to the tracks: she's too busy on board a train, shoving bad guys onto missile heads and crushing skulls while trying to save Shadow.
And then we learned where Wednesday (Ian McShane) and Mr. Nancy (Orlando Jones) were going…
American Gods s02e03 "Muninn": As he is tracked by Mr. World, Shadow makes his way to Cairo, thanks to a ride from Sam Black Crow. Mr. Wednesday slyly gains Laura's help in forging an alliance with a powerful god. Mr. World introduces Technical Boy to New Media and assigns them a very important task.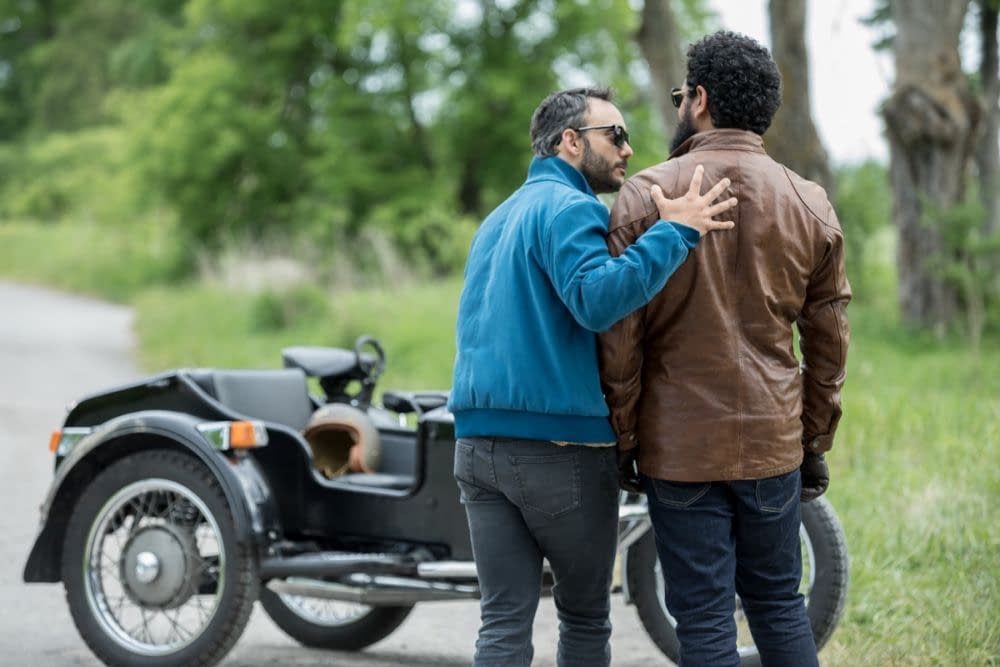 Now this was a fun episode that picked-up last week's episode-ending momentum, maintained it while also having it make sense, and scrambled up our road trip scorecard just enough to make things just that much more interesting (though Jinn (Mousa Kraish) and Salim's (Omid Abtahi) mission continues on and was focused on more this episode – another bonus). Biggest takeaway from the episode: the rise of three "new" women and how their power intimidates the men directly in their lives – and it was nice to see Bilquis (Yetide Badaki) have some company when it comes to voicing strong female views.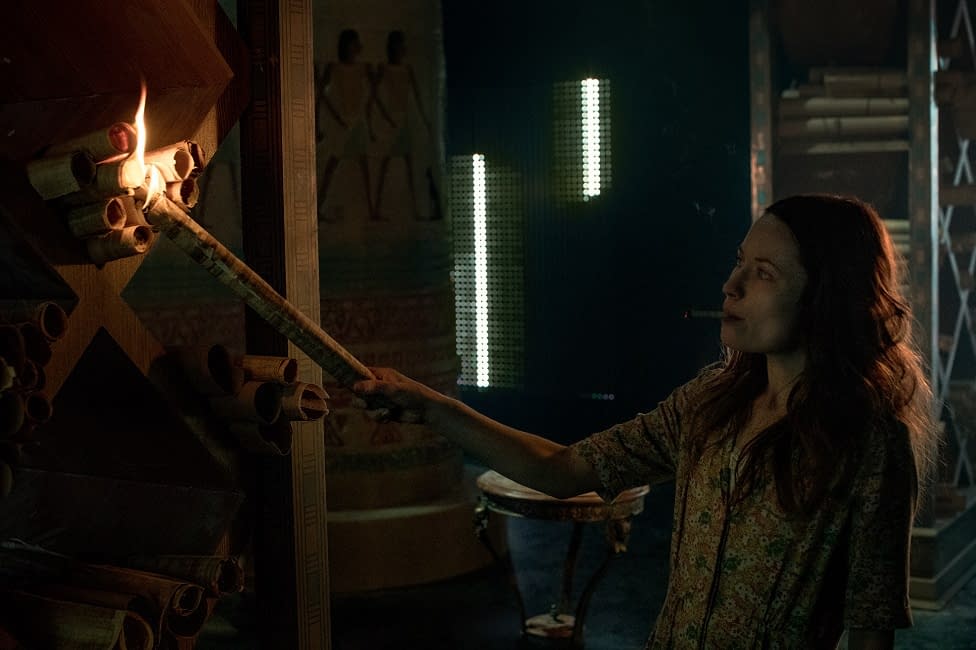 With Laura, you have a "dead woman" who still has Wednesday's eye – and who may be Odin, but comes across as a mere human in the way he fears her and finds it necessary to break her spirit. When Laura returns to life near the end of the episodes, even Wednesday appears unsure of what exactly's going down – again, an aspect of Laura that he fears because he can't account for it. He can't control it. So next best option? Convince her she wants more than Shadow and leave her to find her own way.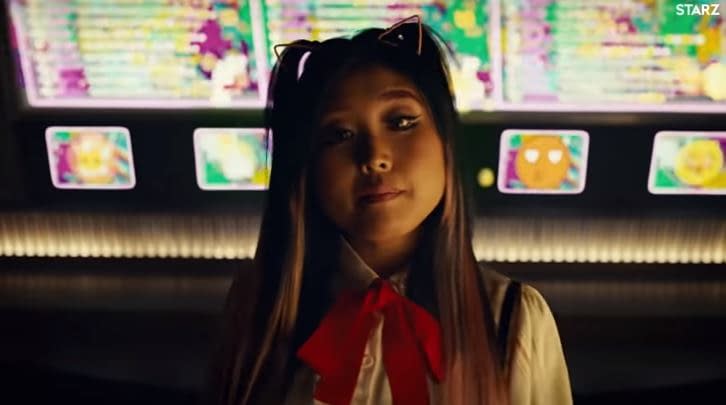 Then there's matter of New Media (Kahyun Kim), who went into a form of withdrawal after last season's attack by Wednesday left her wanting. Now, New Media has risen from the ashes of old media – embracing the social media worshipping soceity and jonesing for bandwith. Except this Media appears to be her own God, not like the past – which she appears to either salute or mock with a Marilyn Monroe reference – where she served at the hand of Mr. World (Crispin Glover). New Media is fine working with Mr. World as long as it suits her needs – or until she can find an "upgrade" like she almost finds in Argus. I say "almost" because again, a dude (Bruce Langley's Tech Boy) isn't comfortable with a woman he was bragging about having control over only one episode prior having power over him now. Must be compensating for something… but even with that, he can't do it himself because he knows he isn't in a position of strength – so of course he lets a woman do it: Laura.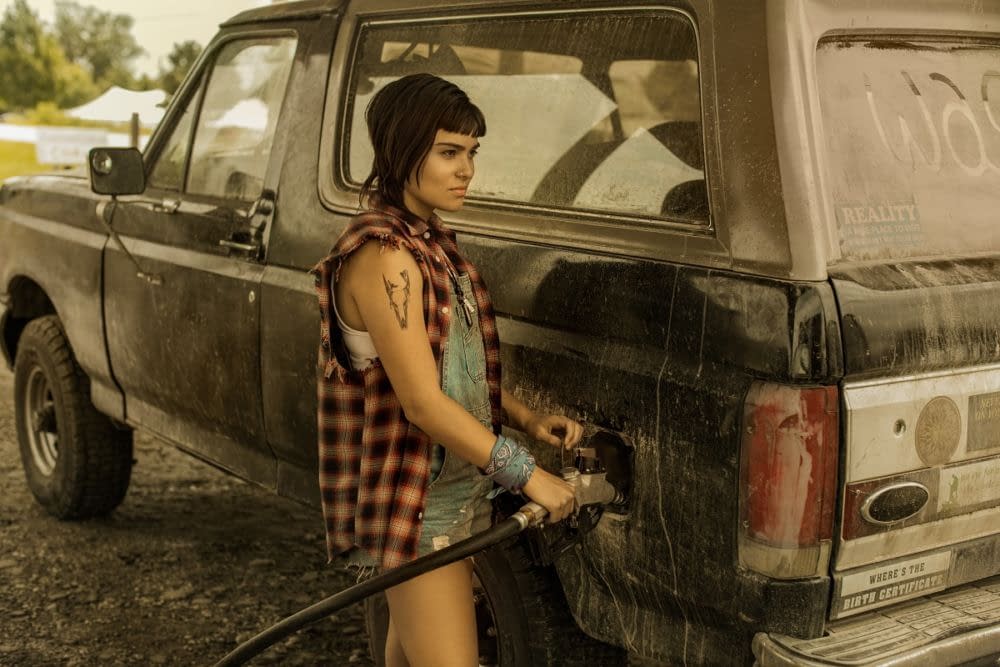 Even with our hero Shadow, his formal introduction to Sam Black Crow (Devery Jacobs) was a smaller-but-still-there example of the same scenario. For Shadow, "con man" is one aspect of his personality he relies on to get him out of some tough situations – and yet like Laura, Sam Black Crow can see right through it. While not offering up a lot to Shadow, she eases his concerns somewhat – yet he remains distant because he doesn't have a read on her. He isn't even sure who or what she might be. He knows she won't fall for his charm or cons – and can be a valuable friend for what's to come – but Shadow hesitates because he still hasn't learned to let go and realize he can't control every environment.

So next week's episode of STARZ's American Gods looks to be a lesson in "strange bedfellows" since we have a pretty good idea why Shadow and Wednesday's meeting has to remain "secret." Meanwhile, Bilquis makes her way to Cairo and to Mr. Ibis' funeral home – where a meeting of the minds between the two and Mr. Nancy might result in us learning "The Greatest Story Ever Told":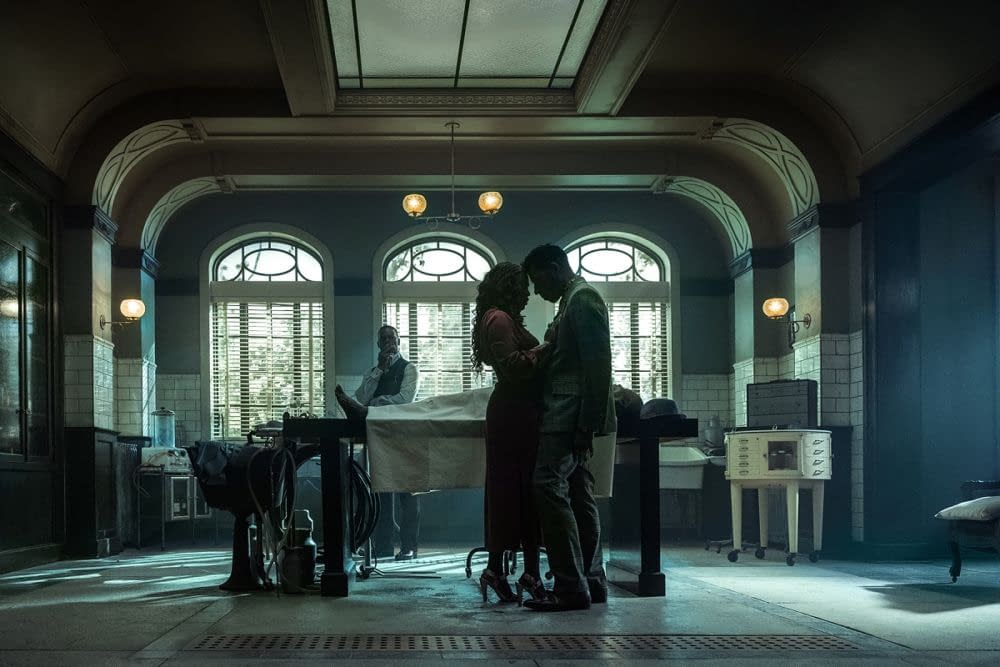 American Gods s02e04 "The Greatest Story Ever Told": While Shadow and Mr. Wednesday take a secret meeting in St. Louis, Bilquis arrives at the funeral home in Cairo, where she engages in a debate with Mr. Nancy and Mr. Ibis. Laura rejoins Mad Sweeney.
American Gods stars Ricky Whittle, Ian McShane, Emily Browning, Pablo Schreiber, Crispin Glover, Yetide Badaki, Bruce Langley, Mousa Kraish, Omid Abtahi, Demore Barnes, Peter Stormare, Sakina Jaffrey, Dean Winters, Devery Jacobs, Kahyun Kim, Derek Theler, Laura Bell Bundy, and Christian Lloyd.
American Gods season 2 airs on STARZ on Sundays at 8 p.m. ET/PT.