American Gods Season 2 Adds Timeless's Sakina Jaffrey as Hindu Goddess of War; Casting New Female Character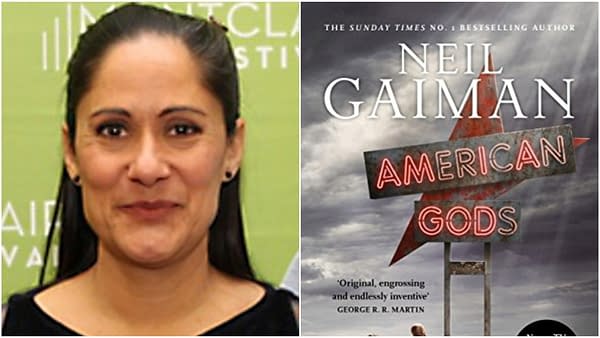 As production on Season 2 of Starz's American Gods continues moving forward, fans are starting to get a slightly clearer picture of the roads the Neil Gaiman adaptation will be traveling down during the second season. Thanks to a behind-the-scenes video tweeted by the author/executive producer, we know Ian McShane (Mr. Wednesday), Ricky Whittle (Shadow Moon), Yetide Badaki (Bilquis), Orlando Jones (Mr. Nancy), and more — under the watchful eye of new showrunner Jesse Alexander (Hannibal) — are hard at work at Wisconsin's famed House on the Rock.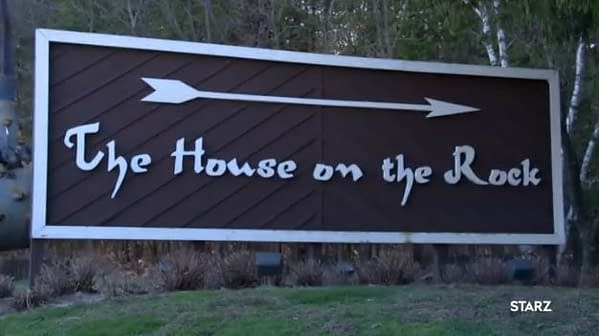 "The first season was all about getting to the House on the Rock. It's amazing to see everyone back, and to be entering the next stage of the story with the best bunch of actors around, along with some inspired filmmakers." – Neil Gaiman
Now it looks like American Gods is ready to go to war — or more precisely, go to a Hindu goddess of war — with Timeless's Sakina Jaffrey joining season 2 in the recurring role of Mama-Ji: a waitress at the Motel America, her necklace of skulls, acerbic wit and free spirit make her a match for any mighty god or man. The writers are also conducting a casting search for Sam Blackcrow, a new female character with the following description:
SAM BLACKCROW: First Nation/Native American female age 18-mid-20s. She's confident, engaging, headstrong, and has a free spirit personality. The role will shoot in Toronto from June through August 2018. Participants must be available for the entire span of time. Candidates can submit a photo and resume (if available) to americangodscasting@gmail.com
Currently staring in NBC's Timeless as Agent Denise Christopher, Jaffrey is also known for her roles in Netflix's House of Cards, USA's Mr. Robot and Hulu's The Mindy Project.
Produced by FremantleMedia North America, Gaiman, Alexander, McShane, FMNA's Stefanie Berk, Craig Cegielski and Scott Hornbacher serve as series executive producers. Second season premiere director Chris Byrne (Hannibal, Star Trek: Discovery) is co-executive producing alongside Heather Bellson and Rodney Barnes; with Lisa Kussner producing.