'American Gods' Season 2 – Shadow or Wednesday: Who Should We Put Our Faith In? [VIDEO]
With little more than a month to go before the second-season premiere of STARZ's American Gods, the network continues to give us some fresh looks at their series adaptation of Neil Gaiman's best-selling, award-winning novel ahead of its Sunday, March 10th return. In the following teasers, viewers are asked to believe in Mr. Wednesday (Ian McShane) and Shadow Moon (Ricky Whittle). But while Wednesday craves belief in the Old Gods, Shadow's belief lies in saying goodbye to the past and welcoming a new beginning – but will that "new beginning" be welcoming of him?
The second season of STARZ's American Gods will be one of life and death… decay and renewal… for more than just Shadow and Wednesday. Gods old and new will be forced to deal with the ramifications from the season one finale as that meeting convenes at the House on the Rock – as Wednesday offers his gods a "time to ride." And along with a number of familiar faces, we also get a better look at some of this season's newest players: a glaring Mr. Town (Dean Winters), a digitized New Media (Kayhun Kim), and Motel America waitress Mama-Ji (Sakina Jaffrey):
While Mr. World plots revenge for the attack against him in Season One, Shadow joins Wednesday's attempt to convince the Old Gods of the case for war, with Laura and Mad Sweeney along for the adventure. A council at House on the Rock explodes, sending deities both Old and New on quests across America that will converge on Cairo, Illinois. This will force Shadow to carve out a place as a believer in this strange new world of living gods — a dark world where change demands commitment, and faith requires terrible sacrifice.

Jump back into the car with Wednesday and Shadow for a road trip like no other.

"American Gods" stars Ricky Whittle, Ian McShane, Emily Browning, Pablo Schreiber, Crispin Glover, Orlando Jones, Yetide Badaki, Bruce Langley, Mousa Kraish, Omid Abtahi and Demore Barnes, among others. Joining the cast this season are Kahyun Kim, Devery Jacobs, Sakina Jaffrey and Dean Winters.

Neil Gaiman serves as executive producer along with Jesse Alexander, Craig Cegielski, Scott Hornbacher, Ian McShane, Stefanie Berk, Christopher J. Byrne and Padraic McKinley.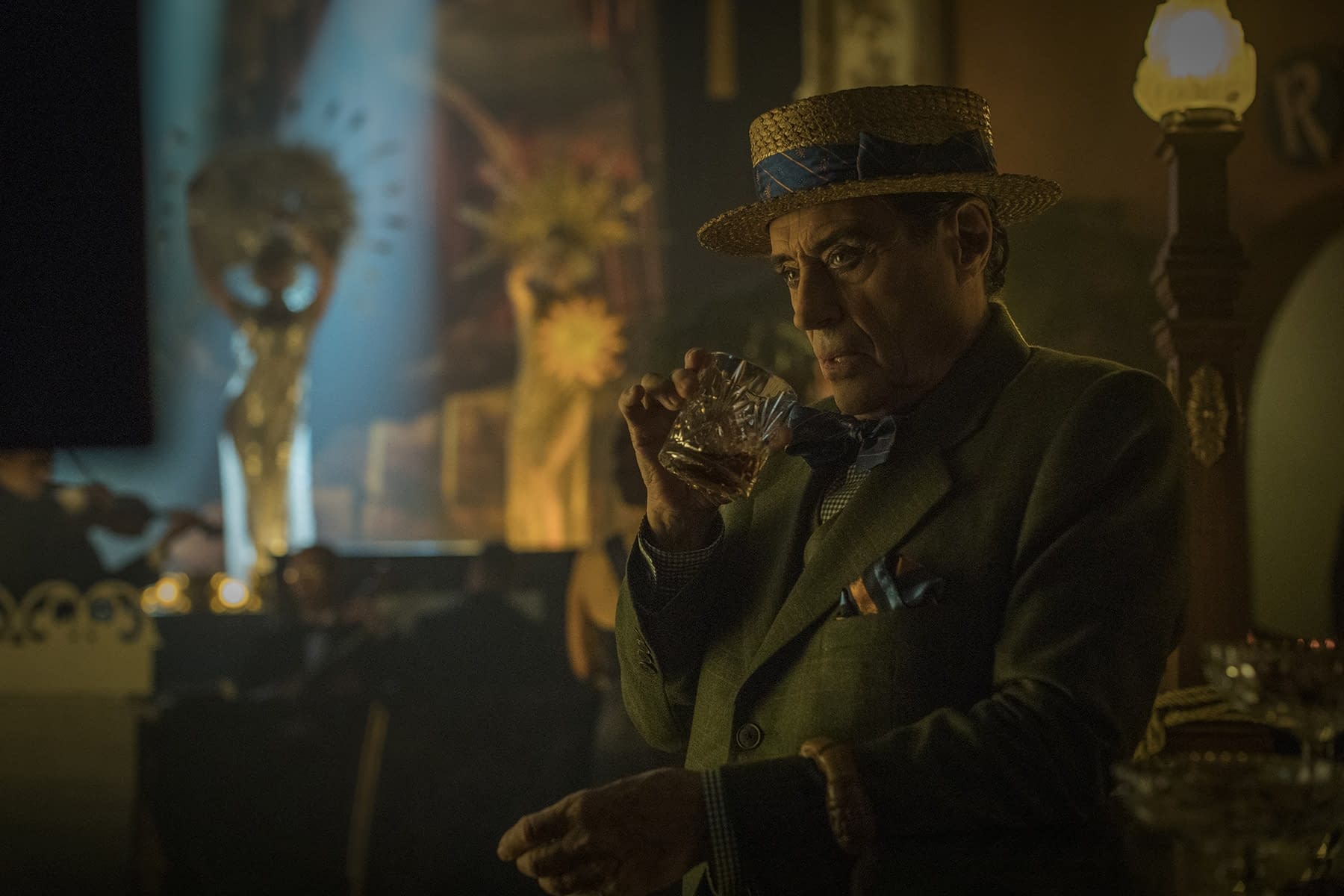 American Gods has some new players in play that will definitely complicate Shadow's journey of self and spiritual discovery. Winters' (Wayne) brutally efficient and precise Mr. Town is tasked by Mr. World (Crispin Glover) to learn what Shadow knows about Wednesday's plan. First Nations actor Devery Jacobs (Cardinal) is college student Sam Black Crow: a spiritually cynical young woman who lives her life with fierce confidence and openness, selling her chainsaw art by the roadside for extra money. Kim's (Shameless) New Media is the goddess of global content: a cyberspace chameleon who's also a master manipulator. Timeless's Jaffrey portrays Hindu war goddess Mama-Ji: a waitress at the Motel America, her necklace of skulls, acerbic wit and free spirit make her a match for any mighty god or man.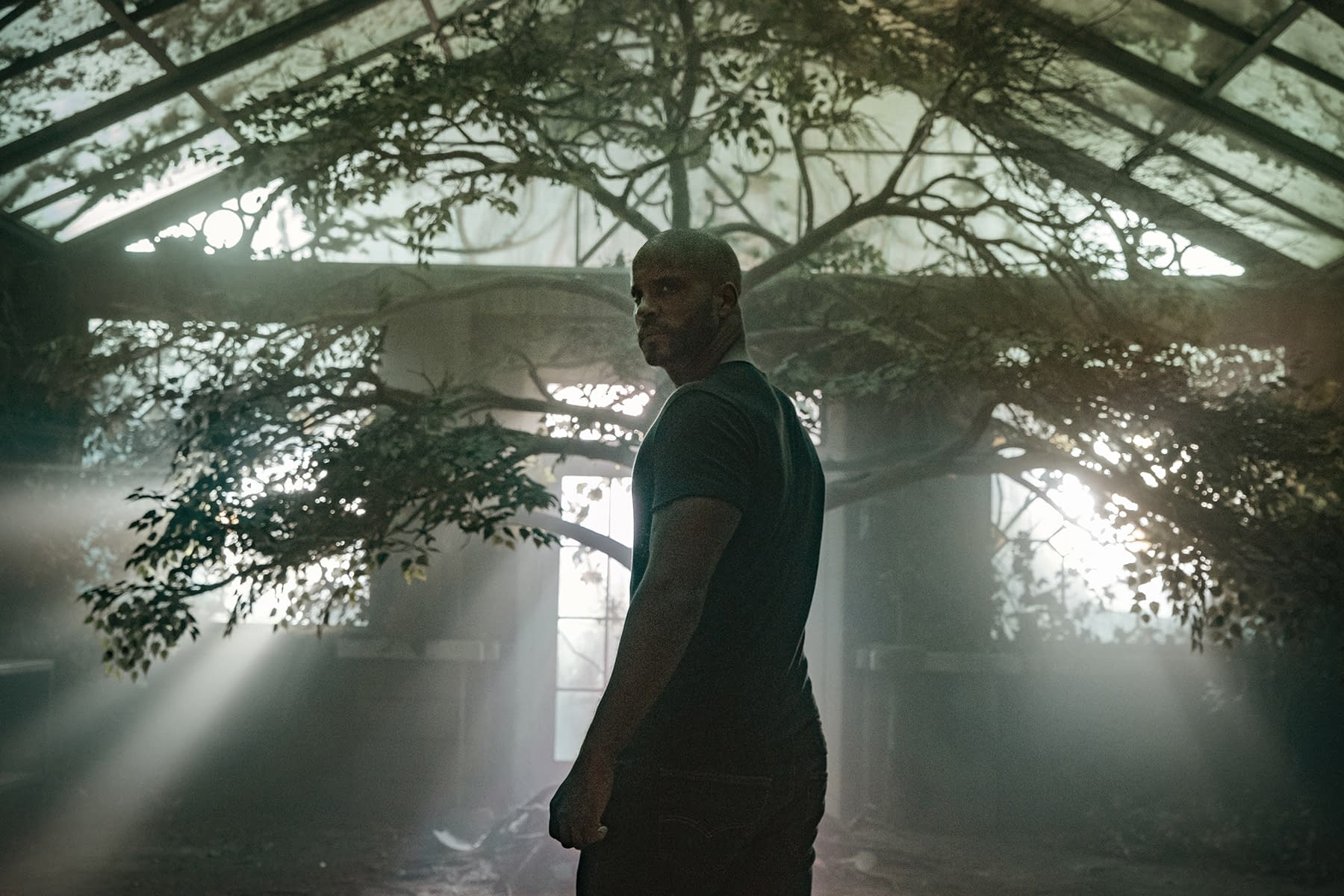 If March is still a little too long of a wait for you to get your American Gods fix, STARZ has you covered with the following sneak preview from the second season:
American Gods returns to STARZ for its second season on Sunday, March 10th.