"American Horror Story": Evan Peters Reveals 5 Fav "AHS" Eps
Combine our professional obsession with uber-creative genius Ryan Murphy (Glee, Pose, 9-1-1, Feud, and a billion more) with our love for 80's horror/slasher film, and it's easy to understand why we're excited for FX's American Horror Story: 1984. In fact, executive producer Tim Minear only confirmed our excitement when he said this about the current season of Murphy and Brad Falchuk's horror anthology series American Horror Story:
"I think it's awesome. I think it's gonna be really scary but a lot of fun, like it always is. And that if you have a taste for '80s horror, you're in for a treat."
When we reviewed season opener "Camp Redwood," we made a connection to both Shaun of the Dead and The Cabin in the Woods when describing how the season's initial tone and vibe made us feel. Then "Slashdance" happened and… wow. We're talking false identities, double-crosses, hidden alliances, impalements, and our first major counselor death (sorry, Ray).
Last week's "True Killers" (our review here) was a fun frightfest that confirmed our worst suspicions about Margaret while actually starting to feel(???) for Richter/Mr. Jingles – and Trevor went RIP. Then "Red Dawn" got our brains back into "WTF?!?" conspiracy theory mode (with our "Episode 100" review coming this week).
As you can tell from the title of this week's episode, AHS has reached the 100th episode milestone. To celebrate the occasion, Murphy offered up his personal list of favorite episodes – and now its AHS mainstay Evan Peters.
Though it looks like he's taking a break this season (you never know?), he found time to revel his favorite five episodes: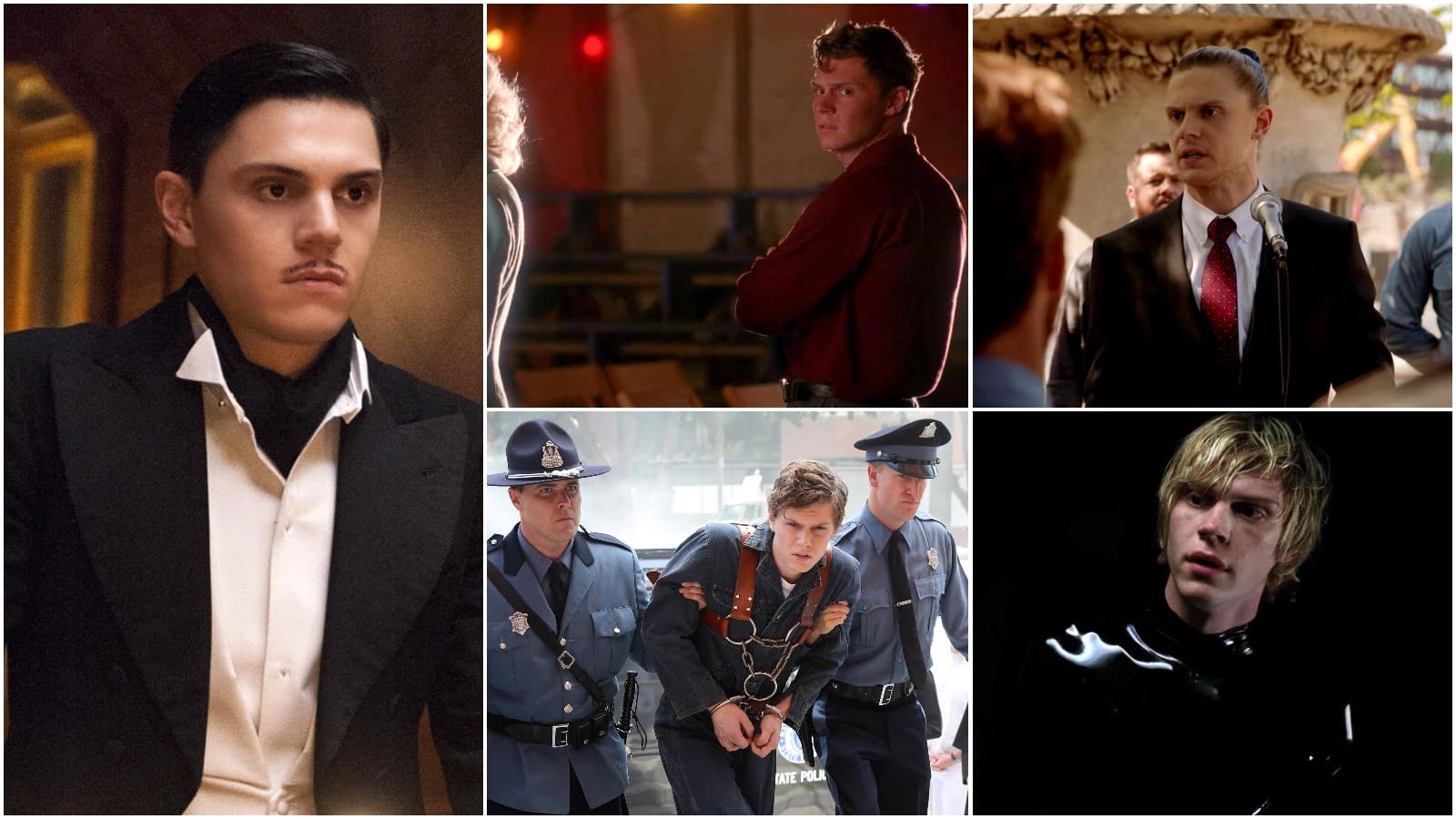 Murder House, "Rubber Man"

Asylum, "Welcome to Briarcliff"

Freak Show, "Monsters Among Us"

Hotel, "Devil's Night"

Cult, "Charles (Manson) in Charge"
You can check out EW's thoughts on why Peters' choices are worthy for consideration here.

https://youtu.be/9wcEiFIM3mM
In case you're like us and you need to see it for the 166th time, here's a chance to see the cast in all their '80's slasher-film-audition glory:
American Horror Story: 1984 stars Emma Roberts (Brooke), Billie Lourd (Montana), Cody Fern (Xavier), Angelica Ross (Nurse Rita/Donna Chambers), Leslie Grossman (Margaret), John Carroll Lynch (Benjamin "Mr. Jingles" Richter), Gus Kenworthy (Chet), Glee's Matthew Morrison (Trevor), DeRon Horton (Ray), Zach Villa ("The Night Strangler" Richard Ramirez), Alhan Bilal (Jamie), and Tara Karsian (Chef Bertie).
FX's American Horror Story: 1984 slashes its way onto our screens every Wednesday at 10 p.m. EDT.