Anime Expo Lite Details: Free 2-Day Livestream Event Set for July 3-4
Good news, anime fans. Even in the current home lockdown/social isolating world, The Society for the Promotion of Japanese Animation (SPJA) knows your "anime feels" need to be fed even when you can't leave your home. So get ready to say hello to Anime Expo Lite, a two-day live stream event running from July 3 (proclaimed Anime Expo Day by the City of Los Angeles in 2015) and through July 4. Giving virtual attendees an opportunity to experience all things anime from wherever they are, the event is set to feature content from industry partners such as Bushiroad, Crunchyroll, Pony Canyon, VIZ, and more; with exclusive content being revealed over the next coming weeks. Here's a look at the official key art for the expo, featuring event mascots Ai and Xeno pictured with the cast of The World End With You.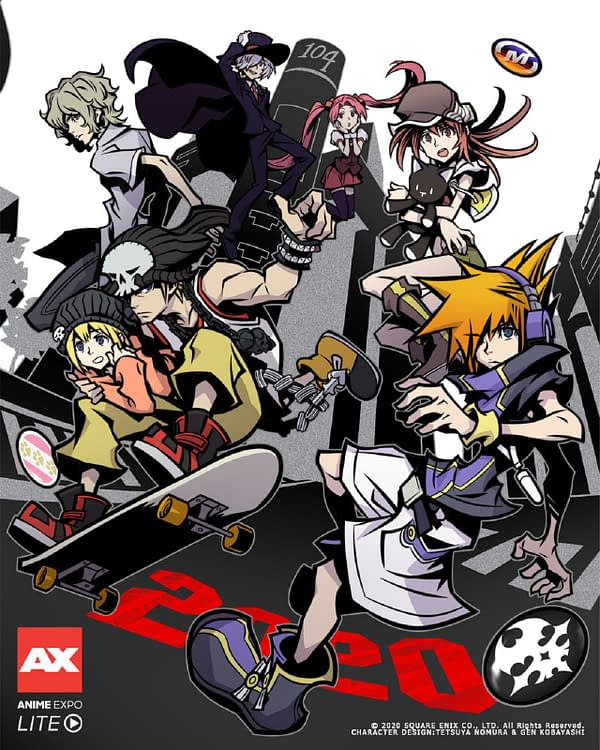 "We are excited to be able to parlay the traditional Anime Expo into a virtual experience. Since 2017, AX has been live-streaming select panels as well as from the convention floor, so it is a natural transition for us to produce a virtual event. As everything in 2020 is different, we see a unique opportunity to be able to share our passion for Japanese pop culture not only with those that would have attended AX but now with any anime fan no matter where they live," said Ray Chiang, CEO, The Society for the Promotion of Japanese Animation. "With our Anime Expo Lite line-up, we know fans will find plenty of events and special guests to entertain and keep them engaged."
In only a little more than a month, fans can expect special guests like artist/character designer Yoshitaka Amano; panel discussions with industry leaders, animators, and voice actors; industry announcements; live and pre-taped content from the international partners; fan Q&A sessions; giveaways; and so much more.
For 29 years, Anime Expo features the newest anime films, television series, fashion, video games, manga, dance, music concerts, exhibitors, and exclusive convention merchandise, all combined to deliver unforgettable experiences to fans of anime and Japanese pop culture. AX will return to the Los Angeles Convention Center on July 2-5, 2021, with more information available on the event's main website. For more information, and to keep up-to-date on any news or announcements, you can sign up by clicking here.