Aqua Teen Hunger Force Gets Season 12 Green Light; "Plantasm" Update
Adult Swim has ordered a 12th season of Dave Willis & Matt Maiellaro's Aqua Teen Hunger Force; cable/streaming release dates for "Plantasm."
---
We have a double dose of great news for fans of Dave Willis & Matt Maiellaro Aqua Teen Hunger Force. Earlier today, Adult Swim confirmed that a five-episode 12th season of the animated series has been ordered. But if you can't wait until then, the feature film Aqua Teen Forever: Plantasm will hit HBO Max on February 8th and Adult Swim on March 12th (at midnight).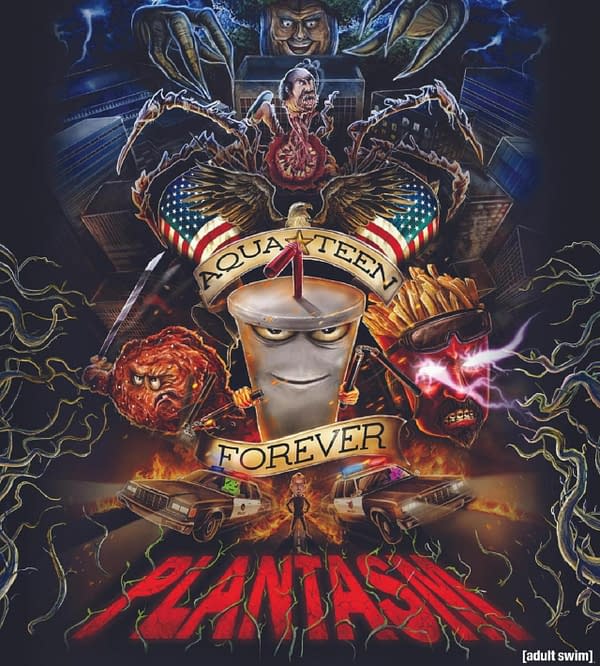 "We are thrilled to be making more 'Aqua Teen Hunger Force' episodes for a new generation of fans, building upon the most impressive collection of IP ever assembled. Success is optimal and leads to quality," said Maiellaro and Willis in a statement (implying that maybe they had been programmed by ChatGPT). The duo continued, "Congratulations! You waited just long enough for 'Aqua Teen Forever: Plantasm' to be free on the service your parents pay for. I can't wait for you to discover the project everyone has been talking about, and by everyone, I mean our personal Twitter accounts. There is too much stuff to watch already. Breathe, and focus exclusively on 'Aqua Teen.' Delete everything else."
Aqua Teen Forever: Plantasm features everyone's favorite rascals, the Aqua Teens: the brainy Frylock, the mouthy Master Shake, the loveable Meatwad, and everyone's favorite perverted neighbor, Carl, as they split up then get back together to fight everyone's favorite corporate overlord, Amazin, led by everyone's favorite tech mogul, Neil (voiced by everyone's favorite Peter Serafinowicz) and his trusty scientist sidekick, Elmer (Paul Walter Hauser, who is everyone's favorite).
The film stars Carey Means ("Aqua Teen Hunger Force," "The Brak Show") as Frylock, Dana Snyder ("Aqua Teen Hunger Force," "Squidbillies") as Master Shake, and co-creator Dave Willis ("Squidbillies," "Your Pretty Face Is Going to Hell") as Meatwad. The film also stars Peter Serafinowicz ("The Tick"), Paul Walter Hauser ("Black Bird"), Natasha Rothwell ("White Lotus"), Robert Smigel ("Bob's Burgers"), and Tim Robinson ("Detroiters"). The movie was written and directed by series creators Matt Maiellaro & Dave Willis and produced by Williams Street Productions.