Are Reports of DC Daily Demise a Bad Sign for DC Universe's Future?
If we're being honest with ourselves, we saw the signs. We just chose to ignore them, not wanting to face the possibility. But we might just have to. If you're like us, you've had this uneasy feeling over how long of a future the DC Universe streaming service would have in its current form. It's the little things, like the one-and-done deal with Swamp Thing or how much The CW seems to be carrying the weight (as least on the promotional side) for Stargirl. Add to that this ten-ton question: if WarnerMedia (owner of DC Universe) now has its own mega-streamer in HBO Max with a DC Universe "channel" (where Doom Patrol season 2 will have a home), why would they need a separate streaming service? So when Collider reports exclusively that DC Universe has canceled their weekday show DC Daily, we take that as something more than just a show being canned.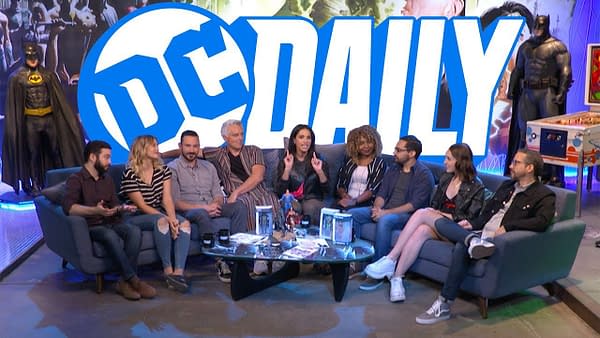 Premiering in September 2018 and hosted by Tiffany Smith, the show offered DC fans news, interviews, and panel discussions covering a wide range of DC movies and television shows. Hosts and guests during the series run included John Barrowman, Whitney Moore Hector Navarro, Samm Levine, Clarke Wolfe, Sam Humphries, Brian Tong, Markeia McCarty, John Kourounis, and Harley Quinn Smith. While no official comments have been released, Collider reports that the streaming service is giving the show the next two weeks to wrap up and say goodbye.
As Collider notes in their reporting, the show isn't exactly what you would call a "money pit." If reported are true and the move is being done for budgetary reasons, could this signal the beginning of a streamlined integration directly into HBO Max? We know that there's some serious DCU programming on the horizon (Green Lantern series, Justice League Dark, etc.), but we just can't see HBO Max wanting those projects (with names like J.J. Abrams attached) to be anywhere but under their banner. Would they spin the comics into their own thing? Currently, DC Universe is sharing Stargirl with The CW and Doom Patrol season 2 with HBO Max, with new seasons of Titans and Young Justice on the way and the second season of Harley Quinn currently airing.