Arrow Season 6: Katie Cassidy on the Difference Between Laurels
Katie Cassidy was a regular on Arrow for four seasons. We watched her character go from being a crusading public defender, to a cut throat assistant district attorney, to suiting up at the Black Canary and eventually being killed by Damien Darhk (Neal McDonough). It was a wild character arc that seemed to have been at an end. And then someone came up with the idea of an Earth-2 Laurel, aka Black Siren, and all bets were off.
Cassidy appeared on the Flash before moving over to raise hell in Star City and is now pretending to be her Earth-1 counterpart while playing Quentin (Paul Blackthorne) and the rest of Team Arrow… except for Dinah (Juliana Harkavy), who is certain that Black Siren is evil incarnate.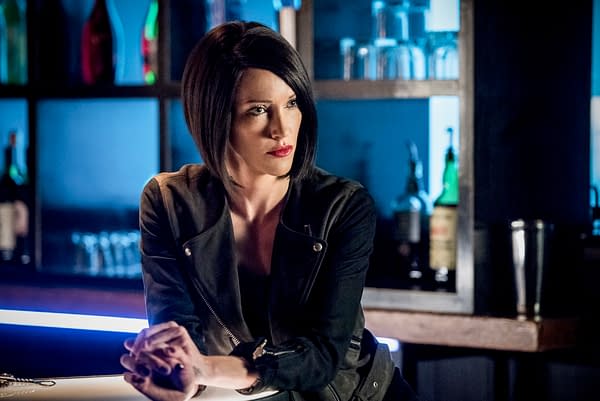 But who's right? Does Dinah see the true Laurel-2, or is Quentin really seeing someone worth saving? Cassidy talked with TVLine about playing the character and how it differs quite a bit from the first go round.
Looking back, from when we started the pilot to the end of Season 4, I took it so seriously — as you should, obviously, in continuing to be a professional. But I think also just life I took so seriously, and I was just…. I mean, I'm very dedicated, and I gave everything I had, but it's fun when Black Siren makes jokes about that Laurel. It's kind of like making fun of myself, and that's been a blast.
If there is any chance for redemption for the Earth-2 Laurel?
I do feel like there is room for redemption in some aspect. However, we don't know what her life has been like on Earth-Two; we know bits and pieces, and that's what I think is interesting about playing this character, how we keep finding out more and more information.

I've built a backstory off of script analysis and character breakdown, and while it doesn't always match up, that's part of the fun of it, just creating and being able to play — and these writers and producers certainly have been willing to do that with me. This is the stuff I thrive off of. I just love strong female characters in general, not necessarily because, "She's evil" or "Oh, because she's good." Yes, of course it's fun to play evil, but it's simply fun to play any different characters.
On if it's tough being mean to Paul Blackthorne?
Yes, but it's also been so much fun. And I think that he quite enjoys watching the difference in my character. [Laughs] The scene where she comes in and is like [in dainty voice] "Hiiii, I'm Laurel Lance!"? So much fun.
And what is Laurel's relationship with Ricardo Diaz (Kirk Acevedo)?
He keeps her on her toes. He makes her surprise herself, doing things she didn't necessarily expect. I think that there's a magnetic sort of, like, fire between them. What that reads as, I think time will tell. Ultimately, as she's learning more and more and watching Diaz and how he works, she's horrified because he's brutally murdering people. There's no rhyme or reason, which is disturbing. And although she has had that in her before — when need be, she's been able to take down some people — it's hard for her to watch and stand by this person. Plus, she does have this interesting relationship with Lance, with Quentin. Both of these characters [Quentin and Diaz] are making her question herself in different ways almost, almost like the angel and the devil. She's caught between a rock and a hard place.
Arrow airs Thursdays at 9 p.m. ET on the CW.