Fans of the CW's Black Lightning already had their radars dialed up to 11 when it was announced Supergirl's Sofia Vassilieva had joined the show's sophomore season as Looker. Was this the beginning of the CW introducing superhero team The Outsiders to the series? The character's debut during Tuesday night's episode 'The Book of Blood: Chapter Two: The Perdi' did more to throw fuel on a raging speculation fire.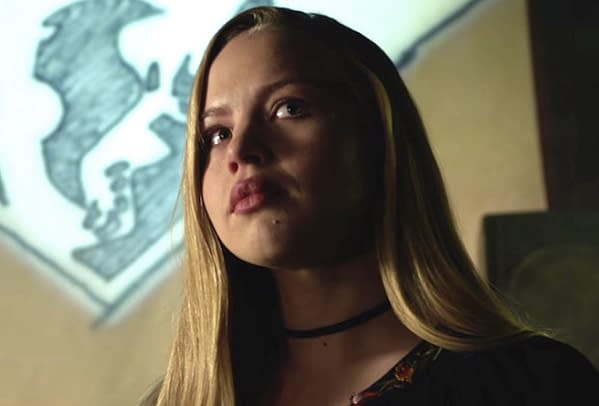 So here's what we've learned so far:
● While little regarding a backstory is known about Vassilieva's (Timeless, Lucifer) Looker so far, it appears she has a silver substance called Element that turns people into the "Sange." When under that state of control, Looker is able to live up to her name and "look" through the eyes of those she's controlling. An interesting added bonus/twist is the apparent vaccine connection between her and Jefferson Pierce/Black Lightning (Cress Williams).
● As for the next piece of the Outsiders puzzle, a news report airs – shortly after Lynn Stewart's (Christine Adams) less-than-successful (dramatic understatement) press conference – that referenced the fictional nation of Markovia. By noting the death of Markovia's King Victor Markov, it appears the Markovian royal family is being positioned front-and-center in the upcoming narrative. Why was the reference so important? King Markov is the father of Brion Markov aka Geo-Force – a longtime member of the Batman-led Outsiders alongside Black Lightning.
https://youtu.be/ok2U6_J2rEs
Black Lightning Season 2, Episode 6: 'The Book of Blood: Chapter Two: The Perdi': Black Lightning (Cress Williams) and Thunder (Nafessa Williams) return to South Freeland in an attempt to figure out what is going on. When they arrive, they are directed to a nearby wood where they are surrounded by a clan of mixed-race moonshiners called the Perdi. Meanwhile, Lynn (Christine Adams), feeling tremendous guilt, falls into a deep depression. Lastly, Tobias (Marvin Jones III) finds that his plan is falling apart. China Anne McClain, Damon Gupton, James Remar and Jordan Calloway also star. Oz Scott directed the episode written by Pat Charles
Enjoyed this article? Share it!