'Black Lightning' Recap: "Prodigal Son" – Freeland's Secrets Revealed But At a Price [SPOILERS]
The CW's newest episode of Black Lightning was both shocking and somewhat atypical, with "The Book of Secrets: Prodigal Son" finding Tobias racking up an even bigger body count than usual – with a few recurring character deaths, too. He gets closer to getting his hands on the metahumans in the pods under the Freeland free clinic; while at the same time, the Pierce family gathers to support Khalil as his condition slowly worsens.
Again, there are character deaths, so if you don't want to know, here is your mandatory spoiler warning. BLACK LIGHTNING stars Cress Williams as Jefferson Pierce/Black Lightning, Nafessa Williams as Anissa Pierce, China Anne McClain as Jennifer Pierce, James Remar as Peter Gambi, Damon Gupton as Inspector Henderson, Christine Adams as Lynn Pierce, Marvin Jones III as Tobias Whale, and Jordan Calloway as Khalil Payne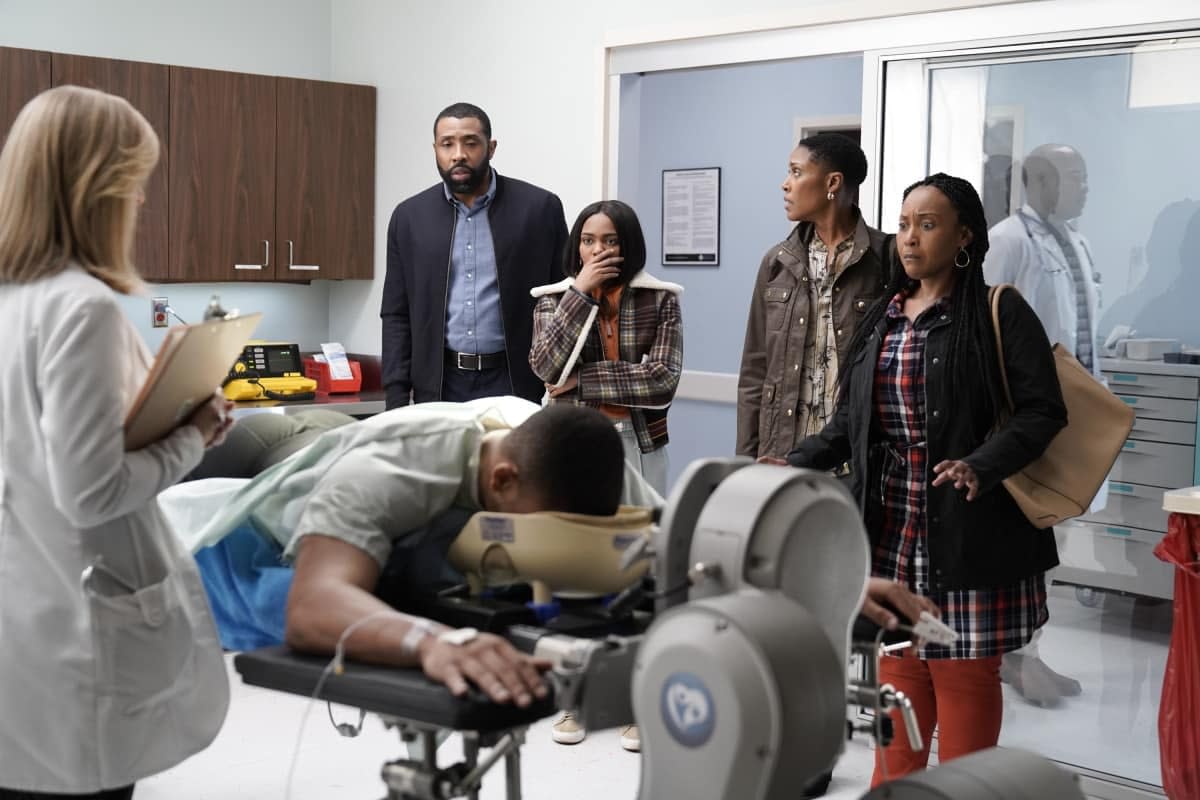 The "atypical" aspect of the episode comes from the fact that it is possibly the first episode in which we don't see anyone suited up and using their powers. Indeed, the Pierce family combo of Lightning and Thunder don't use their powers at all. Most of their time is spent at Khalil's side in the hospital.
The episode opens with Reverend Holt (Clifton Powell) preaching to his flock. As he evangelizes to his audience about the ills facing Freeland, he includes Black Lightning and Thunder in his condemnation – saying they are not coming to save them. As he peaks in his sermon, he collapses on the ground– poisoned with a tainted handkerchief by Cutter (Kearran Giovanni), who walks out of the church having witnessed her own handiwork.
This scene is interwoven with three important side-moments. The first moment finds Khalil (Jordan Calloway) begging Jefferson (Cress Williams) to have Black Lightning kill Tobias, promising him all the information he needs. Jefferson refuses, saying they have to let "The System" take him down. Second moment finds Anissa (Nafessa Williams) alone in her bedroom, looking at newspaper clippings of Tobias and a picture of Grace on her phone. Third moment finds Jennifer (China Anne McClain) crying and trying to compose herself in the parking lot, onl to be accused by a white woman of trying to break into her car. When "Becky" tries to call 911, Jennifer lets loose a barrage of lightning on the SUV.
"Becky": "What did you do?"

Jennifer: "Me? Your car got hit by lightning. You want to call the police on God?"
Jennifer walks away satisfied – but we can see extra power building up in her hands. She finds her dad, who tries to absorb the extra energy but can't take all of it. As Jennifer's power continues to grow, they call Perenna (Erika Alexander) to come help her regain control. As they meditate, a levitating Jennifer is able to re-center herself – the energy dissipating from her arms back into her core.
Meanwhile, Todd (RJ Cyler) finds more information on the ASA laptop about the remaining pods. Specifically, he finds Dr. Helga Jace (Jennifer Riker), whom Tobias finds an immediate interest in rescuing.
Meanwhile, Captain Henderson shows up at the hospital to speak to Jefferson, bringing word of Reverend Holt's death. Bringing up the fact that Tobias has been after Holt, Jefferson offers Henderson the opportunity to use the information Khalil is offering to bring down Tobias legitimately. They both go to Gambi's where Henderson learns that the "tailor" is both still alive and not just a tailor, and they hatch a plan to find evidence of Tobias running a criminal conspiracy so federal agents can take him into custody on RICO charges – bypassing Tobias's hold over Freeland.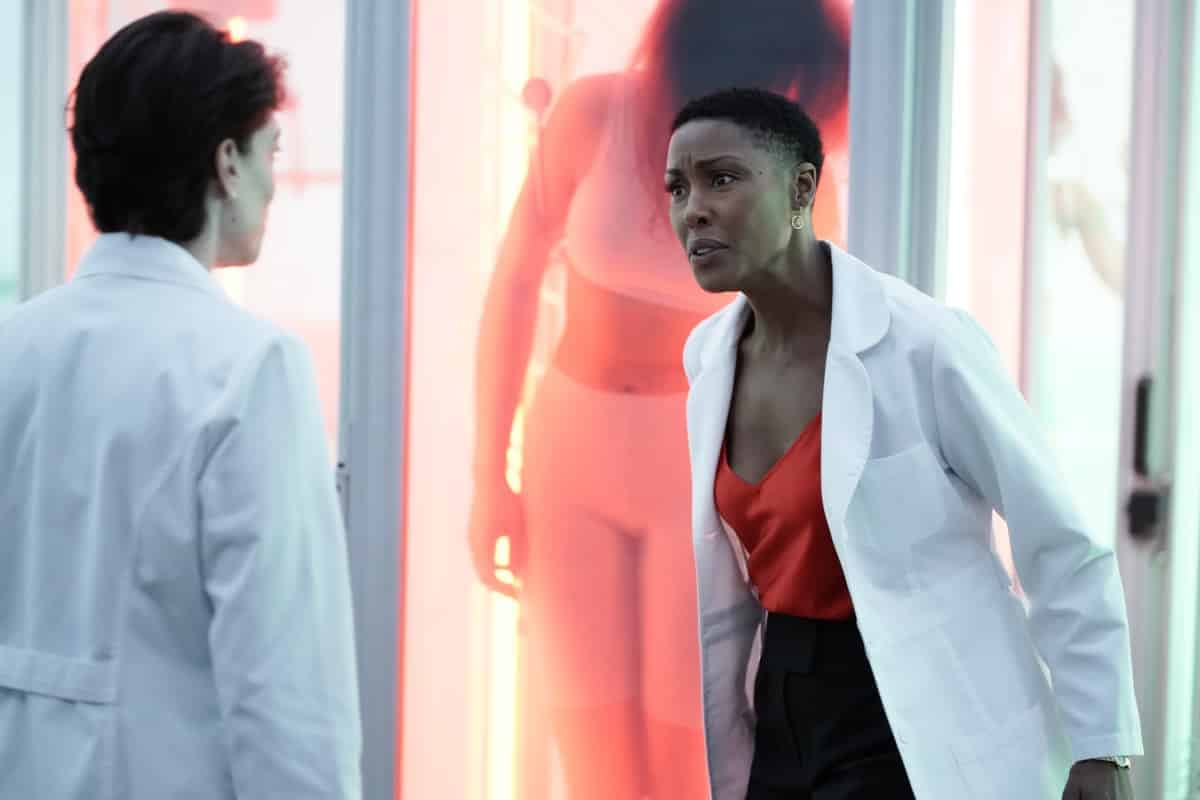 Back at the hospital, Jennifer sits by Khalil's side. She can see the electrical impulses in his body slowing… dying. She begs her mother Lynn (Christine Adams) to put him in ASA custody in a pod so he can hibernate until they can find a cure. When Lynn offers her medical assistance, she is rebuffed by Khalil's doctor, as her reputation precedes her, as does responsibility for several of the pod children dying on her watch. When Lynn comes back with ASA agents, she threatens Khalil's doctor that his mother has given her permission to do whatever they need to save Khalil, and if they aren't allowed to she will make sure both the hospital and doctor are sued. Once again, Lynn shows herself the one person in Freeland you most do not want to be on the wrong side of.
Then – in one of the best but least bombastic moments in the episode – Grace (Chantal Thuy) arrives with"greasy burgers" for her and Anissa. She knows how hard it is to wait in hospitals and wanted to provide support. It's a really super cute moment, and another in the line of just beautiful "couple" moments between Anissa and Grace we don't get enough of – and that there aren't enough of on television in general.
Meanwhile, Henderson shows up at Tobias's, asking questions about Khalil. While Tobias feeds him BS answers and they do some verbal sparring, Henderson (with Jefferson and Gambi talking to him on an earpiece) is actually scanning the room for hidden objects, eventually finding a wall safe. Tobias tells him to arrest him or leave, so Henderson leaves: mission accomplished, and Tobias none the wiser.
Todd then shows up at Dr. Jace's cell, deactivates her ankle tracker, makes a hologram copy of her so the guards won't know she's gone, and they leave to go meet Tobias. Upon reuniting, she mentions that she and Tobias have both been using the anti-aging serum she developed years ago. Since leaving, she's taken her metahuman experiments on the road to Markovia (yet another fun bit of synchronicity between the CW's live action DC shows and the new season of Young Justice: Outsiders), but the ASA helped her defect and brought her back to work with the pod children. Tobias demands to know where the remaining pods are.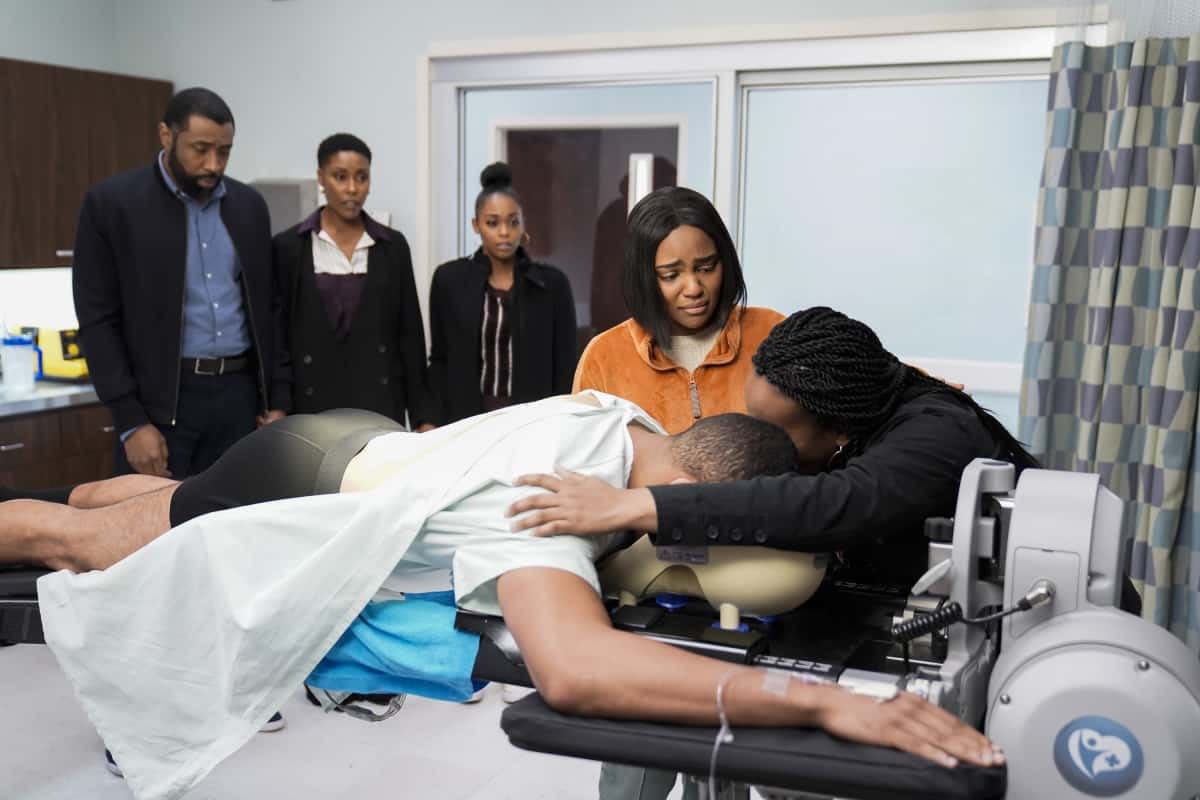 Back at the hospital, Khalil's condition is worsening, and despite their best efforts they can't move him to get him into a pod. Jennifer uses her powers to connect with Khalil's mind, and they find themselves in her "safe space," which just happens to look like a prom, and Khalil notes he can walk again. She tells him that he's dying, and the two share a few last tender moments with one another. In the real world, Khalil flatlines and Jennifer and his mom weep.
At the free clinic, Dr. Jace has led Tobias to the location of the remaining pods, and he uses a sledgehammer to break down a wall, revealing them. Tobias gives a wicked smile, and we cut to black.
https://www.youtube.com/watch?reload=9&v=rV78luGlIwU
Interestingly enough, the promo and press releases so far for "Black Lightning s02e12 'The Book of Secrets: Chapter Two: Just and Unjust'" do not include a synopsis/overview for the episode. Hmmm…