Black Lightning Season 1: Extended Trailer for Season Finale
The CW has released an extended trailer for the Black Lightning season finale, which will air on Tuesday at 9 p.m. The series stars Cress Williams as Jefferson Pierce, a retired superhero, high school principal, and father of two trying to do his best for the city of Freeland and reconnect with his ex-wife (Christine Adams). When his daughters get pulled into the middle of the 100 Gang's problems, Jefferson suits up again to save them. But once he's back in the suit, hanging it up again becomes much harder. Spoilers below — ye be warned!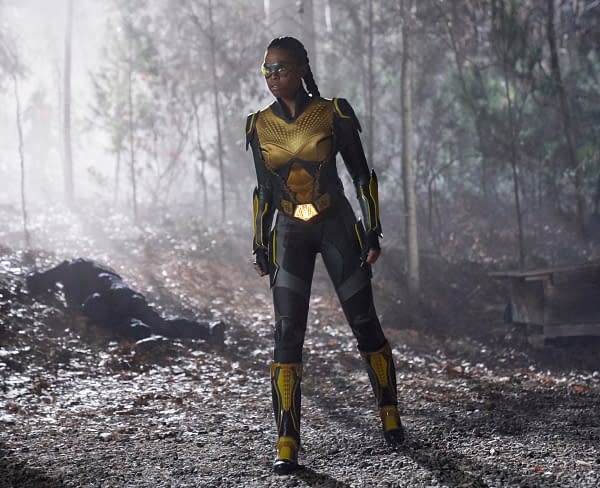 The season has explored the past, with the ASA running a government experiment on the city years ago that Gambi (James Remar) was part of. When Jefferson's father tried to bring story to light, he was killed by Tobias Whale (Marvin 'Kronson' Jones III), who is still around and making a bit to take over the city. Both of Jefferson's daughters turn out to have powers — Anissa (Nafessa Williams) becomes the city's second costumed hero, Thunder, while Jennifer (China Anne McClain) doesn't see her abilities as a gift. And they discover that the children affected by the ASA experiment years ago are still alive and being held in canisters somewhere in the city. And it all builds up to the season finale.
The video shows some interesting moments, from Jefferson saying that he became Black Lightning to kill Tobias, not to become a hero, even though that's what Gambi wants him to be. And we see Porter (Gregg Henry), head of the ASA, saying the line, "Make America Great Again", which you might have heard somewhere before. It looks like things are going to get a bit crazy at the end.
Black Lightning airs Tuesday at 9 p.m. ET on the CW. The series has already been renewed for a second season.
https://youtu.be/t86J6JOez8o