Bojack Horseman: '90s Sitcom Star's Comeback Continues with Shout! Factory, Tornante Media Deal
Netflix Original series Bojack Horseman will be bringing its odyssey of the washed-up equine actor and his attempt at a personal and professional resurrection will be coming to Blu-Ray courtesy of a new deal with Shout! Factory and Michael Eisner's Tornante Company. Shout! Factory's Vice President of Acquisitions Jordan Fields believes the popular animated series is a perfect fit with the media company's philosophy and audience:
"BoJack Horseman' crosses boundaries, defies expectations, challenges, entertains and generally blows your mind, often through laughter. We intend to give fans something they need to own with great extras and packaging."

– Jordan Fields, Vice President of Acquisitions, Shout! Factory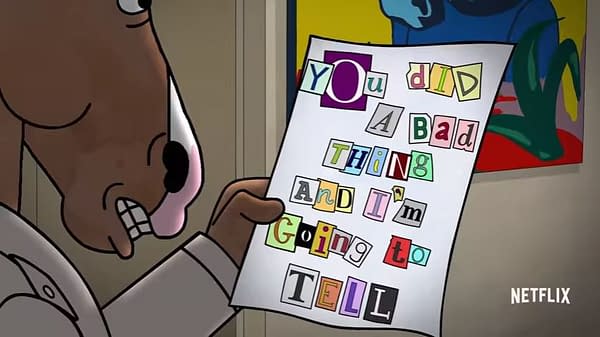 Former Walt Disney Company CEO and Tornante Company founder Eisner rejoined:
"Passionate 'BoJack Horseman' fans will carry these DVDs around wherever they go, like Linus and his blanket."
While the thought of legions of BoJack Horseman fans clutching their DVD collections whilst shuffling through the rigors of life is amusing, we're assuming there is a bit of hyperbole at play here. The deal brokered for Shout! Factory and the Tornante Company gives them exclusive home-video rights for Blu-Ray and DVD sales in the U.S., Canada, United Kingdom, and Éire for the first four seasons, and distribution rights for seasons two through four in Australia and New Zealand.
BoJack Horseman debuted on Netflix in 2014, and features the voice work of Will Arnett, Alison Brie, Aaron Paul, Amy Sedaris, and Paul F. Thompkins. The show follows the titular BoJack, a down-on-his luck 90's sitcom star who rises to fame once again with the publication of his tell all book. The series has been lauded for its deft handling of difficult issues such as depression, trauma, and addiction while still maintaining a comedic edge.
Netflix will continue to stream the series, but BoJack Horseman enjoys the distinction of being the only show distributed by the streaming giant that can negotiate its own home media distribution deals. It makes sense seeing the Tornante Company as part of the distrubution agreement: BoJack Horseman is a Tornante production.