Could Blindspot and Deception Ever Cross Over?
In an era of shared universes like Greg Berlanti's Arrowverse and Dick Wolf's Law & Order/Chicago, now when an executive producer gets a second show on the air, the question becomes: will they cross over? Danny Cannon has Gotham and the just-announced Metropolis, which would seem natural — except one is on Fox and the other is headed to the DC streaming service. Another one that is coming up in conversation is Blindspot on NBC and the new ABC series Deception, both from executive producer Martin Gero.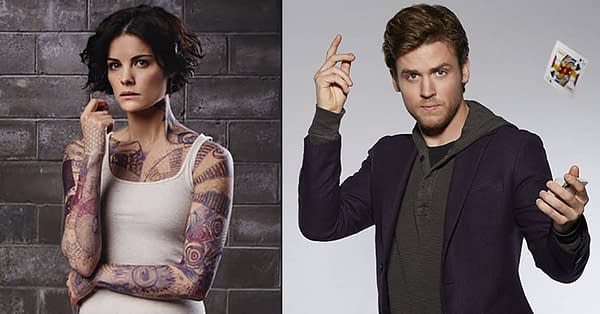 If you're not familiar with Deception, it's a new series that debuts on March 11th and tells the story of Cameron Black (Jack Cutmore-Scott), the world's greatest illusionist. At least, that's what people used to call him — before his greatest secret was exposed and his career destroyed. Even worse, Cameron has good reason to believe this was no accident. He ends up working with the FBI as a consultant. The fact that he's working with the FBI and so is Jane (Jaimie Alexander) on Blindspot makes fans want the two to cross over.
But is it possible? The competing networks thing makes it difficult, but Gero holds out hope. He told EW.com:
"In my dream, we will do some sort of inter-network crossover. I don't know that anyone is that interested in it. In my mind, Blindspot's offices are in the basement, and the Deception team works upstairs at the top of the building."
It wouldn't be hard to explain if one of Jane's tattoos happen to have a magical meaning…