Daredevil Season 3: NYCC Clip Descriptions, Bullseye Confirmed, and a New Trailer
Netflix always turns up to New York Comic Con in a big way and 2018 was no different. Marvel Netflix took over Madison Square Garden this afternoon and brought out the big guns. The third season of Daredevil is right around the corner and Jeph Loeb showed attendees a couple of clips that really tease the season.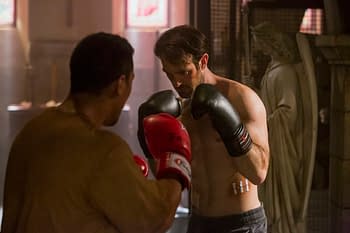 The first had Matt Murdock lying on a bed and some kids walking in to see him. Sister Maggie comes over and chases them out. She goes to change his dressing and they speak briefly about how Matt probably can't do anything anymore. He's deaf in one ear and his back and hip are really messed up. She says the kids were a lot like him when he was a kid. She also wonders if he could really do the things he did or if he was really blind.
Next we got a chance to see Karen Page and Foggy Nelson meet-up. They are in a butcher shop, later revealed by Elden Hensen to be his family's shop, and Karen says that she thinks Ma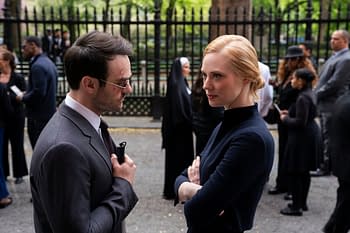 tt is alive. Foggy tells her it's not true and they argue a bit about it but Foggy is convinced that Matt is dead because, if he was alive, he would have reached out to them. Karen eventually leaves angry.
We finally get some Fisk in the next clip as he squares off with newcomer Agent Rahul Nadeem. Nadeem sits in front of Fisk and says if they want to skip all of this and go straight to Fisk turning him down to help him. Fisk explains how he would do anything for someone he loves and says that he wants to make a deal.
A fight is the next thing on the table. A man gets into a car and pulls a rope around a his neck.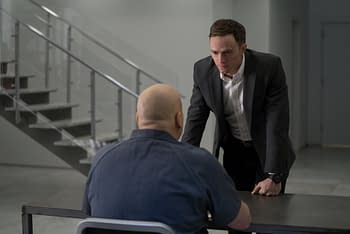 He asks the man why Fisk was able to get out of prison and the man declines to tell him right away. Matt asks him to let him know when he wants to breathe. Eventually the man relents and says that Fisk did all of this to protect "the woman" aka Vanessa. She was getting all of her charges dropped so they can be together again. Matt jumps out of the car and proceeds to get into a fight with some FBI agents. Daredevil has never been on the best friend of the police but this seems excessive. He eventually fights them off any lots of sticking to the shadows and sneaking around.
Now we have a first look at Wilson Bethel who, at the time that they showed the panel, an FBI agent we don't know. Fisk is in a car when it is attacked and is blown up. A bunch of men are killing all of the agents around him but Fisk is staying in the car. Eventually the attackers start dropping like flies with some very specific headshots. Eventually there are two left and they try to surrender but he executes them without hesitation.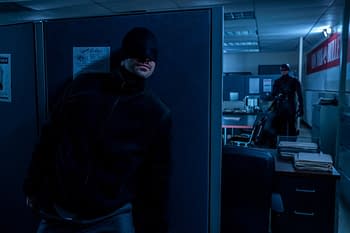 We have one last clip. This time we see Foggy standing in the Bullitin offices with someone in the Daredevil outfit. By now we know that this is Benjamin Poindexter and we see him grin. He throws something at Foggy but Matt catches it. We see them face off hand to hand but we also see Bullseye using office supplies as weapons in very creative ways. The fight ends with Matt losing.
Marvel and Netflix released a new trailer this time confirming Bullseye and showing off a ton of new footage.
Summary: Missing for months, Matt Murdock reemerges a broken man, putting into question his future as both vigilante Daredevil and lawyer Matthew Murdock. But when his archenemy Wilson Fisk is released from prison, Matt must choose between hiding from the world or embracing his destiny as a hero.
Daredevil, with Erik Oleson as the showrunner, stars Charlie Cox, Deborah Ann Woll, Elden Henson, Vincent D'Onofrio, Wilson Bethel, Jay Ali, and Joanne Whaley. It will stream to Netflix on October 19th.