WWE Superstar Dave Bautista took to Twitter once again to shoot on fellow WWE Hall-of-Famer, President Donald Trump. The Animal has been feuding with the president for months on social media, cutting promos on Trump nearly every single day. Trump has yet to respond to Bautista's comments, but they're probably just waiting until the feud can be blown off at WrestleMania.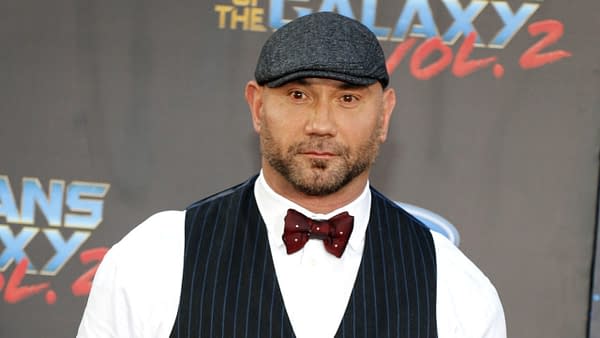 "@realDonaldTrump Kills Americans with ignorance and lies and fear and division and hate and self-interest and narcissism and bigotry and propaganda and racism and elitism and fascism and nepotism and littledickism and comboverism and fuckthatlowlifepieceofshitism," Bautista tweeted about the president last week. "It's pretty interesting to listen to a breakdown of Mike Pence's comments and realize how much we were just lied to," he continued. "I also love how he's all of the sudden all about people being able to assert their 1st amendment rights to assemble. #liars #hypocrites #TrumpKillsUS"
Bautista called on Twitter to introduce a stipulation that all of Trump's tweets must be fact-checked, writing, "@Twitter can we just get a fact check on all of President Dumb-Dumbs tweets please?" The social media service did not respond.
Bautista continued to cut a promo throughout the week, writing, "It really should be added that #TrumpKillsUs and then uses it as a punchline. He should be held accountable. His supporting @GOP Senate should be held accountable." He added, "@GOP do something w/ Biff! 120k dead Americans, and he's still calling the coronavirus the Kungflu to get ignorant people to cheer for him. Racist jokes, dismissing the victims, families of victims, and potential victims to put his ego first as usual. ENOUGH! #TrumpKillsUS"
Bautista takes issue with Trump's handling of the response to the coronavirus pandemic, and particularly Trump's assertion that the fact that the U.S. is a hotspot for coronavirus is down to testing. "Omg, you're just so fucking stupid," said Bautista. Bautista put himself over for his comments on Trump, which he says come at risk to his own career. "You ever notice how some people put their asses and their careers on the line when they stand up and condemn political issues or injustice?" he tweeted. "And some people play it safe AF and keep it very PC or just remain silent. No, you probably didn't notice. Pay attention; it happens a lot." Thankfully, both for the world and for the clickbait wrestling news industry, Bautista does anything but remain silent.
Enjoyed this article? Share it!