DC Universe Launches This Fall, and We Have the Details
DC Entertainment's big announcement today is details about their upcoming subscription service, DC Universe. It will host live-action series Titans, Doom Patrol, and Swamp Thing, plus animated series Young Justice: Outsiders and Harley Quinn. It will also host classic DC films and television series plus a collection of DC comics, a fan forum, a DC encyclopedia, and even a merchandise store.
The whole thing will go live this fall with a beta opening in August. Fans can sign up for the beta here.
Of the original content, Titans is the furthest along of the live-action series with Brenton Thwaites cast as Dick Grayson/Robin, Anna Diop as Starfire, Teagan Croft as Raven, Ryan Potter as Beast Boy, Alan Ritchson as Hawk, and Minka Kelly as Dove. There is also word that Conor Leslie will be playing Donna Troy, but no official announcement.
The basic plot follows the team coming together to prevent a conspiracy to bring Hell on Earth. And while they were cast to appear in Titans, the Doom Patrol is ready with Bruno Bichir as Dr. Niles "The Chief" Caulder, April Bowlby as Rita Farr, aka Elastic-Girl, Jake Michaels as Cliff Steele, aka the Robotman, and Dwain Murphy as Larry Trainor, aka Negative Man.
The series will also feature Cyborg and Crazy Jane, but no casting announcement on them has been made. The team will be exploring the weirdest corners of the DCU, and Swamp Thing will follow Abby Arcane as she explores a strange swamp in Louisiana.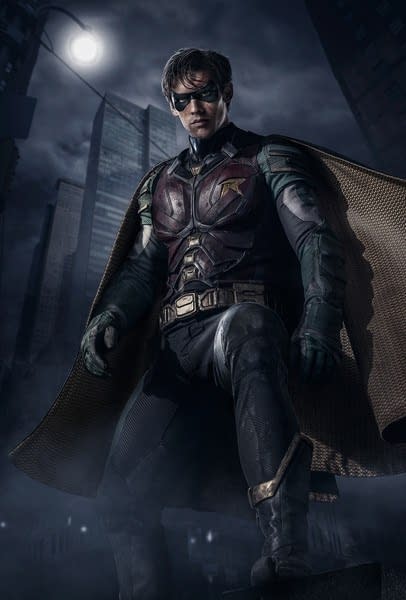 On the animated side, Young Justice: Outsiders has returning cast members Khary Payton as Aqualad, Danica McKellar as Miss Martian, Nolan North as Superboy/Superman, and Alyson Stoner as Batgirl. This will have some new characters popping up and has the team and their friends targeted by a meta-human trafficking ring as there is an intergalactic race to control the super-powered youths. The animated Harley Quinn series is adult themed and follows her time after breaking up with the Joker as she tries to earn a place in the Legion of Doom.
DC Universe will also include episodes of Batman: The Animated Series and the '70s Wonder Woman with Lynda Carter, available in HD for the first time. Also animated films like Justice League: The Flash Paradox and Green Lantern: First Flight and live-action films like Batman Returns. There will be a curated collection of DC Comics available for subscribers to read on their tablet, smartphones, and televisions ranging from Action Comics #1 and Detective Comics #27 to Geoff Johns and Jim Lee's run on Justice League and Jimmy Palmiotti and Amanda Conner's Harley Quinn series.
"We wanted the DC UNIVERSE comic reader to be a blend of art and technology that would further enhance fans' experiences of the live-action and animated programming on DC UNIVERSE," said Dan DiDio, publisher, DC Entertainment. "This hand-curated selection from our decades of comic creations gives fans a thematic digital longbox to carry with them on the device of their choosing or lets them watch exclusive video content on a big screen followed by the comic that inspired it."
"DC UNIVERSE is so much more than a streaming service. It's a welcoming place for everyone to immerse themselves in their own level of DC fandom, with the epic characters, stories, and experiences they have come to expect from DC," said Jim Lee, chief creative officer and publisher, DC Entertainment in a statement. "We are investing in and creating original, high-quality shows including the new Titans series, and curating the most beloved nostalgic content, while at the same time elevating the comic reading experience to new heights. Nothing this robust has ever been offered to fans before."
And finally the store will include some exclusive access to new action figures and items from DC Collectibles.