Constantine: City of Demons Recap and Review
This article contains spoilers for Constantine: City of Demons season 1.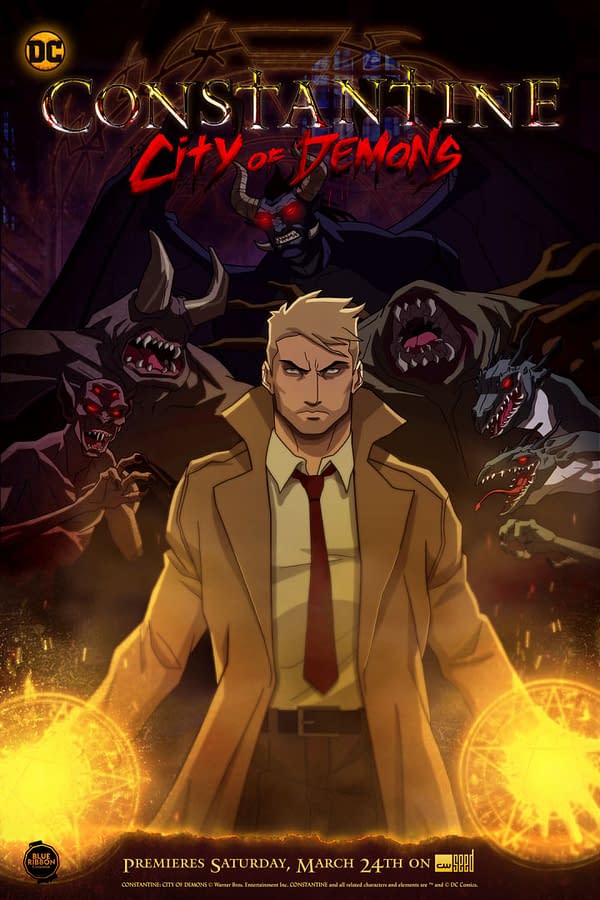 The above is a poster they're giving away at WonderCon this weekend before the panel where they are showing some of Constantine: City of Demons, the new animated series from Blue Ribbon Entertainment and Warner Bros. TV featured on the CW Seed. This series is being produced by Greg Berlanti, Sarah Schecter, and David S. Goyer and was written by J. M. DeMatteis.
The first thing to note is that the series is being called City of Demons, a Hellblazer series written by Si Spencer, but the story is a rough adaptation of Mike Carey's All His Engines. We were also told previously that this tied into the NBC series, but other than Matt Ryan, it doesn't seem to fit that well at all.
The series starts with John waking up from a night of binge drinking to find that bits of his subconscious have escaped and formed tiny little creatures that attack him. He has to force them back inside. There is a knock on his door, and he finds Chas Chandler (Damian O'Hare) there. They haven't seen each other in almost a decade — since Newcastle. Chas has a daughter who is in a coma and he suspects black magic.
John goes to look and is pushed away by a demon of some sort. He calls on the help of Nightmare Nurse (Laura Bailey) to find out what's going on. Asa goes into the girl and discovers her soul is missing and gets a message from whoever took her inviting him out to Los Angeles. While he and Chas head to L.A., Asa stays with Chas's ex, Rachel (Emily O'Brien), who tells the story of Newcastle and Astra as it was told to her.
We then switch to Constantine as he goes to the address given and finds that the Butler (Robin Atkin Downes) is part Pig and the master of the house is Beroul (Jim Meskimen). Beroul wants to set up L.A. like a franchise of hell, but there are five other demons in the turf that he wants removed. He took Chas's daughter to get John's attention. If he removes the five demons, the the girl goes free. John accepts, and that's the end of the season.
This feels more like an issue of Hellblazer than any of Ryan's previous appearances have. It's a really good setup but it ends before we get anywhere. The talk of it tying into the NBC series seems to be wrong as they didn't get Charles Halford to be Chas, and what happened in New Castle is different. Also, last summer they released a teaser scene from this series, yet none of that appears in any of the five episodes. It does seem like it might be how Constantine deals with the five demons, but that's kind of a weird way to do a teaser.
My only problem with the series is that it ends just as things get going. It's similar to the Freedom Fighters: The Ray, which felt more like the first part of a story, and then it ended. We have no expected release dates for more of The Ray or Constantine. At least with the Vixen series, it felt like an ending after the first set of episodes, and then it became more of a movie when the second season was released. These just stop, so we know that there expecting to make more.
Ryan continues to shine in the role, and it's obvious to see why they want him as a series regular on next seasons Legends of Tomorrow. It's hard to believe NBC pulled the plug on this series without really giving it a try.