Demon Slayer, Sailor Moon & More: Our Top Annoying Anime Characters
In a sea of amazing anime with amazing visuals, stories & characters, there's a handful that (as Peter Griffin says) really grinds our gears.
---
In a sea of amazing anime composed with great animation, storylines, and characters, we can always find little details or even characters that grind our gears. Mostly, I tend to focus on those characters I love and nearly obsess over rather than the ones that rub me the wrong way. However, there are a few that live rent-free in my mind, and just wish I could slap them around a bit because… Well, here are the top five on my most-hated list and the reasons why. Just so we're clear? These are my opinions for the sake of having a little fun & starting a conversation… so don't take it personally! We've got anime candidates from Demon Slayer: Kimetsu No Yaiba, Tokyo Revengers, and Sailor Moon… and two from Hunter x Hunter,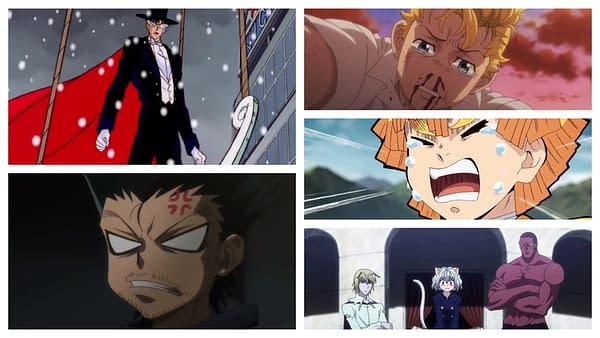 Ging Freecs ("Hunter x Hunter"): Let us all take a brief minute to ponder on all the reasons why Ging is the shittiest excuse of a father. At first, I understood Gon wanting to know more about his dad, even though it bothered me because it never seemed like Ging cared from moment one; I mean, why would being a Hunter be more important than being a dad… Why even keep the kid if you cannot even raise him? Though during the Greed Island arc, when being bothered turned to hate: if you are really ashamed and do not want to meet your son, why would you make his whole existence about you and finding you? Like, I don't want to meet you, but if you really want to, and I must, then you gotta go through hell and back to find me! Go f**k yourself, Ging, along with your little cruel mind games. My favorite part was seeing Leorio call him out on his bull-shit and getting nominated to be the leader after that– my absolute favorite scene was Leorio punching Ging. Iconic. It was fun to see everyone turn against him for being shitty. However, even after I hated him so much, I really loved seeing Gon finally meet his father and then getting to spend time with him sharing stories.
Meruem ("Hunter x Hunter"): It really goes over my head how much people seem to love Meruem and Komugi along with the Royal Guard. Like, I get Pitou is super cute; I love her character design and even wanted to like the character within the parameters offered. However, I just cannot help but always think of how many died during the Chimera Ant arc. I guess Meruem takes the brunt of all my hate considering the potential and how the tides could have turned, but I think it was all build-up to what ended up being like a wet fart. Disappointing and left the stink afterward.
Zenitsu ("Demon Slayer: Kimetsu No Yaiba"): It's all about the crybaby-ness of it all. I cannot stand it. "But Alejandra, you love so many crybaby shonen MCs," you might say. And yes, total hypocrite at times, I guess. I mean, I love Deku and Tanjiro, who fulfill the level of crybaby I can accept. However, I think there is a balance somewhere in their characters between being sensitive and finding courage no matter how scared they are. As opposed to Zenitsu, who just cries & passes out, and in his sleep, he actually is more courageous. It is one of my beefs with Sailor Moon as well, but I feel at least she grows within the story to become the guardian she is supposed to be. I guess growth with Zenitsu is still yet to be seen.
Takemitchy ("Tokyo Revengers"): Let us consider this one a continuation of the previous anime. Takebitchy spends 94% of screen time with tears in his eyes, and unlike Tanjiro, Deku, or even Gon, there is no way he makes up for the amount of tears. It is a wonder he gets to make it out of every situation, to be honest. Maybe because he is like Charlie in It's Always Sunny in Philadelphia and can just take a beating to the point where you wonder if they feel any pain.
Tuxedo Mask ("Sailor Moon"): I think this one writes itself. While they tried to correct it in Sailor Moon Crystal, and it is clear that he has some sort of powers. On the old Sailor Moon, I never got the impression he was more than a human who dressed up and spouts what he believes might be uplifting one-liners to help Sailor Moon in battle… but does he even? Tuxedo Mask is my biggest gripe with Sailor Moon. As much as I love the anime, I cannot help but cringe in shame whenever he pops up on the screen. At times I have been more of a Seiya stan, to be honest (Insert super sigh).